Tuesday, January 04 2022
An Austrian Wedding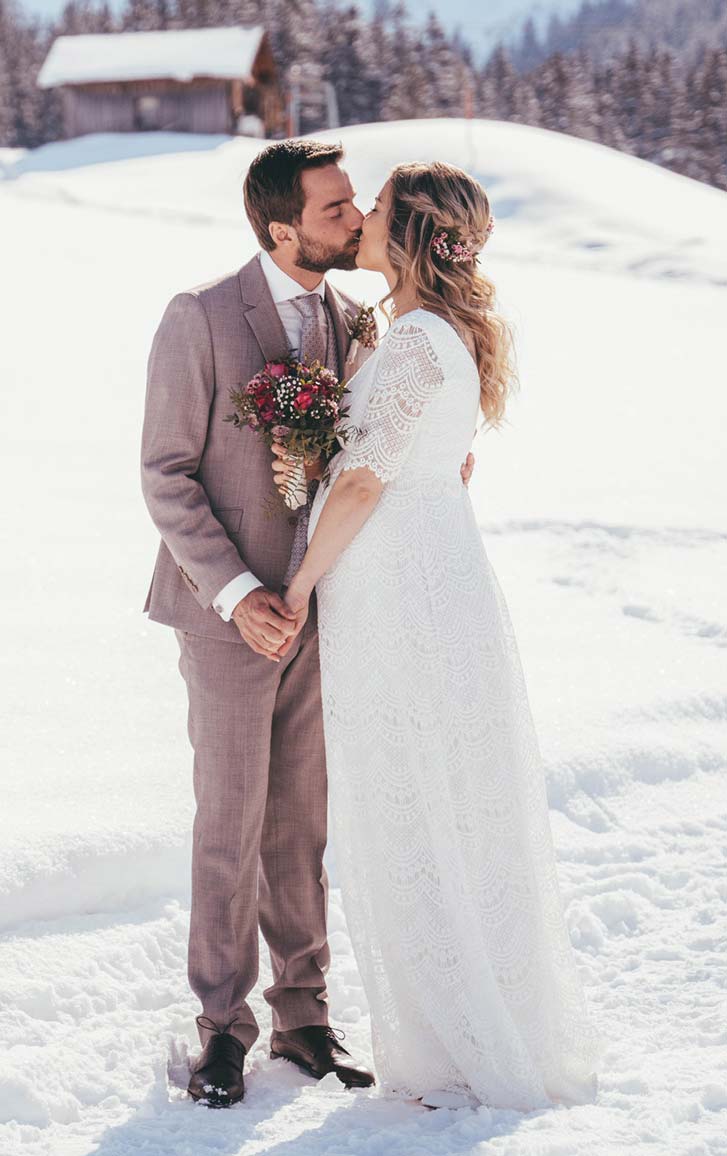 We just love this story... a beautiful couple marry at a registry office, 1444m above sea level, in the middle of the snowy mountains. Our bride wears the Verona Gown and looks like an angel.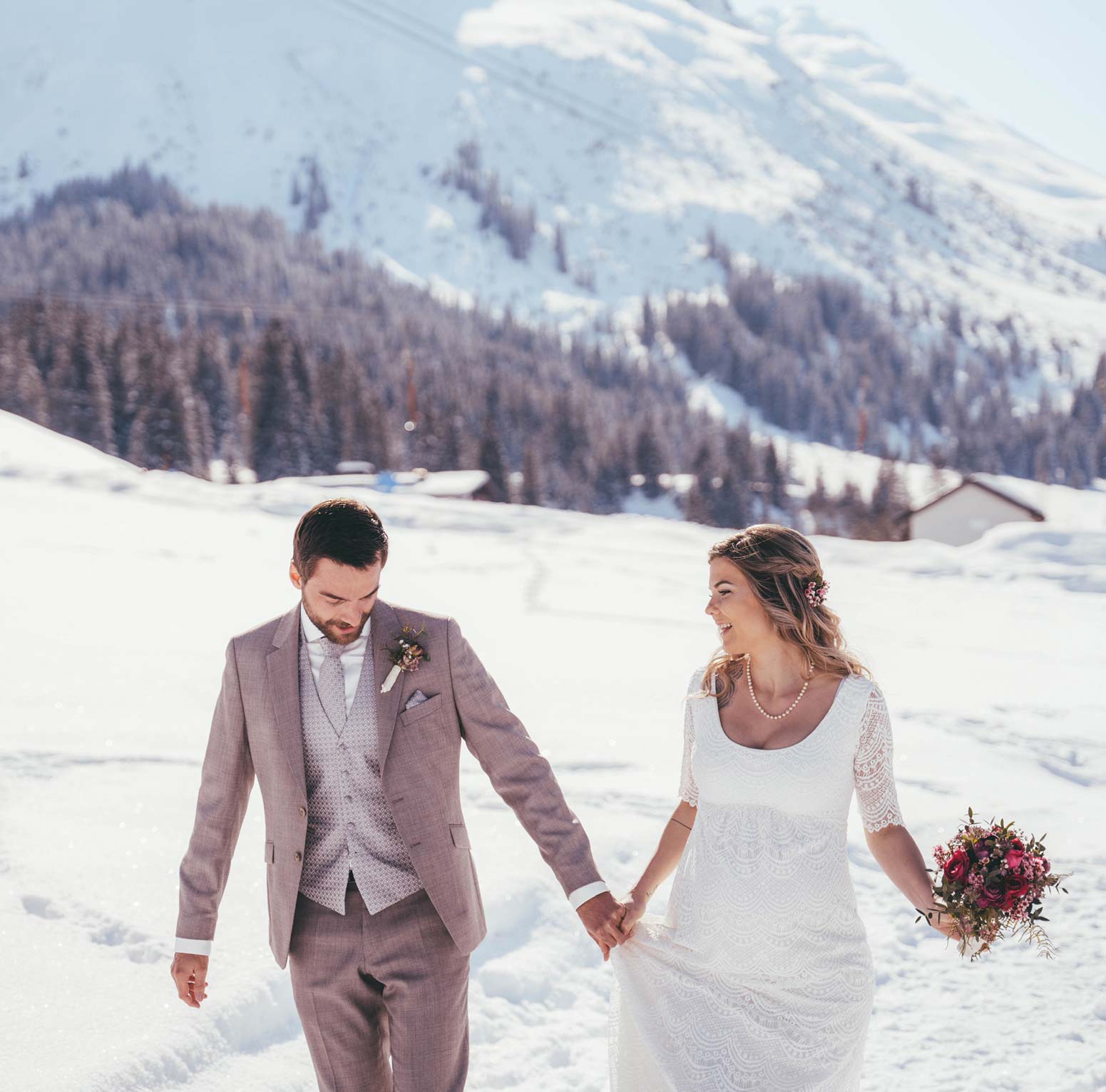 Where did you meet?
At the beginning of September 2018, after having done a long night shift at hospital the previous evening (I'm a nurse), I arranged to climb our local mountain "Hochjoch" with a friend. Unfortunately, I lost my purse and had to break off the climbing tour. After a long search, I finally went to the police station in the valley to report my lost purse. There I met a lovely policeman and 3.5 years later, we are now married and have a 7-month-old son. :)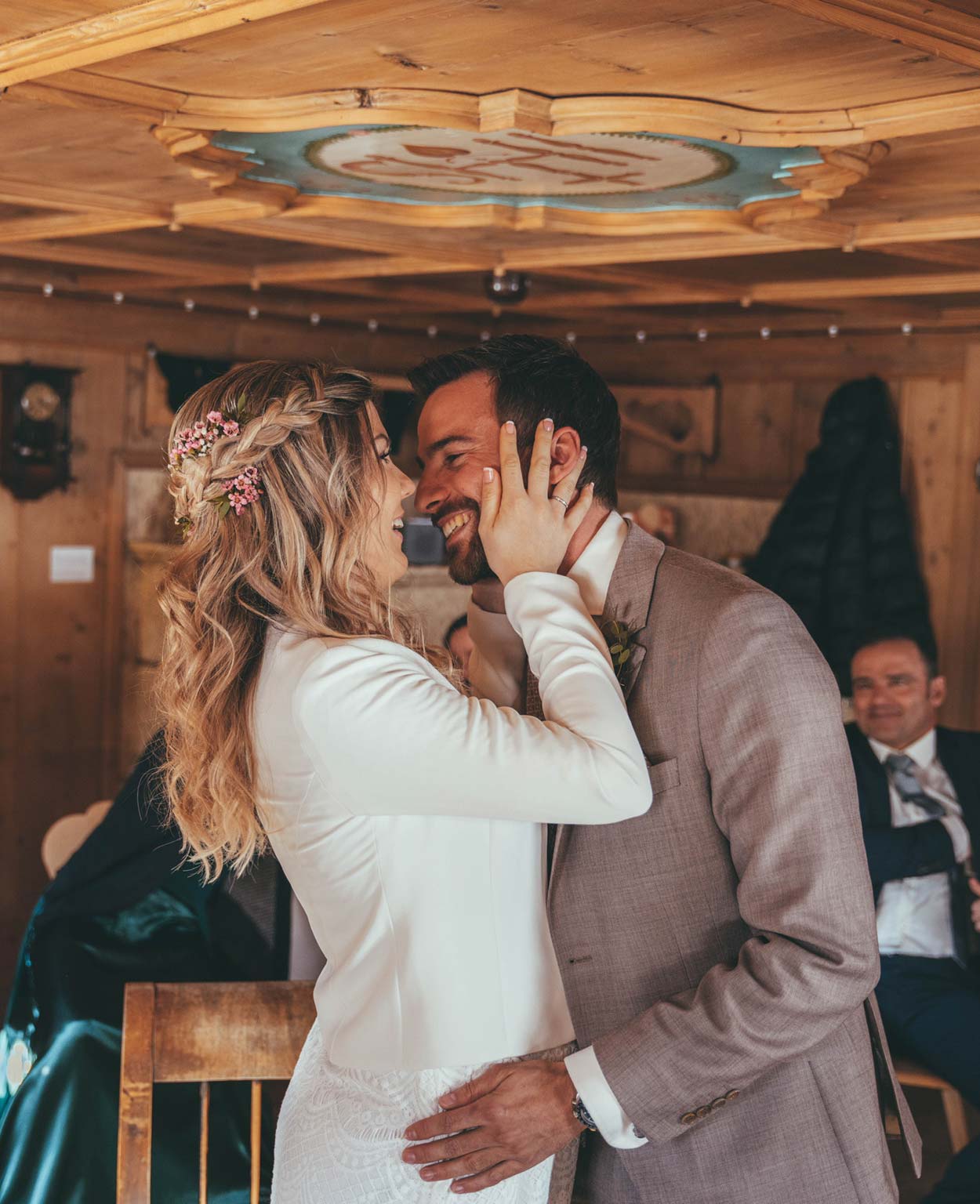 Where did you get married and why did you choose your venue?
We got married in Lech am Arlberg at 1444m above sea level in a mountain village. (Austria)

Since we both love the mountains so much and wanted to get married before the birth of our first child, we knew straight away that it was to be a winter wedding. For this reason, we decided on a registry office at 1444m above sea level, in the middle of the snowy mountains. The registry office is one of the oldest houses in Lech am Arlberg and dates back to the 17th century. It has been renovated and is now used as a museum and registry office. We were particularly lucky because it snowed the day before. Our wedding day was a beautiful winter day, without a single cloud in the sky.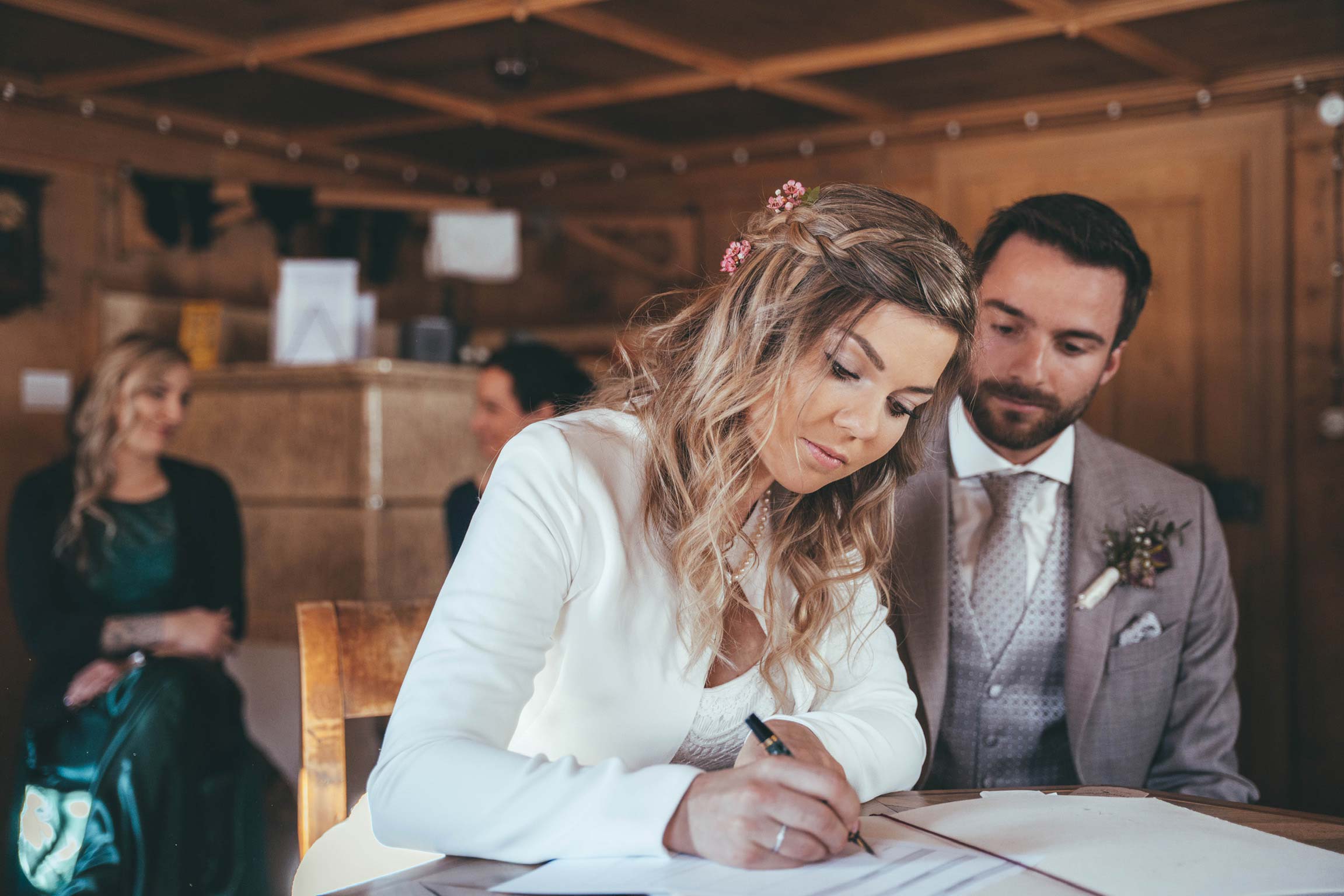 Tell us about the dress!
I had been looking for a perfect dress for a long time, I didn't want anything cheesy or glittery. Definitely not a princess dress. Since our theme was rustic, I wanted a dress that matched this look and I also wanted it to be really flattering over my bump. Plus I love boho-style dresses! Unfortunately, due to numerous lockdowns, it wasn't possible to visit a bridal shop. I came across Tiffany Rose's website and thought the dresses were simply beautiful. Of course, I was initially a bit sceptical when it came to ordering a wedding dress online. But when I read the wonderful reviews on the website and also saw the #realbride series on Instagram, I was convinced. I chose the Verona Gown in size 1 (8-10) - I just loved the beautifully finished eyelash lace on the sleeves. When it arrived, I immediately knew THIS IS THE ONE. I didn't have to change anything and it worked perfectly straight away. In my opinion, this dress is just the perfect match for a vintage wedding in the mountains and I'm very glad I chose it.


How much did Covid impact on your wedding plans?
We knew from the start that we wanted a small wedding. So, we went to the registry office with our parents and our brothers, after which we had prepared a gathering in my mother-in-law's garden. There we had a fireplace, drinks and small snacks. We had asked that every visitor needed to test negative within the last 48 hours. Everyone really stuck to it. And we could toast and celebrate with our friends until it got dark. After the gathering, we ordered a menu from a nearby hotel that was delivered freshly cooked to us in the evening. Dinner was again in the smallest family circle and was incredibly cosy. THANKS to COVID, we can say that we were guests at our own wedding and were able to enjoy the day completely relaxed.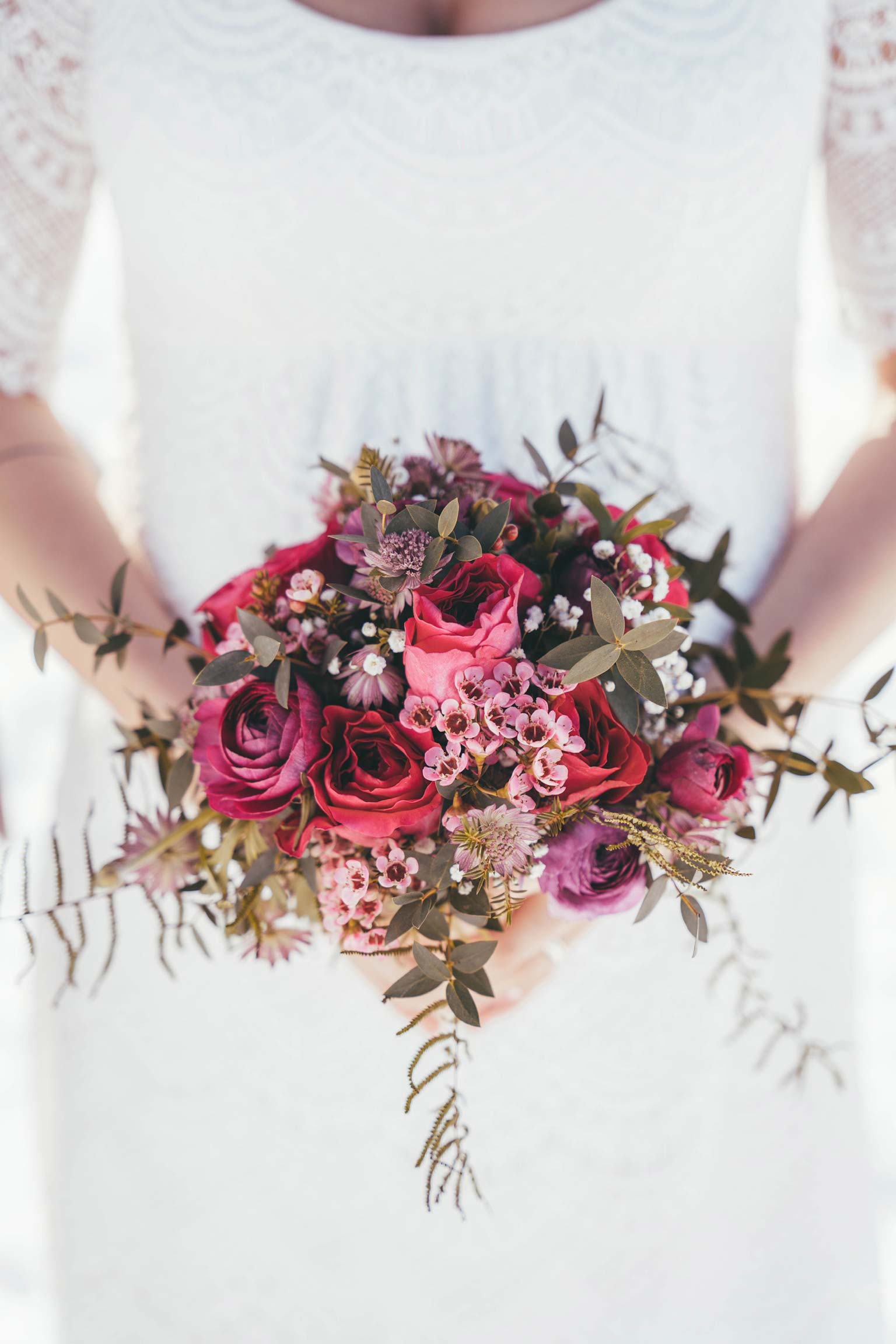 What were your favourite moments of the day?
Really a tough question, there were so many wonderful moments. I had goosebumps when my dad brought me to the "Trautisch" or "Ceremony" table and handed me over to my husband. I think almost every daughter dreams of having this moment with dad and it is really very, very emotional. I also found the civil ceremony particularly beautiful; the registrar designed the wedding very lovingly and told the story of my husband and me incredibly personally. Our hobbies, traveling and also incorporating our common goals, that really made the wedding something very special.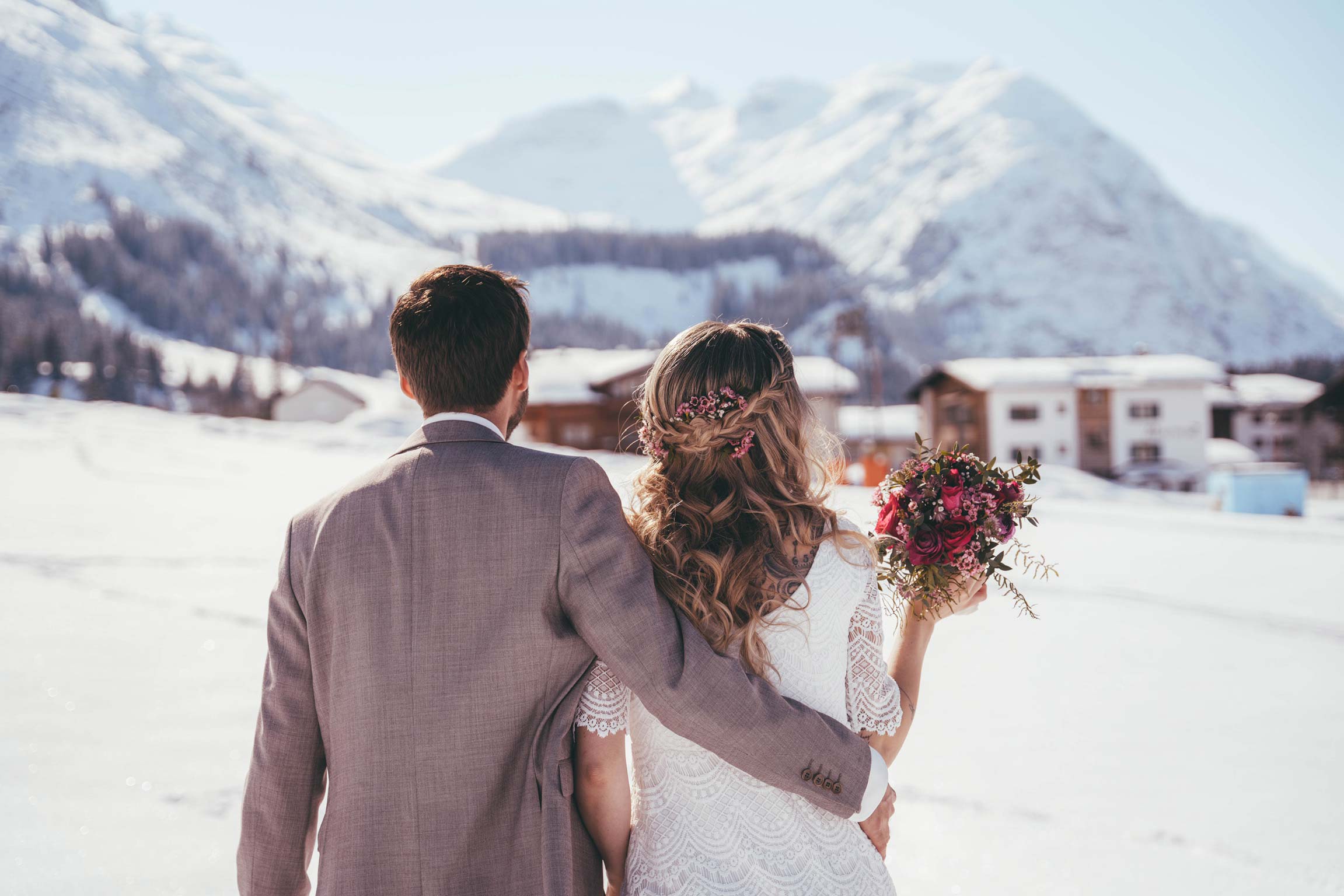 When we came to the party after the wedding, friends, family members and work colleagues greeted us singing, we didn't expect that at all. We hadn't seen many of them for almost a year due to the pandemic and that was a really very emotional moment for us. And a very big surprise.


Photographer:
We had a great photographer. His photos are authentic and very natural. We are very happy that we chose Hefti Impression. He put a huge amount of effort into the entire wedding. Thank you Pascal Hefti, you captured our special day perfectly. Instagram: @heftiimpressions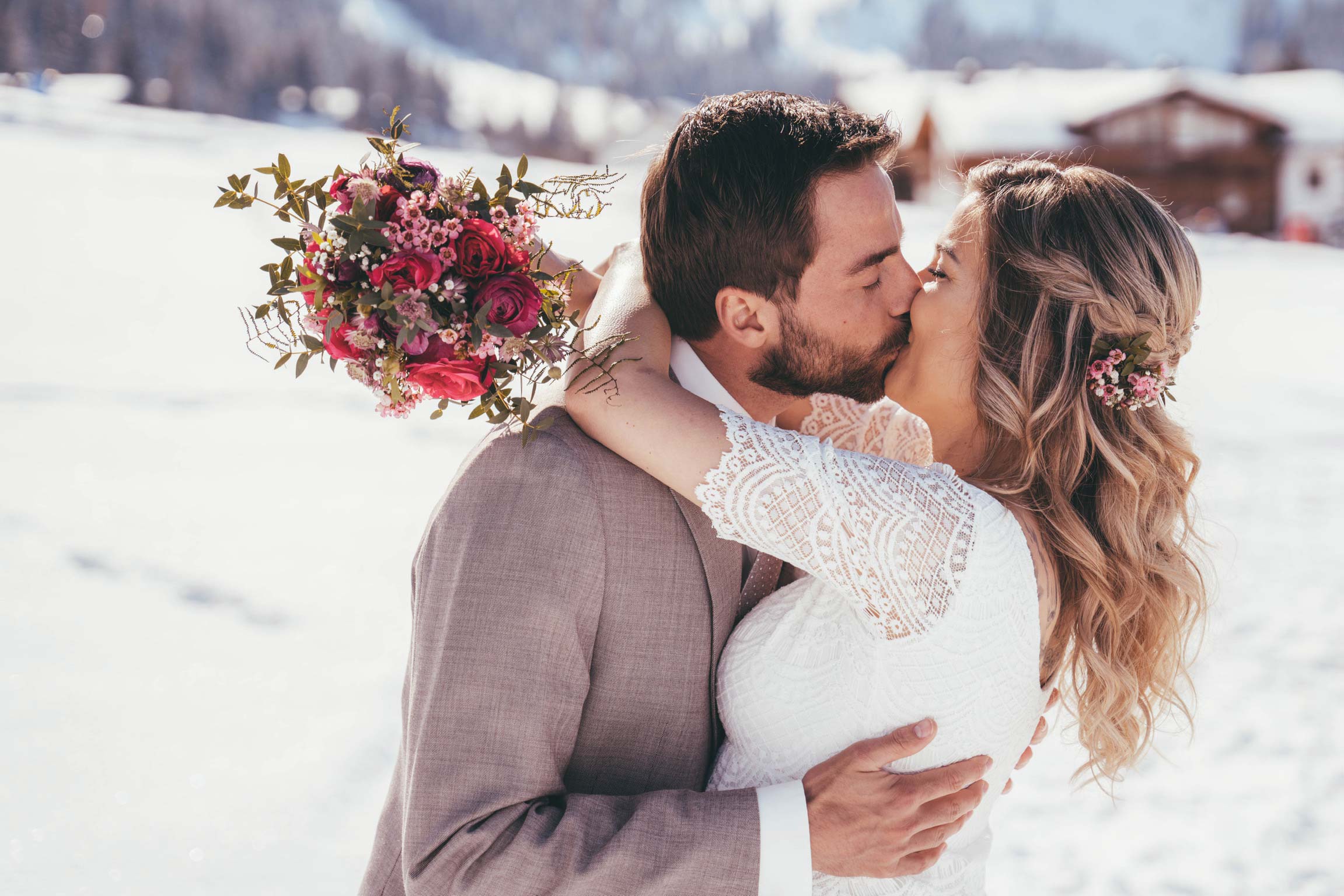 Soft and sensuous, our Verona Maternity Wedding Gown in Ivory White is romantic and graceful. Chosen by Hollywood actress, Julia Stiles, as her maternity bridal gown, the Verona features delicate eyelash lace and three quarter length sleeves. Its figure-enhancing bodice with empire line gives way to a full-length skirt lined in our softest, premium jersey.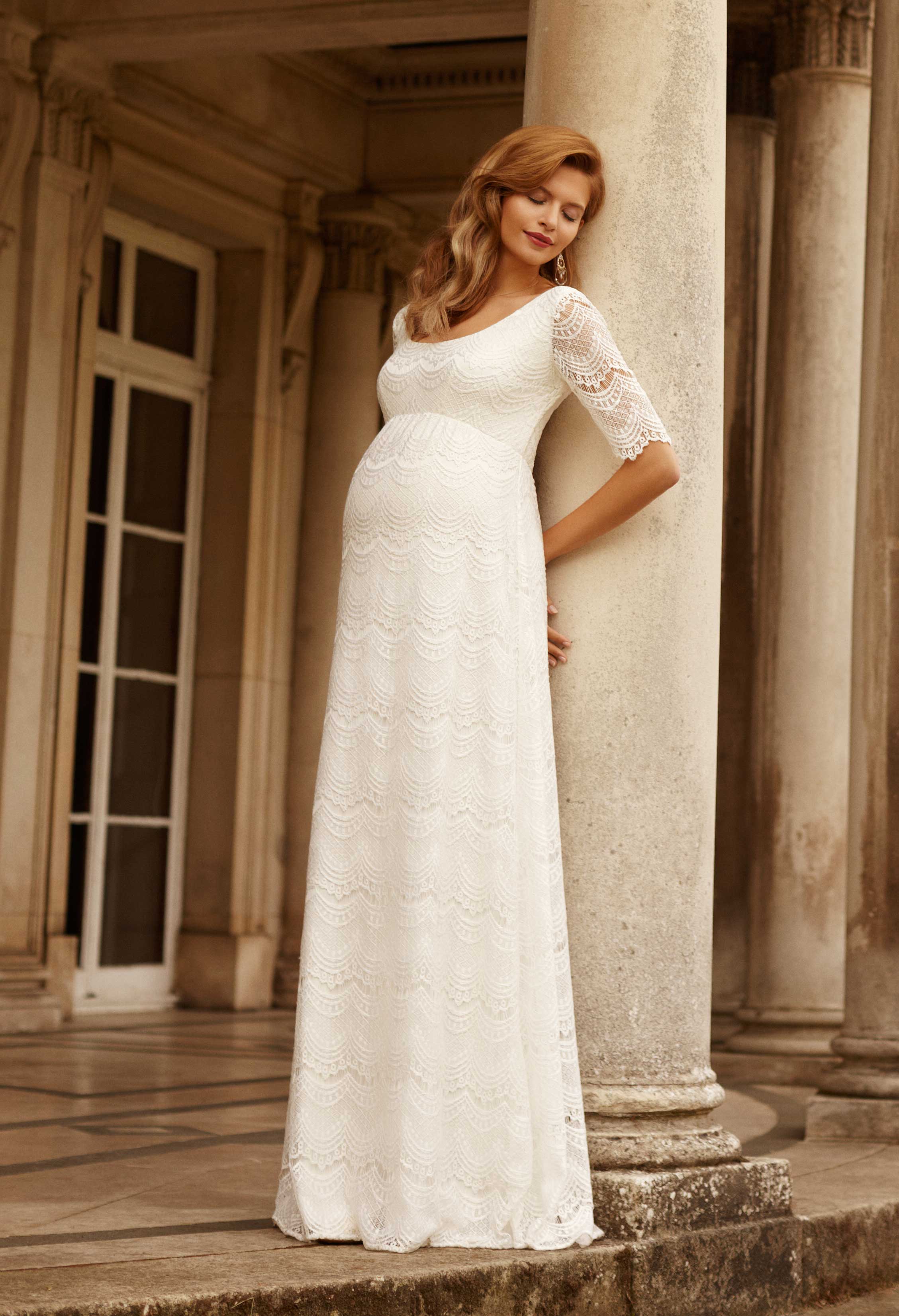 Would you like to be a real bride featured on our blog? Contact customer services and they'll tell you how!



Tag us in your special day on social media:
Facebook and Instagram or Twitter


Or use #TiffanyRoseMaternity.

Categories: #bridal, #real-brides, #wedding,
« Previous: New Year, New You (Dec, 29th 2021)
» Next: A Snowstorm Wedding (Jan 28th, 2022)
About Tiffany Rose
Tiffany Rose is dedicated to giving you the chance to wear exciting, elegant, beautiful and well-made clothes during your pregnancy.
» More...
Blog Archive
Made in Britain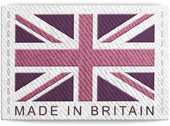 The Tiffany Rose Collection is Designed and Made in Britain
Read more...