Monday, March 29 2021
An Intimate Affair

Real Bride: Erin and Ryan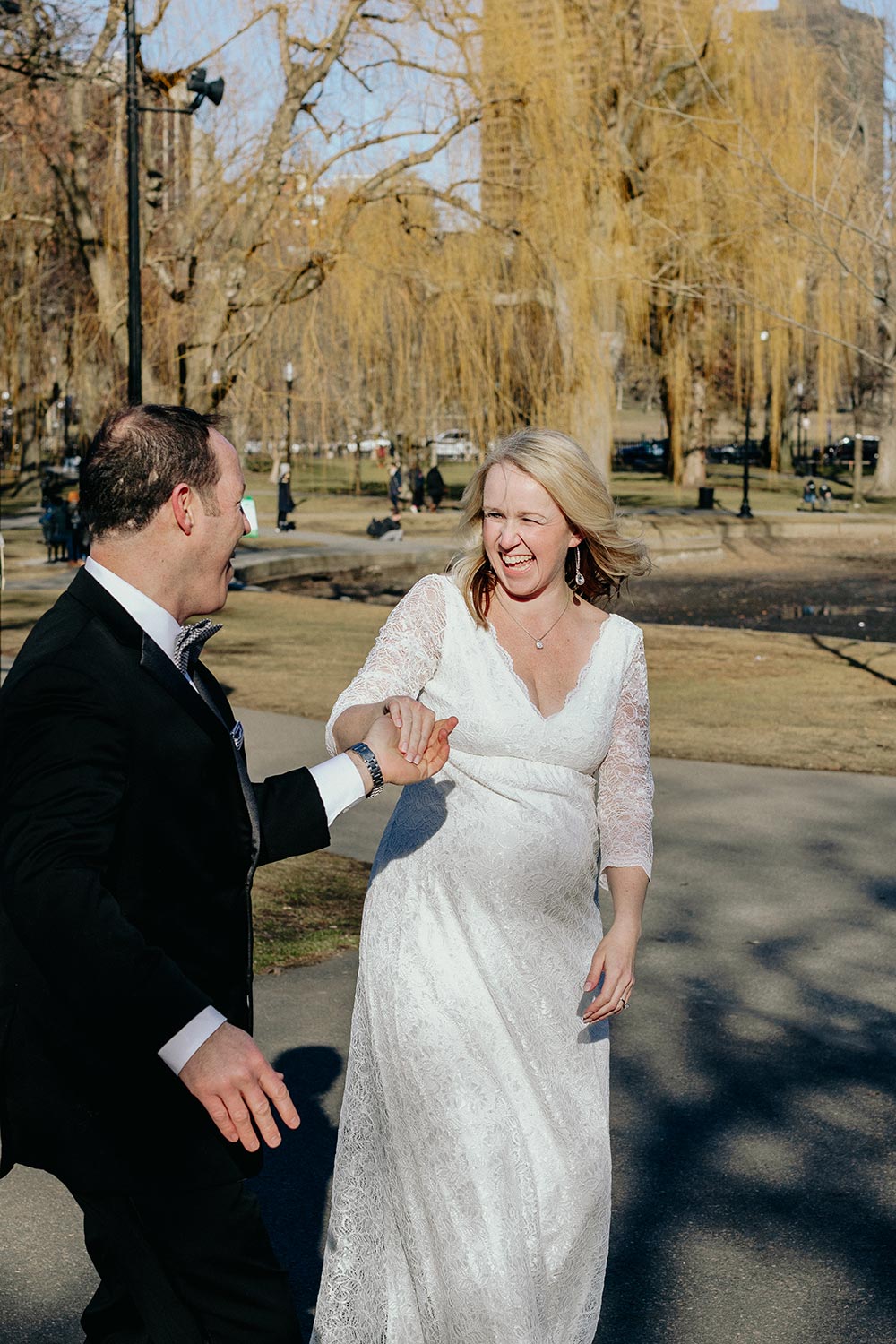 In this week's edition of the real bride, allow us to introduce Erin and new husband Ryan, who got married in Boston in early March. In a small wedding ceremony, Erin, who was 8 months pregnant at the time, glowed in our Chloe Lace Gown. Here at Tiffany Rose, we feel privileged that we play such a key role in one of the best days of your lives and we love hearing all your wonderful love stories. Here's a little more about Erin and Ryan's brilliant day and their love story:


All images credited to Nina Weinstein Photography.

Where did you both meet?
Ryan and I met via an online dating app and decided to meet for our first date at a restaurant/bar in my town. We met at 4:30pm on a Friday and ended with a kiss goodnight in the parking lot SEVEN hours later. Lots of witty banter, laughs, affectionate arm grabbing, and shared high energy.....where we were in our own bubble and everyone around us faded away. We had drinks, shared food, listened to live music, and even crashed a private birthday party at another establishment. We had so much fun that night and the fun really hasn't stopped since - and that was just four years ago on April 7, 2017!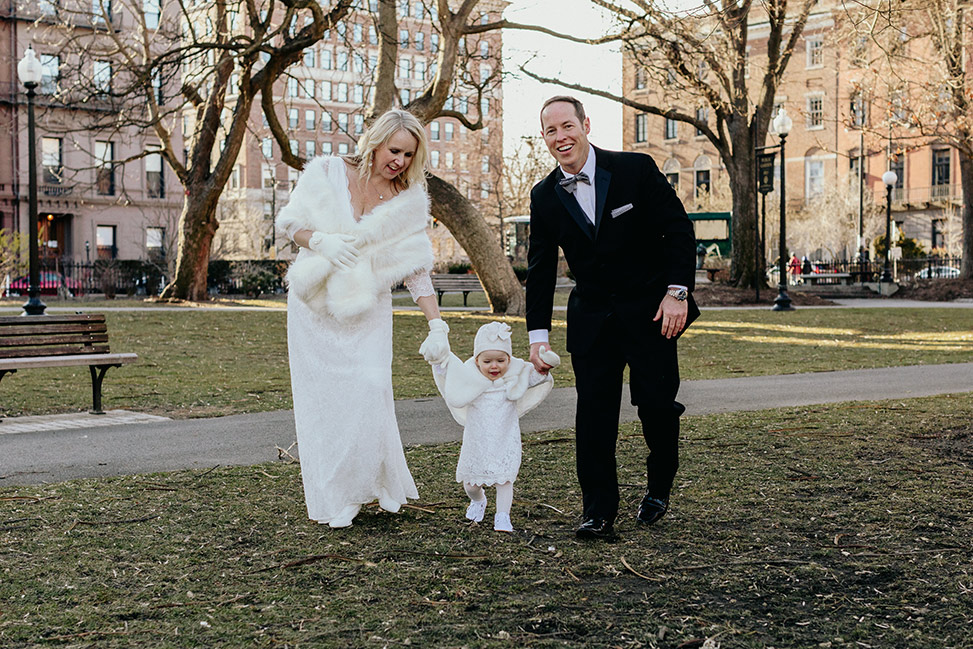 Tell us about your dress!
With being 8 months pregnant with our second kiddo at our wedding on March 6, 2021, I knew I needed a maternity wedding dress to fit this bump. I also knew I did not want a classically large, multi-tiered, ornate, dress. And with COVID, I didn't want to go into a store and try on a bunch of wedding dresses. So I started searching online. I quickly found Tiffany Rose and immediately fell in love with the Chloe Lace Gown. I love the sexy low v in the front and the back, the lace sleeves since we got married outside in March since it's cold in Boston, and how comfortable and stretchy it fit over the baby bump. I paired it with a fake fur shawl to help with the cold weather, and I felt so beautiful on my wedding day. I also got our 21-month-old daughter Logan a lace dress (from another store) and fake fur shawl to match my wedding attire.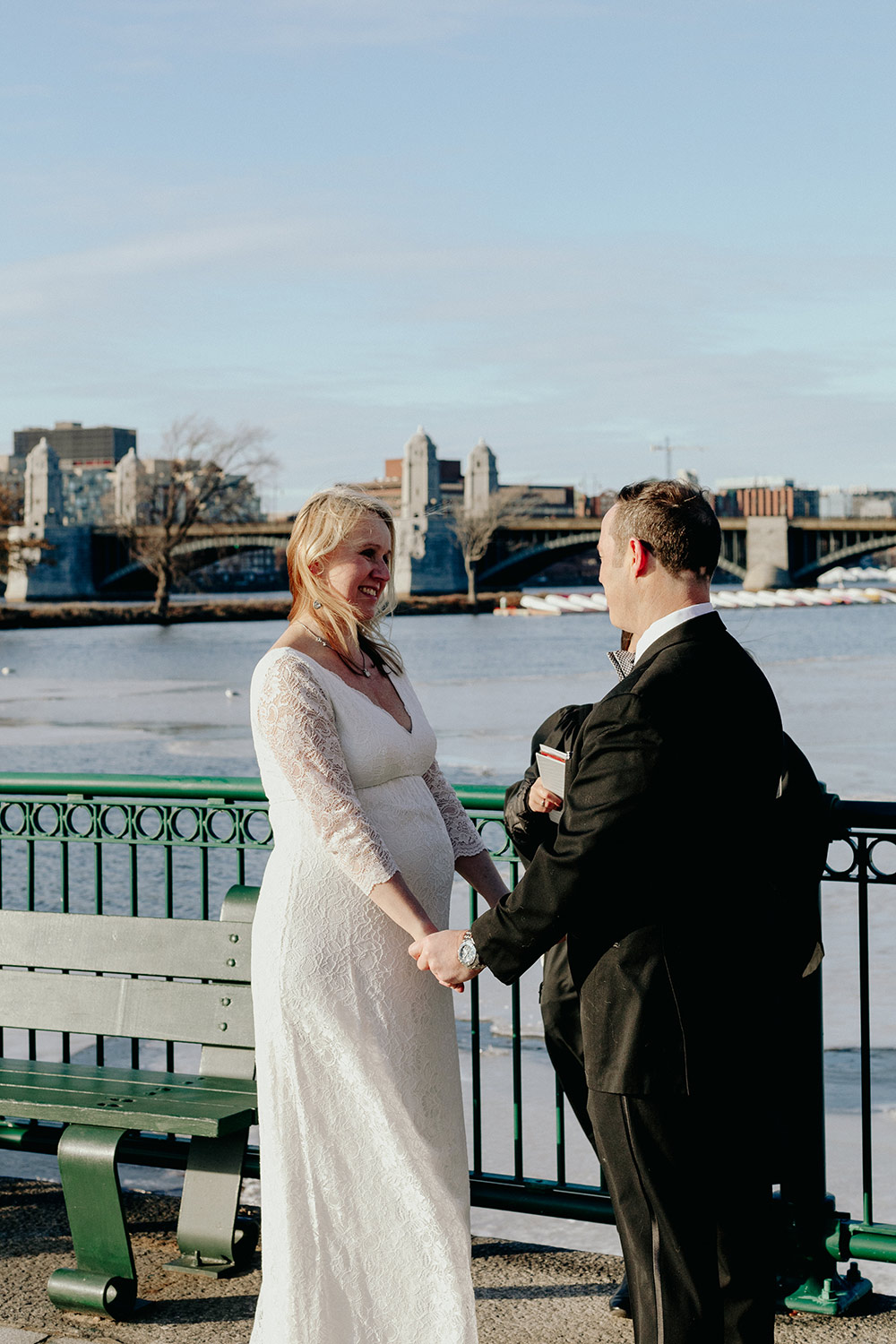 What made you choose your venue?
We chose to get married in Boston along the Charles River on the Esplanade because that was the location of our second date. Ryan invited me to go sailing on the Charles River in downtown Boston. At the time, Ryan lived in the South End, so I met him in Boston, since I lived just north of the city. We spent a beautiful April Sunday afternoon sailing in a boat of our own, laughing, and getting to know each other better. I was so impressed that Ryan was able to manoeuvre the boat himself, but not surprising since he spent many years in the United States Coast Guard. After our sail, we didn't want the date to end, so we decided to pop into Cheers - as in the bar/restaurant of the TV show from the 80s. But before we went in, Ryan excitedly grabbed my arm and said, "Let's pretend we're tourists!" So we decided to be from Colorado, and while at Cheers, we met a few out-of-town couples who were "so glad we weren't from Boston". This made us laugh, and while neither Ryan nor I are liars, we just enjoyed having this secret fun together as we started falling in love with each other. When deciding where to get married, we wanted it to be in a spot that had meaning for us as a couple, and the site of our second date was an easy choice!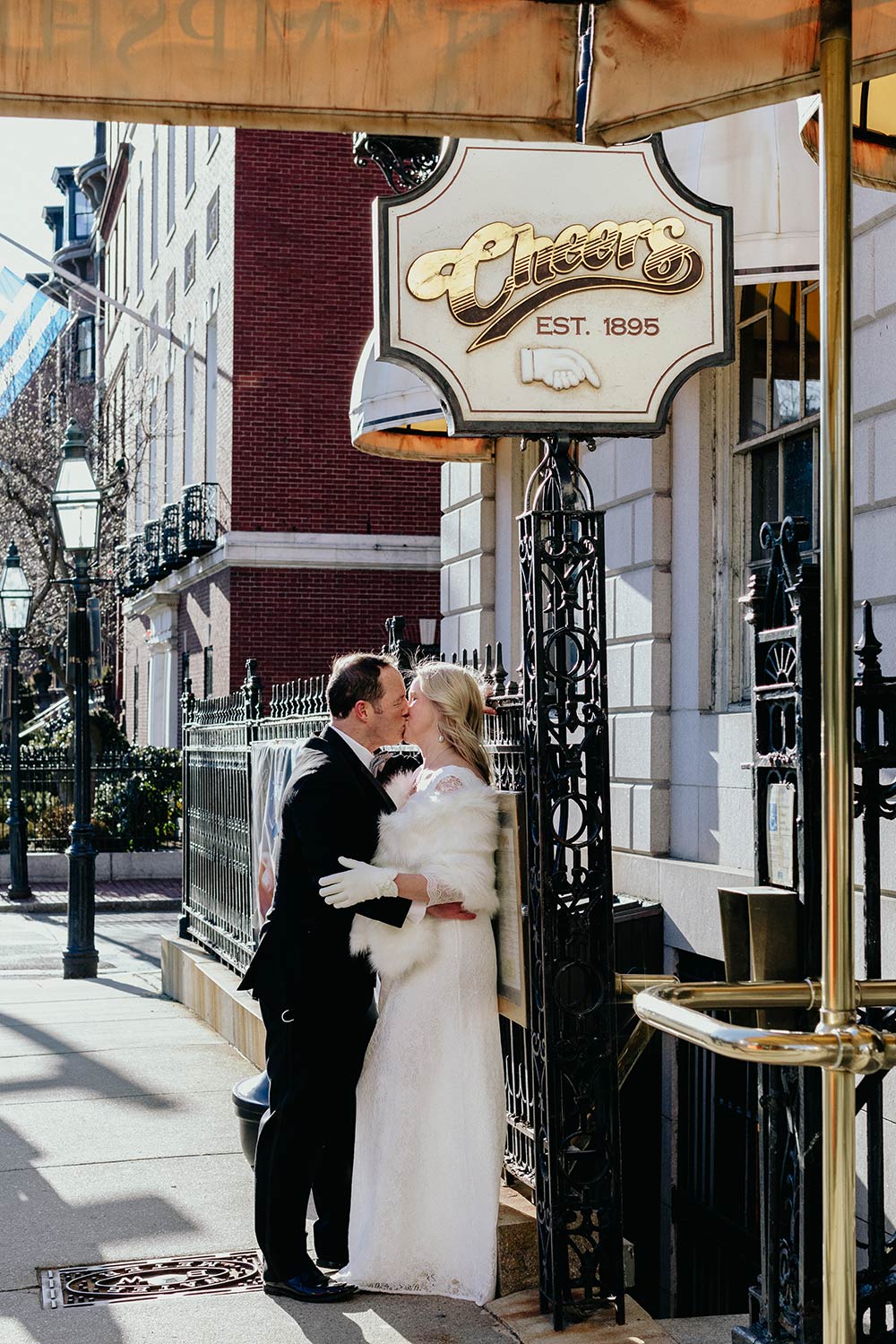 We also planned the wedding as an "elopement" with just us, our daughter Logan, Justice of the Peace, and photographer because neither of us wanted the big and overly expensive wedding. Not to mention the whole COVID situation, we thought it would be great to make things simple with our daughter and us. Our families didn't even know when we decided to get married. We're sure perhaps in a year from now we'll invite our families and loved ones to a really nice rented out restaurant room and do a celebration there.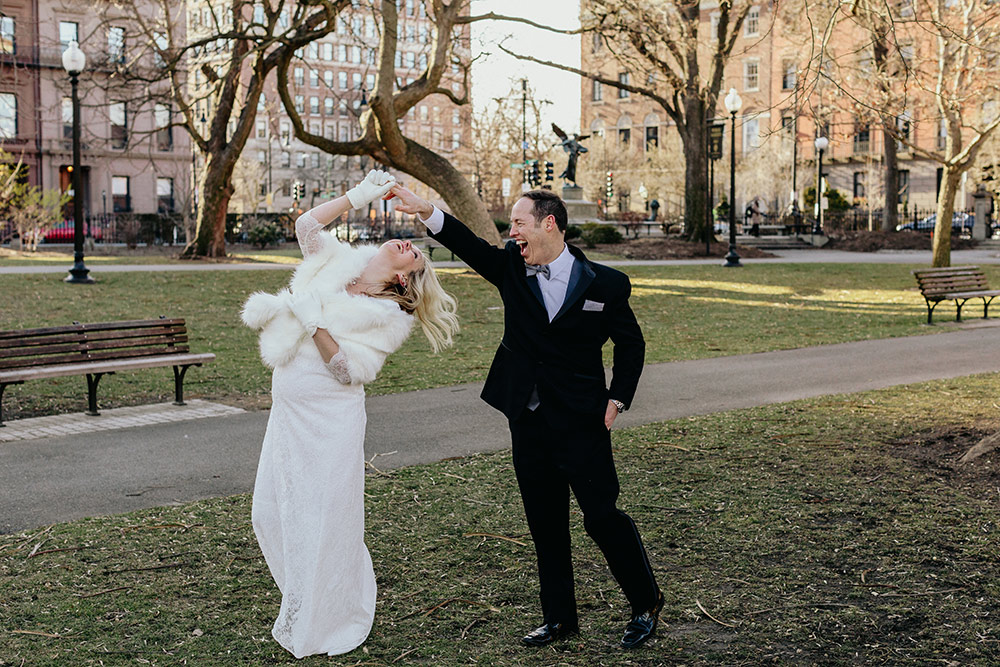 Do you have any advice for other brides planning their big day?
No need to stress. This is all about you. Have fun. Eat. Dance. Only invite people that you truly love.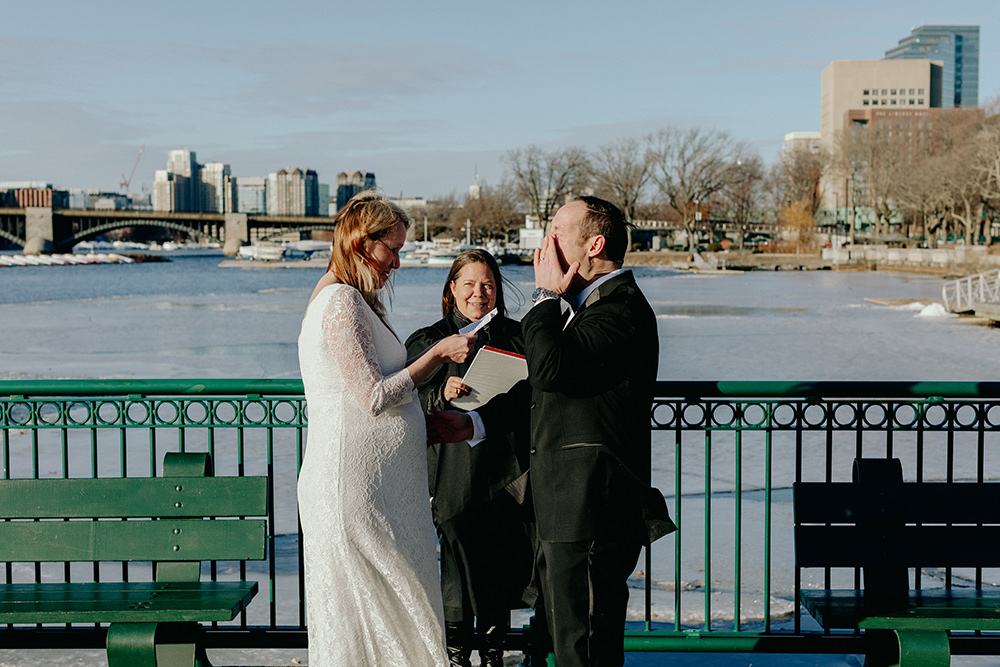 Here's a couple things about us as a couple...
From Ryan - "There are well over a thousand things that I love about Erin, here are just a few of the highlights that come to mind: Positive energy, great kisser/lover, healthy/fit, family-oriented, competitive at sports, Boston based fan, fantastic messenger of texts, hilarious, amazing at home upkeep, fantastic mother, organized, go-with-the-flow, non-complainer, avoids negative people, traveler/wine lover, drama-free, solid family values, .....I could go on for quite a long time. Main thing is that she's my person. Erin is almost like a copy/paste of myself which I've spent a LONG time looking for in a life partner. She's perfect to me."


From Erin- "What I love most about Ryan... for one, I love how amazing he is with words (as shown in his description of his love for me above) and he shows me everyday how important I am to him. He makes me laugh - EVERYDAY! He's super sexy - you should see him move his hips when he dances. He cares deeply for his friends and family, and they know it. He's an awesome dad - he makes up games, rewrites words to stories, and tries to be silly and encouraging to Logan, our daughter. He's family oriented and always puts us first, making sure our needs are met, oftentimes above his own. He hates being told what's going to happen in a movie/tv show before he's seen it, which can be ridiculous, yet endearing, at the same time. He's the best man I've ever met. I'm so excited to be his wife and celebrate us on this day.


Wishing Ryan and Erin the happiest ever after, and the best of luck with baby no 2!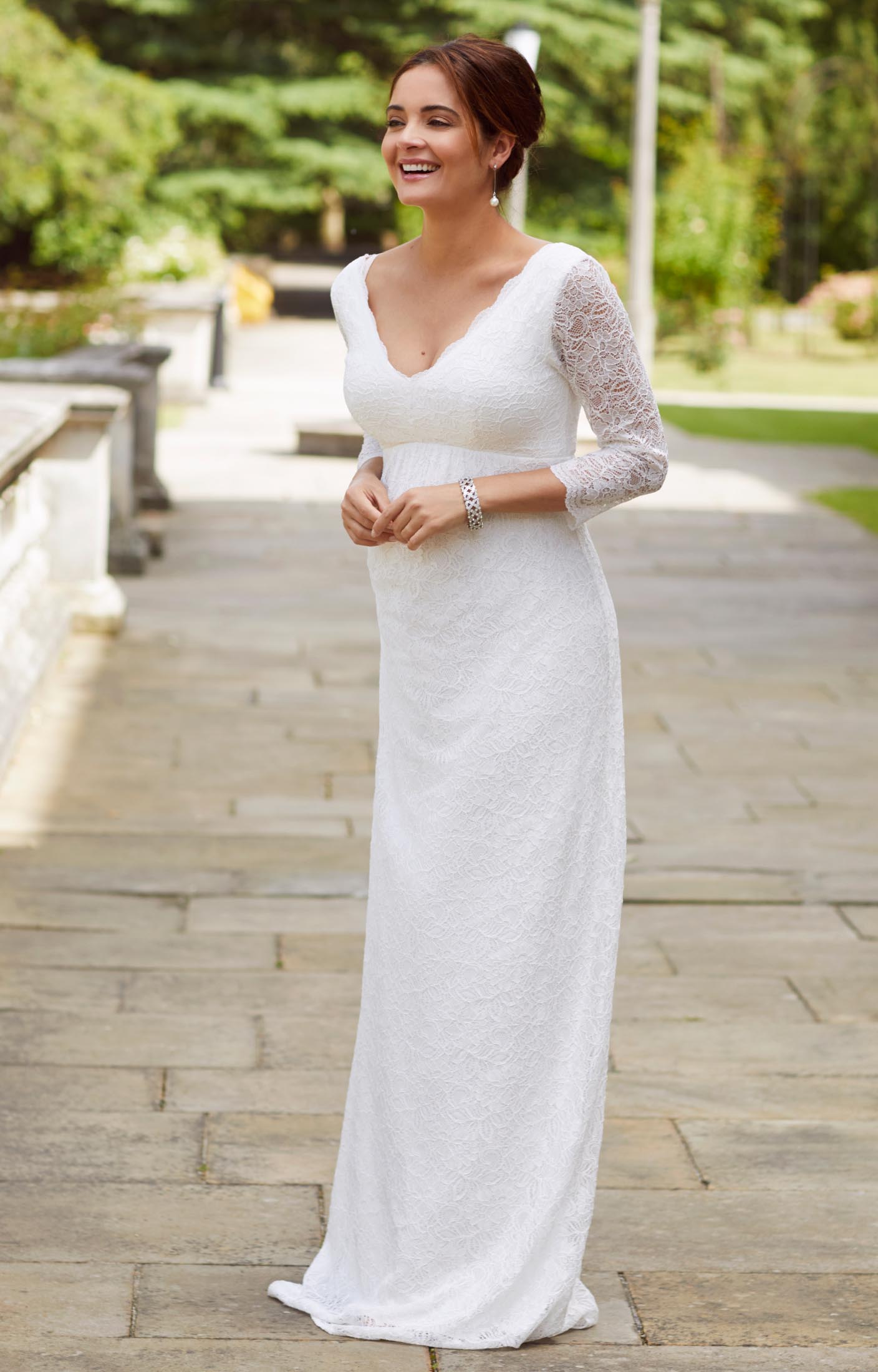 Love Erin's dress as much as she did? Our Chloe Lace gown is covered in ivory stretch corded lace and fully lined in a premium, breathable jersey. The plunging v-neckline to both the front and back has a scalloped-edge detail, which is reflected in its matching three-quarter sleeves. A beautifully shaped floor-length skirt creates a sleek and sophisticated shape to pregnancy curves. Get yours now.


Would you like to be a real bride featured on our blog? Contact customer services and they'll tell you how!
Categories: #bridal, #your-style, #real-brides, #wedding,
« Previous: Spring Savings (Mar, 29th 2021)
» Next: The Amy Neville Edit (Apr 16th, 2021)
About Tiffany Rose
Tiffany Rose is dedicated to giving you the chance to wear exciting, elegant, beautiful and well-made clothes during your pregnancy.
» More...
Blog Archive
Made in Britain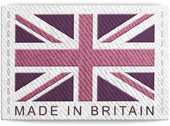 The Tiffany Rose Collection is Designed and Made in Britain
Read more...