Wednesday, September 13 2017
August Instagram Favourites

From fashion bloggers, to celebrities, to our super glam mums-to-be, we love seeing all of the gorgeous photos you tag us in on Instagram! This week we've picked our favourite posts from August to offer you a little bump style inspiration.
We absolutely adore this photo of Elena Navarro (@sweettblonde) wearing our Anastasia Gown in Ivory. The simple white maternity gown is the perfect maternity photoshoot dress and stands out beautifully against the warm orange backdrop. Just stunning!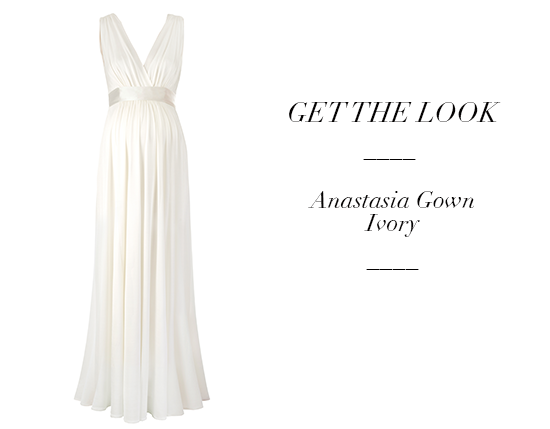 When our customer Kelsey (@thatpaperdollgirl) shared her wedding photos on Instagram we fell in love! Such a sweet capture of a beautiful couple. Kelsey wore our Verona Gown in Ivory on her special day.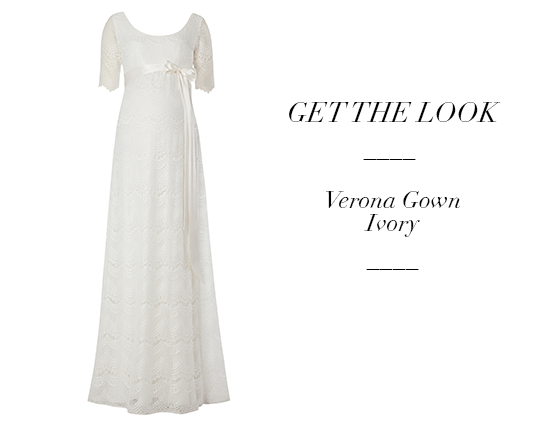 Glamourous mum-to-be Danielle Lloyd (@missdlloyd) looked amazing in our new Mia Gown when she attended a family wedding last month. It's always so exciting to see celebrities in our dresses, especially when it's a private event!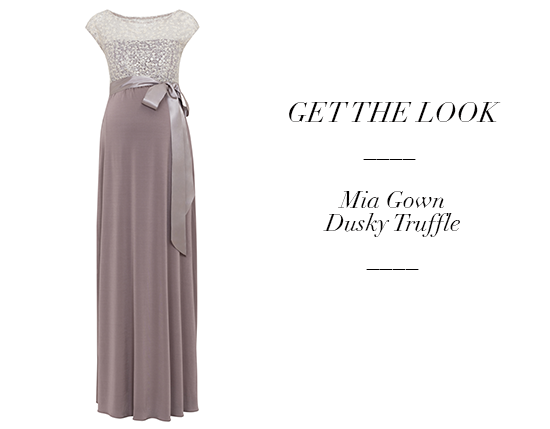 We love this photo of the gorgeous Alyssa Loring (@alyssaloring) alongside her sisters at her Baby Shower. Alyssa wore our Bardot Dress in Grand Jardin and told us it was the 'perfect shower dress!' - doesn't she look fab?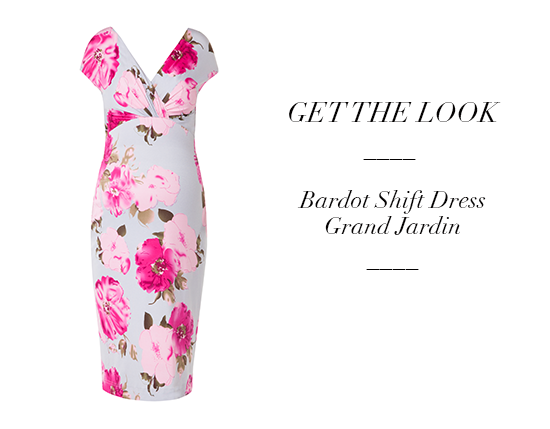 Andy Garcia (@andy_styl3) shared a few photos with us last month but this one was our absolute favourite! She looks so gorgeous in our Alessandra in English Rose at 30 weeks pregnant!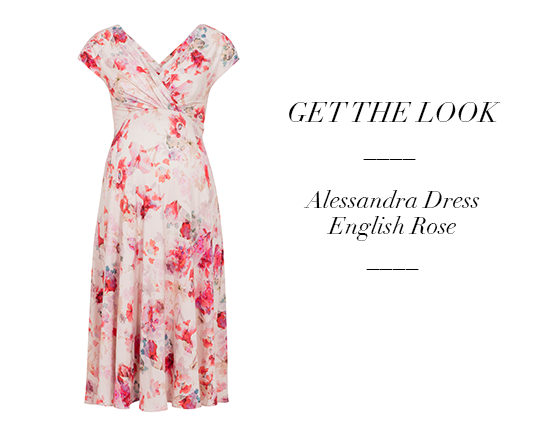 Want to share your Tiffany Rose Maternity look? Use the hashtag #tiffanyrosematernity for a chance to be featured!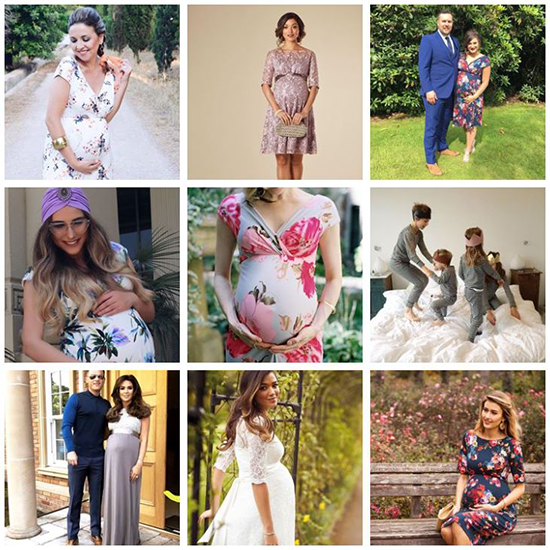 Categories: Collections, News, Your-Style, celebrity-style,
« Previous: Introducing NEW Bridal! (Aug, 16th 2017)
» Next: Julia Stiles Ties the Knot (Sep 27th, 2017)
About Tiffany Rose
Tiffany Rose is dedicated to giving you the chance to wear exciting, elegant, beautiful and well-made clothes during your pregnancy.
» More...
Blog Archive
Categories
Made in Britain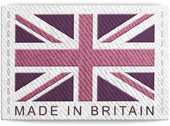 The Tiffany Rose Collection is Designed and Made in Britain
Read more...
Our Favourite Blogs
The Dresses are really beautyful and comfortable for pregnant brides.There are not so many choices.The time for delivery was great,also the Service to answer my questions mostly at the same Day an very friendly.To get my money back for the returned clothes was easy an uncomplicated.Wen you are pregnant and you are searching a Dress to feel good and look beautyful - choose Tiffany Rose!
I have 3 dresses from Tiffany arias and the quality and fit are absolutely amazing in comparison to any other maternity brand. I would highly recommend. Delivery, packaging and customer care perfect too! Thanks so much for making my bump feel beautiful xxxxx
Excellent customer service, friendly, helpful and speedy response to queries. The dress fits beautifully, superb quality and I can't wait to wear it on my wedding day in three weeks! I will say I found the sizing a little small and had to return my dress for the next size up, might be something to be aware of. Thanks Tiffany Rose, highly highly recommended
After visiting a wedding dress outlet and finding absolutely nothing that fitted me I felt very down and was regretting planning my wedding to take place when I was going to be over 8months pregnant. I had seen Tiffany Rose online after a Google search and although I was initially very sceptical about buying a dress online I decided that as my wedding day was quickly approaching and I had seen a dress that I liked I would order it and at least try it on. I called the helpline to get some advice about what size to order and the lady I spoke to was very helpful. I ordered the dress I wanted and it arrived the next day which I was very impressed by. I was married on Saturday and not only did I feel comfortable all day long wearing the dress, I also felt very sexy which at 8months pregnant isn't always easy to feel. I'm so pleased I bought my dress from Tiffany Rose and I would recommend to all pregnant ladies who want to feel amazing on their special day. Thankyou very much.
Perfect seamless transaction from start to finish Super fast postage to Australia very well packaged Absolutely Gorgeous dress ! Fits perfectly Fantastic Quality I Love it Thank you so much
Perfect fit, and same as shown on picture. Super easy and fast delivery. Very happy!
Ordered two navy dresses and quality is excellent. Sizing is more generous than I had hoped, and the dresses do not fit me like the models, which is disappointing. I'm hoping that I will fill the dresses out better closer to my due date. They are far too large at 24 weeks, but I did not want to size down significantly from my pre-pregnancy size for fear that the dresses would not fit by the time I needed them. I think they look matronly. Just be aware that while quality is stellar, things like linings and sleeves make them bulkier than cheaper alternatives, so you may want to consider sizing down if you are not gaining all over.
Dress arrived quickly. It fitted really well and looked so flattering. Material was excellent quality and looked even better than the pics on the website. I would definitely recommend x
The dress is so beautiful and perfect Qualität. Tiffany Rose send very fast! I'm ve y happy. So, no Problems , No waiting !
My maternity wedding dress fitted perfectly and I was complimented on how lovely the dress was during the day.
Bought my weddingdress just one week before the wedding. Quick deliverance (just a few days, sweden) and the dress was amazing! I strongly recommend Tiffany Rose!
Dear Tiffany Rose, I couldn't believe it was just turned up magical wedding dress 👰🏻. I am very happy to have your design for my classic wedding day. Thanks You very much. Merry Christmas and happy new year to you.
I bought one of your dresses 8 years ago and loved it. I needed something similar but the boutique I bought it in no longer exists so I ordered online. The services was excellent and of course the dress was just perfect. Will be recommending Tiffany Rose to friends.
Gute Angebotsauswahl und super-schneller Versand
I purchased a Tiffany Rose dress and wore it to a wedding. The dress was just perfect, it looked exactly like it did in the photo and the fabric and design were beautiful! Even though I was 34 weeks pregnant, I felt amazing in the dress!
Robe confortable, conforme en tout point à la photo. Qualité appréciable - délai de livraison respecté. Je recommande vivement!
I had a great Wedding day with a fantastisch Dress from Tiffany Rose. Thank you so much!
Beautiful dress ! Exactly what I was looking for. I received many compliments and it was very comfortable. I will be ordering again in the future!
Fast shipping, beautiful dress.
Perfect fit, fast delivery and stunning quality.
Really fast delivery. I choose the fast express an it arrived the day after ordering. The dress fits very well and the cotton also is a good soft quality. Just the way to return something is a little bit boring. But nobody is perfect. Thanks a lot to the hole team. A wish you a glory christmas and a happy New year
follow us...
Sign up to our newsletter for our latest news