Made in Britain

Tiffany Rose: Made in Britain
People often say that it's impossible to manufacture clothes in Britain any more. We're delighted to show that one brand has proved them wrong. Every single one of Tiffany Rose's stylish and glamorous own-label garments is designed and produced in Britain.
British clothing manufacture has a long tradition of quality and excellence. This means whenever you buy a Tiffany Rose maternity dress, you can be assured not only of beautiful British design but also of stunning quality, as it is produced here in Britain to our exacting standards.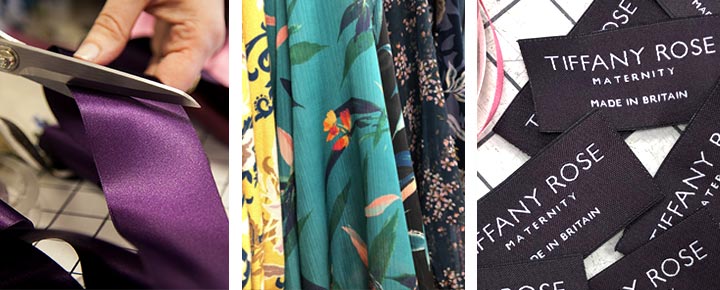 Ethically produced, made with love
We launched our maternity label with just one UK manufacturer, but thanks to our growth over the years Tiffany Rose now works with five talented garment specialists, each with a unique set of skills and specialist experience working with different fabrics such as premium jerseys, silks and chiffon.
As customers ourselves we care a lot about how and where our clothing is made, and so we think it's somewhat appropriate that our maternity wear brand is breathing new life into an industry which was once one of Britain's largest providers of employment, especially for women. And with many of the essential skills being centred round the industrial heartlands of Britain where unemployment is relatively high, we are investing in talent that may otherwise be lost.
Our fabrics
As excited as we are to bring you British design and production, we have now turned to British fabric mills for the development of some of our most beautiful jerseys, which you will discover across the Collection.
We are also delighted to announce the launch of our bespoke Jasmine Print Design © created by Tiffany Rose and printed in Britain. Nestled in the remote hills of middle England, our silk printers have been running since the 18th century when British manufacture and print was a thriving industry.

An International Reputation
Every Made in Britain label stitched into Tiffany Rose maternity dress means exactly that: each machine-stitched detail, every hand-gathered silk skirt, each flouncy hem and delicate touch of lace, is the craft of a seamstress here in Britain.
The huge growth in our international sales over the years proves that Britain still has a valued reputation for quality with international customers: we have shipped our beautiful maternity dresses to over 80 countries worldwide. Read through our Customer Reviews to see what our delighted customers from around the world have had to say.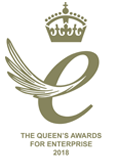 The Queen's Award for Enterprise 2013 + 2018
Tiffany Rose is thrilled to be named as a winner of the The Queen's Award TWICE in 5 years (2013 & 2018).
The Queen's Award is the UK's highest accolade of business success and has been awarded as the result of our continued growth in international markets.
We are very excited that so many of our customers across the globe are choosing Tiffany Rose and Alie Street, and we look forward to bringing you many more of our beautiful designs.
For more information and details about our visit to Buckingham Palace in honour of our Awards, click here.
Our passion for creating in Britain comes from a genuine desire to bring you authenticity and heritage but most importantly to play a part in restoring something wonderful and valuable, which was so nearly lost to this country.
Tiffany Rose: passionate about beautiful clothes, produced locally.