Wednesday, October 18 2023
Match Made in Norway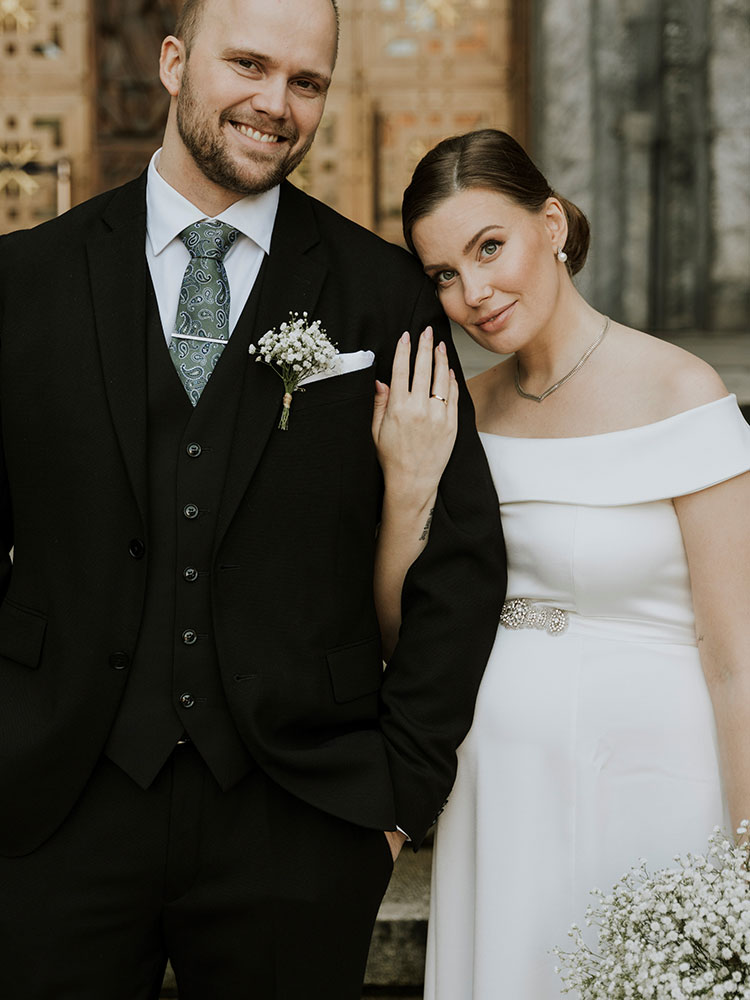 Tell us how you met!
During the pandemic I moved in with a good friend, Kaja, during the Christmas season, in order not to die of boredom and solitude. While I was flying back to Oslo after a trip to North Norway, I had forgotten about Kajas dinner-date at home with a guy she had met as well as my very strict instructions on not to come home until a certain time. I blame the strong drinks and northern lights ;) Anyways, when I enter the apartment, she is having dinner with this cute guy, Frode. So cute my Gin and Tonic hangover disappears in an instant.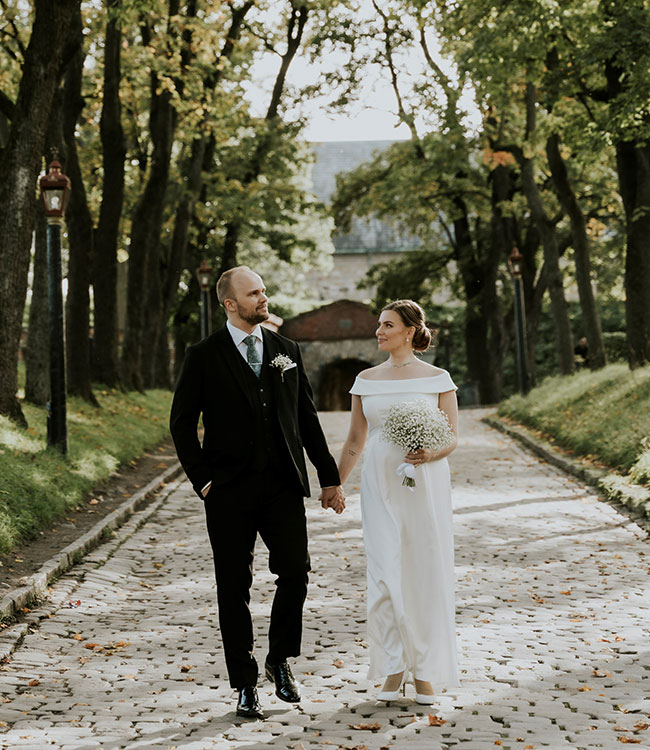 After a few more dates they find out that there are no feelings between them and to just remain friends. Six months later and still deep down the eternal quarantine rabbit hole, I match with Frode on Tinder. I honestly did not recognize him in the beginning when we started talking. When I realized that this was Kaja's former date I asked her if I could meet him for a coffee (obviously with face masks and 1 meter apart, those were the days were they not?). She laughed and said yes. On the condition that if Frode and I were to get married she would be invited. Our wedding party consisted of our parents, siblings (with partners), best men/and women and our «matchmaker» Kaja, haha. :)!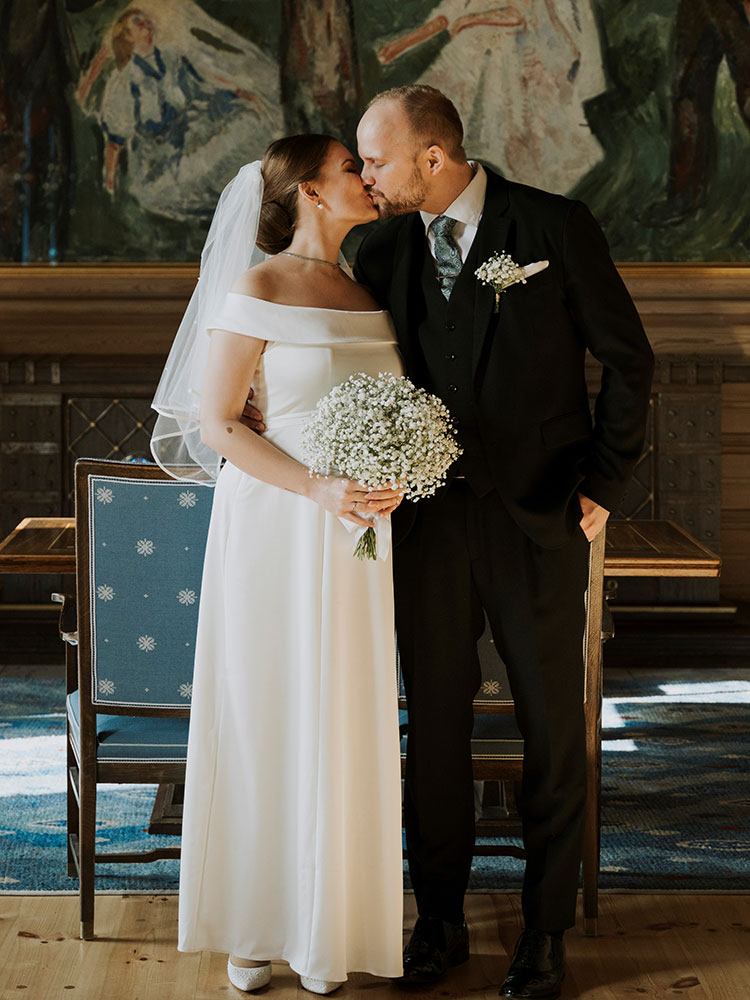 Where did you choose to marry?
Due to a heavy pregnancy (hello severe sickness) we chose a very small (16 guests) wedding in Oslo where we live and where I was born and raised. My husband (still unusual to say out loud!) is a country boy from a very small village called Sebu in the middle of Norway, about an hour from Trondheim. The plan is to have a big party in Selbu with all our friends and family next Summer. (We picture long summer nights, meadows, on a barn, more casual and rustic).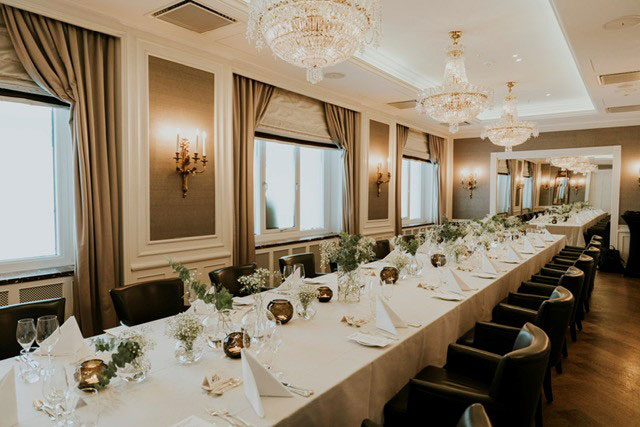 The ceremony was in the beautiful City Hall in Oslo. The wedding room has a stunning ocean view and the judge married us in front of a beautiful painting by the world-famous Norwegian painter Edvard Munch. I went down the «aisle» with my father while «Edelweiss» was playing. My favourite film growing up<3.
The pictures after are taken only a 10-minute walk away from City Hall on Akershus Fortress. We were congratulated by the remaining Oslo-tourists from US, UK, Germany, and Japan during our shoot.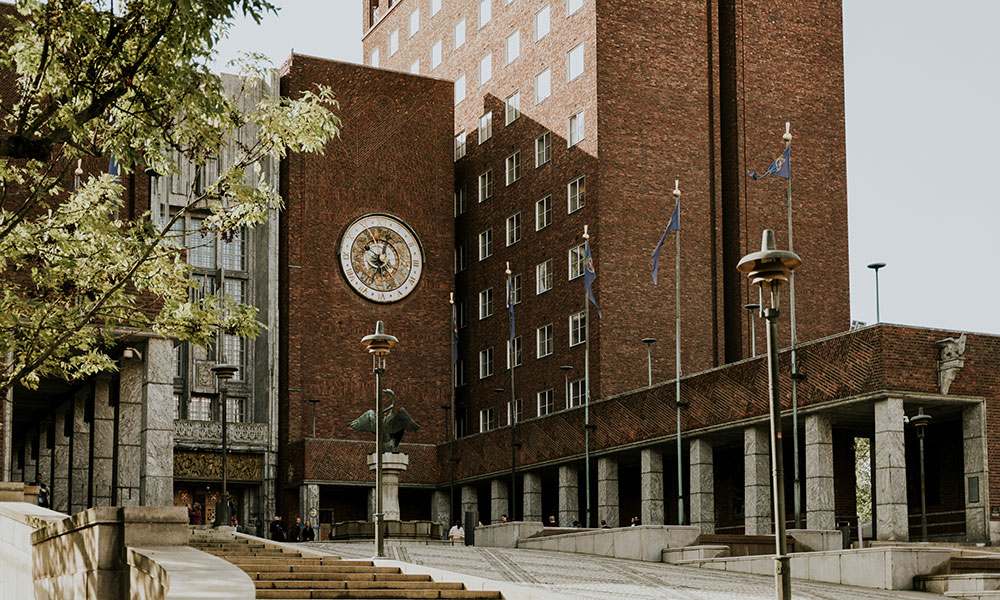 The venue was in 5-star Hotel Continental, a historic hotel only 5 minutes away and around the corner from City Hall. The Hotel has been so incredibly professional from start to end. It oozes elegance from the minute you step inside. The Chandeliers, carpets, mirrors, art, the furniture etc is so well done, royal and classic. The whole area is so decorative that we did not need any decorations. Less is more so the only decorations we wanted were flowers on the dinner table. Having been so sick with the pregnancy it felt amazing to let go of the control, we knew we were in the best care and good hands. (I could have re-lived the 4-course meal any day!)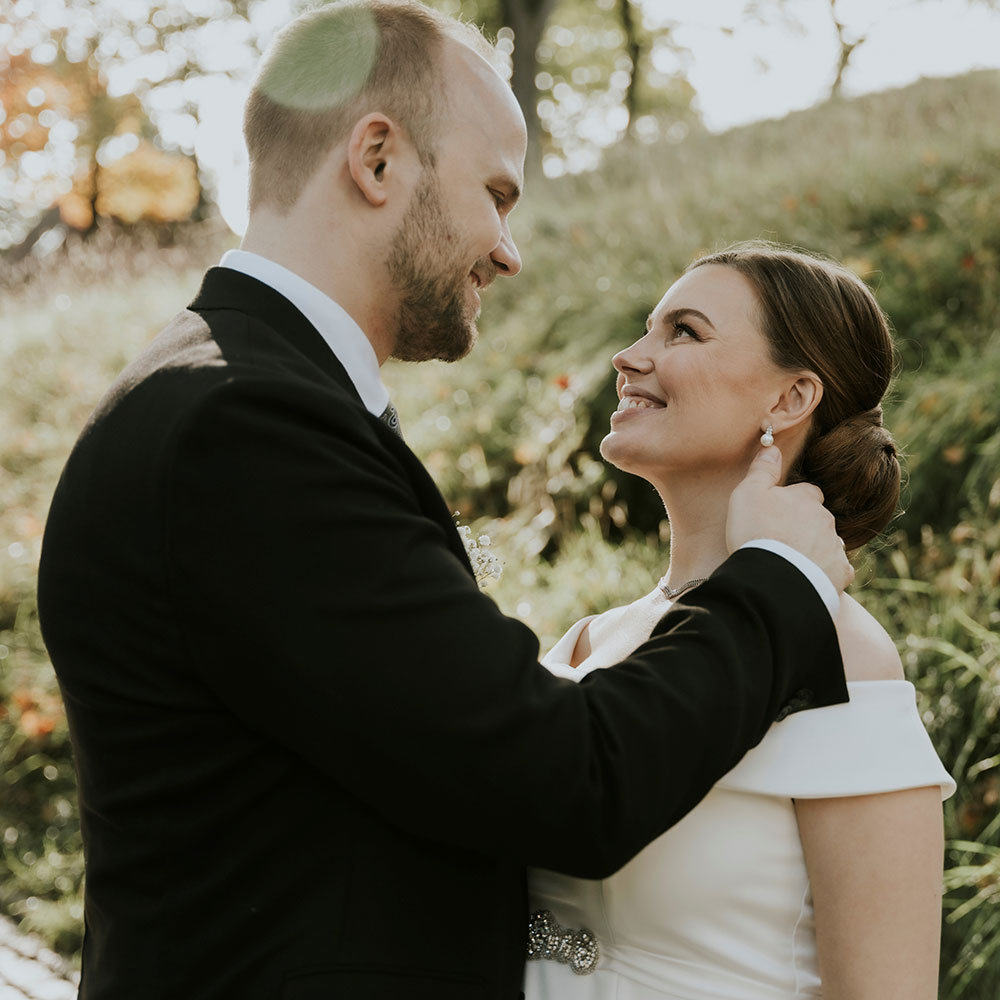 What did you wear?
The dress! I wanted something like Crown Princess Victoria of Sweden's wedding gown. My sister, mum and two bridesmaids gave me a very strange look when I told them that I did not have the need to go and try dresses in a boutique, I had found it on a British website ;) I wanted a dress where I could hide the baby bump a little bit on some pictures and include it when I wanted to show it off. I think knowing what I wanted from the beginning made the choice easy for me. On accessorizes I went with pearl earrings; I made my own veil with pearl-beads and I chose Steve Madden shoes covered in pearls. The hair and makeup were both inspired by Kate Middleton.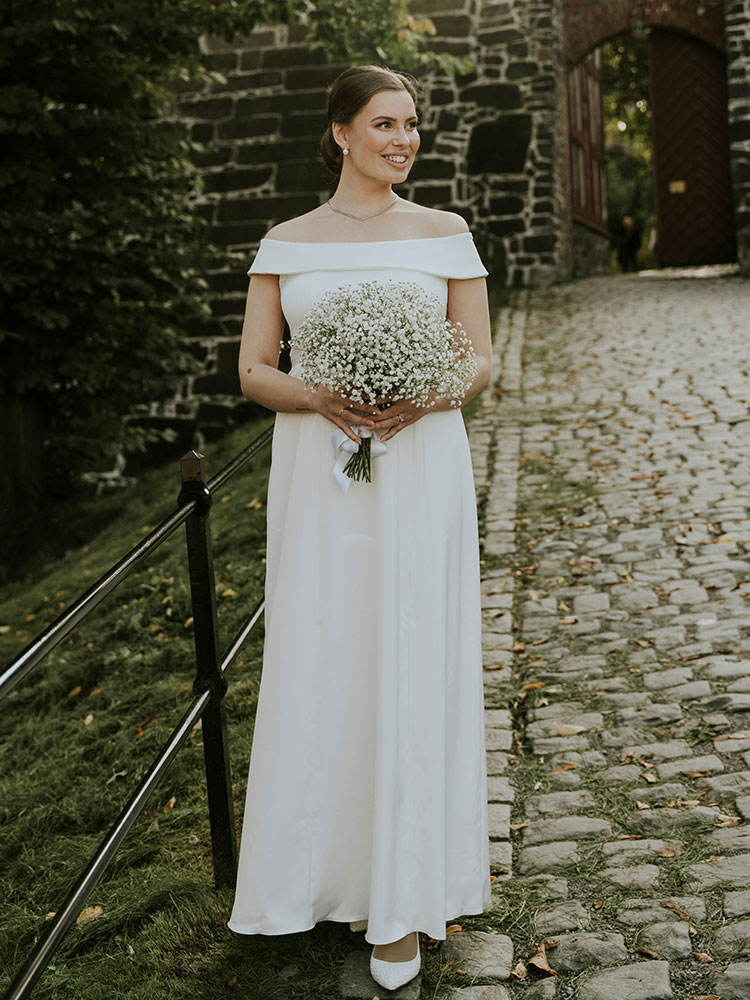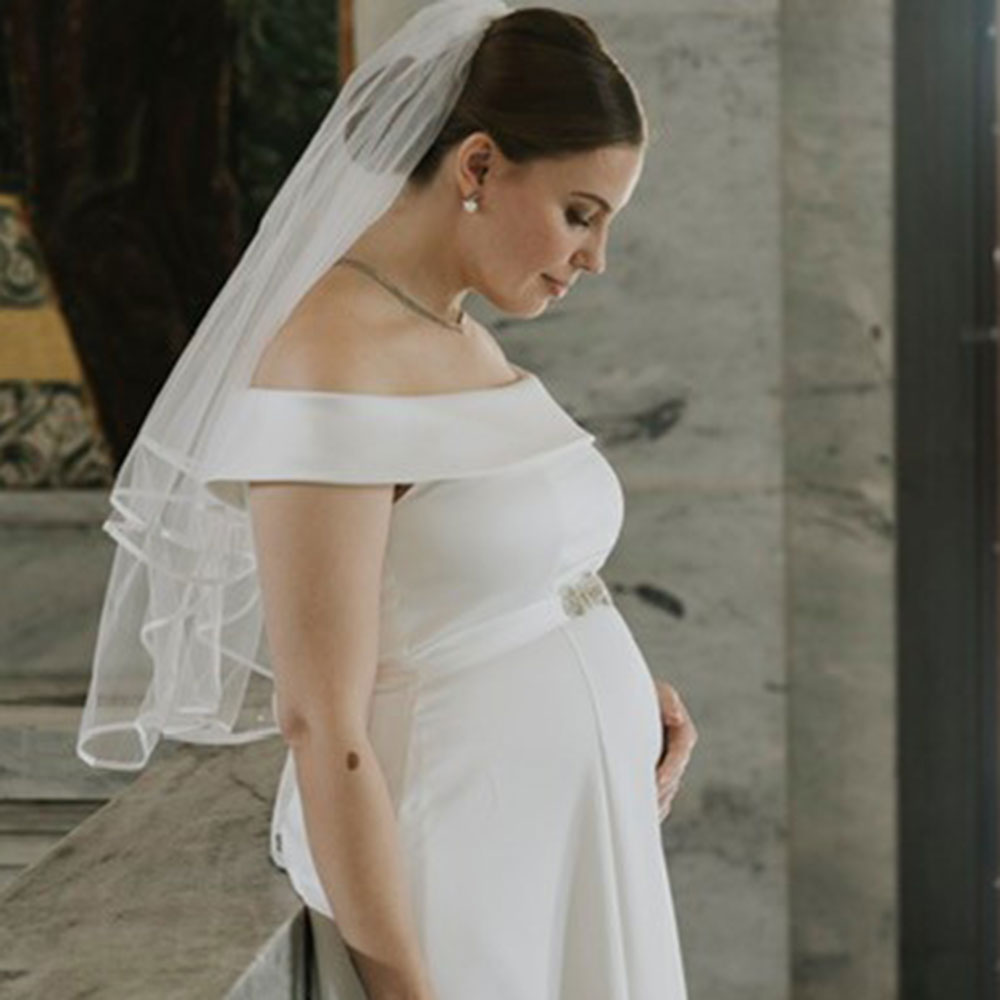 Any tips for fellow pregnant brides?
- Keep in mind how big of a wedding you have the energy for. Having only 16 guests made me relax more than if I would have had a big wedding. (And do not feel guilty for it, it is your day!)
- Involve «yes!», «I got this», «we will fix this», «don't worry about it» kind of people in the process. I depended on friends/family and their positive attitude whilst I was on bed rest and sick leave for months.
- A little flight attendant tip: wear compression stockings! The heels are tight, you will swell up but the compression stockings help a lot and prevented some swelling for me. (Also take the heels off from time to time, no one will know ;)
- Snacks. Obviously! I was super worried about spilling/getting stains on the dress so Sprite with sugar and unsalted nuts gave me a quick energy boost between the ceremony, photoshoot, mingling and dinner. Not the day to gamble with dark food/drinks like chocolate, coffee, and Coca Cola.
- Your nails grow SO quick when you are pregnant, if you are going to fix your nails before the wedding, do it a day or two before.
- It should be FUN to plan your wedding. Pregnancy can be so demanding but getting to plan this can be a good break from everything else. If you feel stressed about it, put it away and come back later.
- Keep track on the finances during the process. Yes, it is a once in a lifetime event but you will not enjoy it if you worry about the invoice that will come later.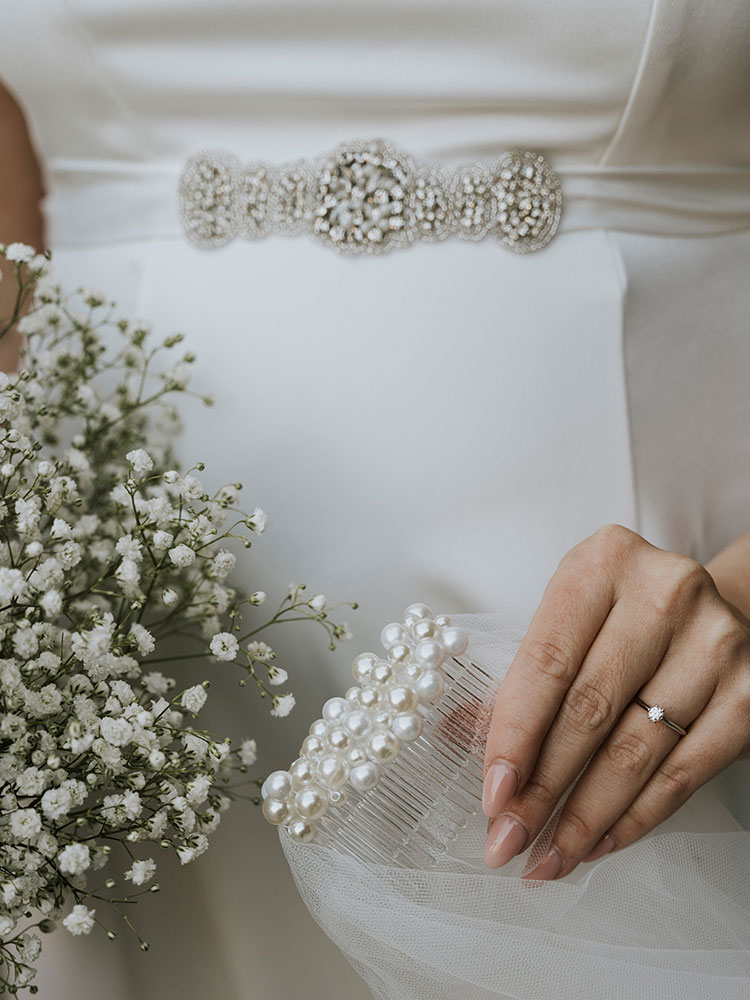 Tell us some fun facts!
Fun fact no.1 : I proposed first in October 2022. He said yes but wanted to propose himself as well, which he did in March 2023.
Fun fact no.2 : I booked the time for the wedding ceremony on my way from one party to another, in the backseat of a taxi. Getting married in the City Hall on weekdays is free in Norway. Started off by «planning the wedding» by saving us 250 pounds ;)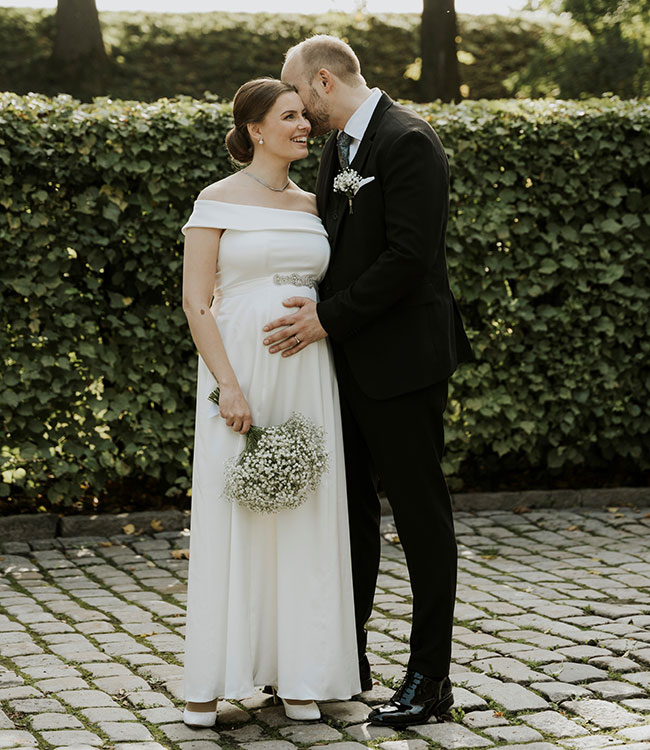 Photographer @tolovethatlasts
Get The Look
Introducing Grace, our latest Hollywood-style maternity gown - where glamour meets bridal.
Designed with premium soft stretch satin in the most flattering ivory and with the perfect hint of sheen. Off-the-Shoulder neckline with a 'feature' folded collar for the ultimate in classic elegance.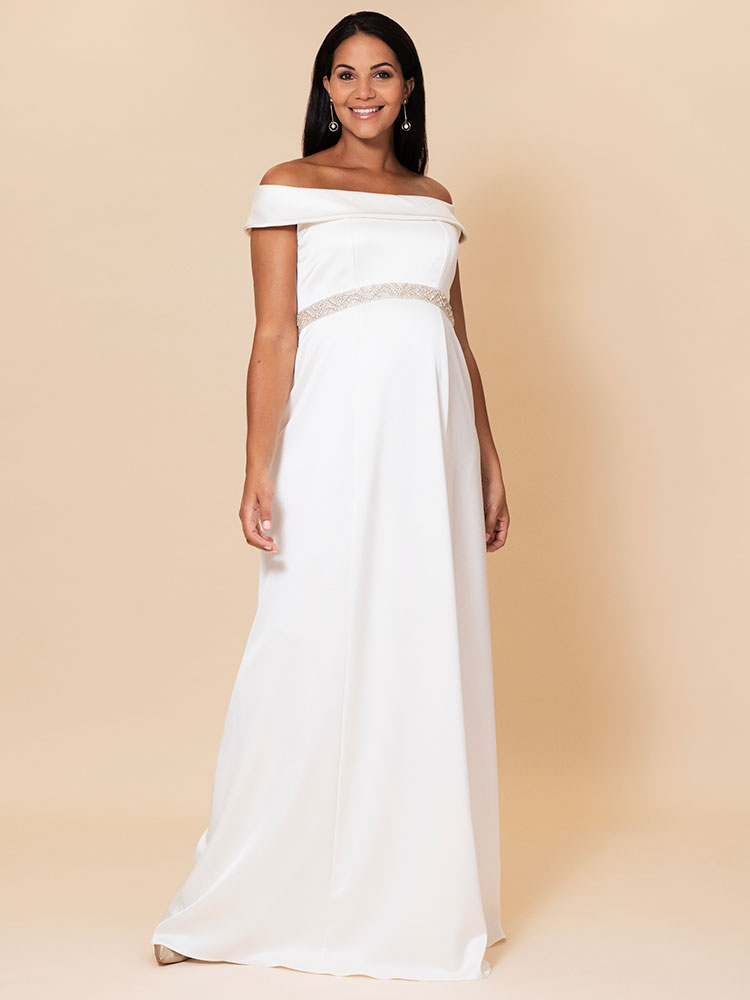 Grace Off-The-Shoulder Satin Maternity Wedding Gown >>
Tiffany Rose Wedding Dresses >>
Categories: #real-brides, #wedding,
« Previous: Blooming Gorgeous (Aug, 6th 2023)
About Tiffany Rose
Tiffany Rose is dedicated to giving you the chance to wear exciting, elegant, beautiful and well-made clothes during your pregnancy.
» More...
Blog Archive
Made in Britain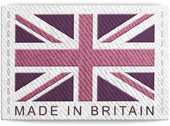 The Tiffany Rose Collection is Designed and Made in Britain
Read more...