Sunday, April 21 2013
Tiffany Rose wins Queen's Award for Enterprise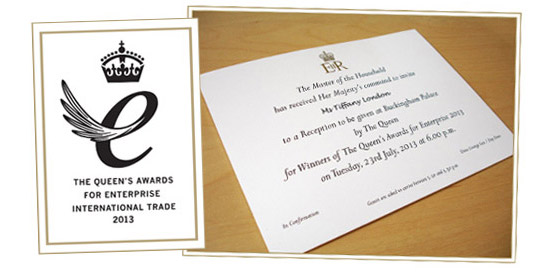 We are THRILLED to announce that Tiffany Rose has been named as the winner of a Queen's Award for Enterprise 2013, in recognition of outstanding international sales of our British designed and manufactured special occasion maternity wear brand.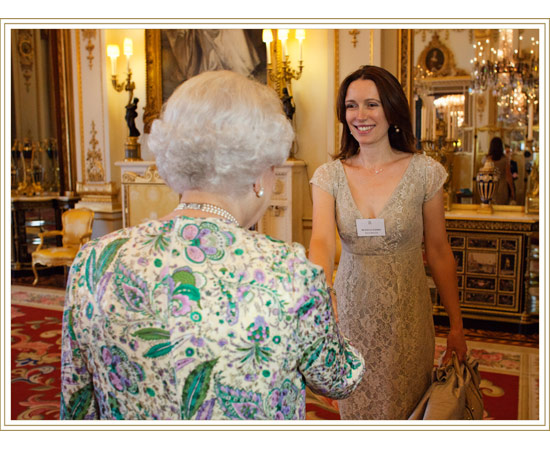 The Queen's Awards for Enterprise are the most prestigious accolades for businesses and individuals in the United Kingdom. The winners are selected on the recommendation of the British Prime Minister and announced each year on 21st April, Her Majesty The Queen's birthday.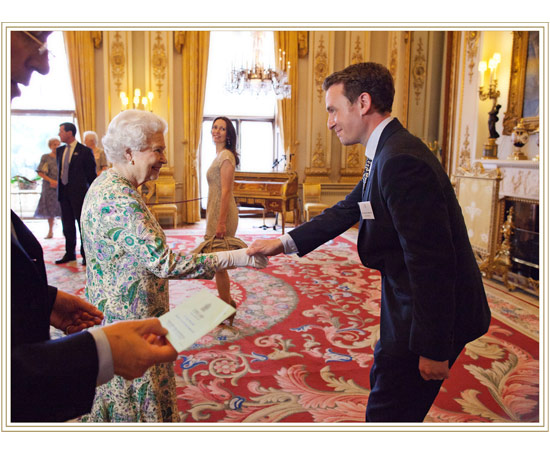 Maternity wear label Tiffany Rose was founded by Tiffany London in 2003 and in ten years has grown from an idea sketched out on a kitchen table to a multi-million pound business employing 15 staff with customers in over 80 countries worldwide.
With a range encompassing special occasion, evening wear and maternity bridal wear, every piece in the Tiffany Rose collection is designed and manufactured in Britain.
Tiffany London, Founder and Creative Director at Tiffany Rose said:
"Given our 100% commitment to quality manufacturing in Britain it's a huge honour for us to receive this award from Her Majesty the Queen.

There is no higher support we could wish for and we could not be more thrilled with what we have achieved to date, or more excited about the opportunities for future growth - both at home in the UK and in our thriving international markets."
« Previous: Royal maternity style on show (Mar, 11th 2013)
» Next: Sparkling in Twilight (Apr 26th, 2013)
About Tiffany Rose
Tiffany Rose is dedicated to giving you the chance to wear exciting, elegant, beautiful and well-made clothes during your pregnancy.
» More...
Blog Archive
Categories
Made in Britain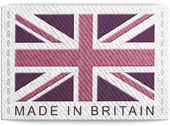 The Tiffany Rose Collection is Designed and Made in Britain
Read more...
Our Favourite Blogs
The dress looks really beautiful! Quick delivery and good service - thank you very much.
Fast and professional service.
Ich hatte mich von Beginn an in das Kleid Lucia verliebt und nach einigem Zögern auch bestellt. Und ich war und bin weiterhin begeistert. Es kam innerhalb weniger Tage bei mir an und entsprach genau dem Bild. Unschlagbarer Preis für wirklich gute Qualität. Ich habe sehr viel Lob für das Kleid bekommen. Einziger Minuspunkt: ich schwankte zwischen zwei Größen, habe die Größere gewählt (in weiser Voraussicht) und selbst die war recht "enganliegend" im Brustbereich. Daher mein Tipp: großzügig rechnen bei der Bestellung der Größe. Danke, Tiffany Rose :)
Lovely dress with a nice swish and good length. Disappointed to see some pilling after the first wear (prior to going to be dry cleaned) as otherwise this would be perfect.
I bought my wedding dress on Tiffany Rose and I definitely recommend it. Being a normal size 10 I bought a 8-10 and it fits well. Quality of the fabric is high and the price is alright! Giving the option of exchanging the dress is also a bonus, buying a wedding dress can become a nightmare if we are not able to check the size as it should be...
Dress is gorgeous... much more pretty live than in pictures :) fabric is great, best value between quality and price as well. The option of being possible to exchange if it wasn't what I wanted was what made me buy the dress and it was the best thing I've done! The dress fits well and everyone loved my wedding dress! :) I'm normally a 10 and bought a 8-10, fits well being 6 months pregnant! Definitely recommend Tiffany Rose.
J'ai reçu mon colis très rapidement et j'habite en France. La robe était très bien emballée et correspond parfaitement à la photo !
Beautifully made and lovely packaging
Very happy with my dress for my sisters wedding. Superb quality and well designed. Quick professional service and came in a lovely box.
Everything about working with Tiffany Rose was a dream. They have super pretty dresses and their service was spot on. I am from Australia and had live chat with the team about my size, ordered them and there and my dress arrived on my doorstep within the week. And it fitted perfectly. Very happy customer and sure I will be back again. Thank you for making the experience so pleasant x
I've found your website five days before my wedding, ordered a wedding dress and it was perfect and saved my wedding! It was three years ago. Now I am pregnant again and have ordered three dresses and they are absolutely gorgeous! Delivery was very quickly, dresses came even earlier than I expected. Thank you!
I love this dress. Bought for a run of weddings, I've worn it to each one and had so many compliments. Looks really good and is so comfy.
Delivery was super quick and as I was able to order a number of dresses returns was easy too.
They have been absolutely brilliant. Having a very delicate pregnancy, I found out that I wasn't able to attend a family wedding I was originally planning to go to. Not only the customer service team helped me out with the order originally - I had a question about sizing-, but also, they offered a return even though I bought the dress long before finding out I had to rest and couldn't fly to the wedding. They've been very patient, very sensitive and overall a fantastic company to deal with. I'll recommend to all my friends and family! Thank you Samantha and Anne-Sophie for helping me out!
I really loved the colour, and the shapes
Got navy striped dress. Colour and fabric make it stylish and practical. Very happy with it.
Beautiful dress! Fitted perfectly with room for the bump to grow and stretch. I bought this dress for a wedding abroad and was worried about feeling frumpy and enormous but in fact I got compliments all day about it. A very happy customer!
beautiful dress, made me feel pretty despite my 'new baby' body and even led to compliments from strangers!
I absolutely loved my wedding dress! It exceeded my expectations, it was gorgeous design and high quality!I received it within 3 days (in Aus) it was packaged safely and in a lovely box. It was a perfect size ( I chose pre pregnancy size) with room in the belly to spare for growth ( I received dress 1 month before wedding. Thank you!!
I love the dress because it's look smart on me. Nice materials
Formal-wear during pregnancy has been challenging. For a friend's wedding I was looking for something flattering, high quality, and not too much like a bridesmaid dress. I was very pleased with my Tiffany Rose dress--the fabric was lovely and comfortable and the dress was elegant and fun.
follow us...
Sign up to our newsletter for our latest news