Special Occasion Maternity Wear
Shop Our Best Sellers
Arabian Nights

£425.00

Mocha

£290.00 now

£105.00




Black and Silver

£340.00 now

£170.00



Customer

We appreciate your opinion
Reema, USA - August 2014
I just wanted to email you and let you know how unbelievably happy I was on my shower day with one of your beautiful maternity dresses!!! I received so many compliments on this dress and couldn't have...
read more customer reviews
Our Latest Stories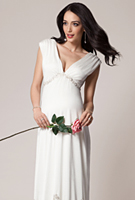 Choosing a Wedding Dress whilst Pregnant
If you are pregnant on your wedding day you have twice as many reasons to celebrate, and twice as many reasons to look and feel beautiful! We've c...
read our blog