Wednesday, October 13 2021
May Mini-Mony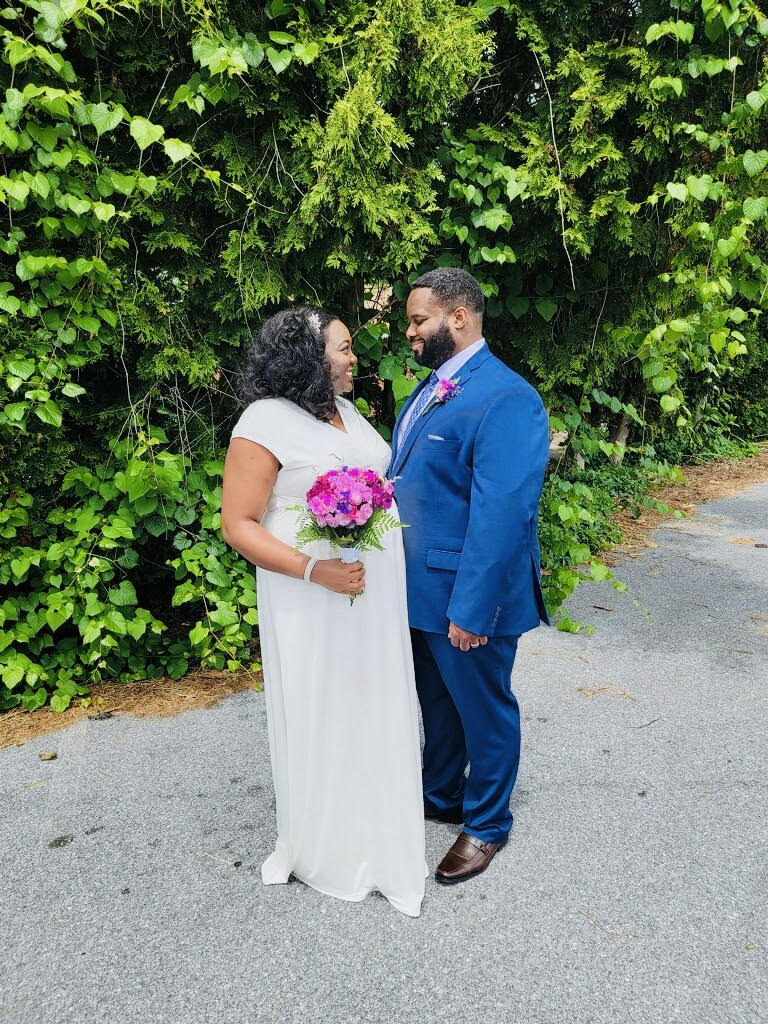 This week's couple for our Real Bride's feature is Keyauna and Dom, who seem pretty thrilled to have swiped right on each other 4.5 years ago! It was love from the offset and nothing was going to stop them from celebrating that. They tied the knot inn a traditional mini-mony at Keyauna's hometown Baptist Church which provided a meaningful and beautiful ceremony. The glowing bride was 5 months pregnant and looked incredible in our Francesca Maxi Dress in Ivory. Discover their big day: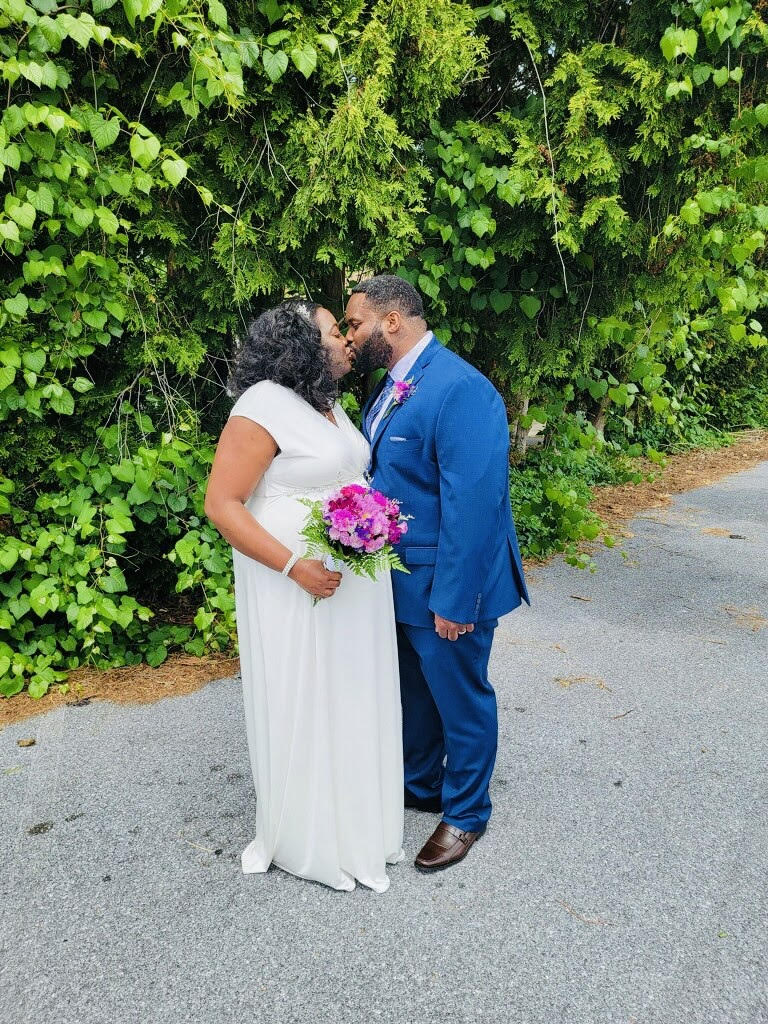 Where did you meet?
While neither one of us was a huge fan of the idea of online dating, we both swiped right on our Plenty of Fish app on January 4th 2017. Dom (my husband) was living in State College, PA and I was living in Harrisburg,PA at the time (about an 1.5hr away). We connected instantly for our love of old school R&B music. Our first date consisted of three dates, but our very first was one to remember. The first stop was at the Tomato Pie Cafe in Harrisburg, PA. We sat together and drank coffee; as soon as we were leaving for a game of bowling, an older couple came to us and blessed our relationship. They gave us words of wisdom as we moved into a relationship together and wished us well in our future; reminding us that love is a choice. At this moment, we both knew that we would be special to each other.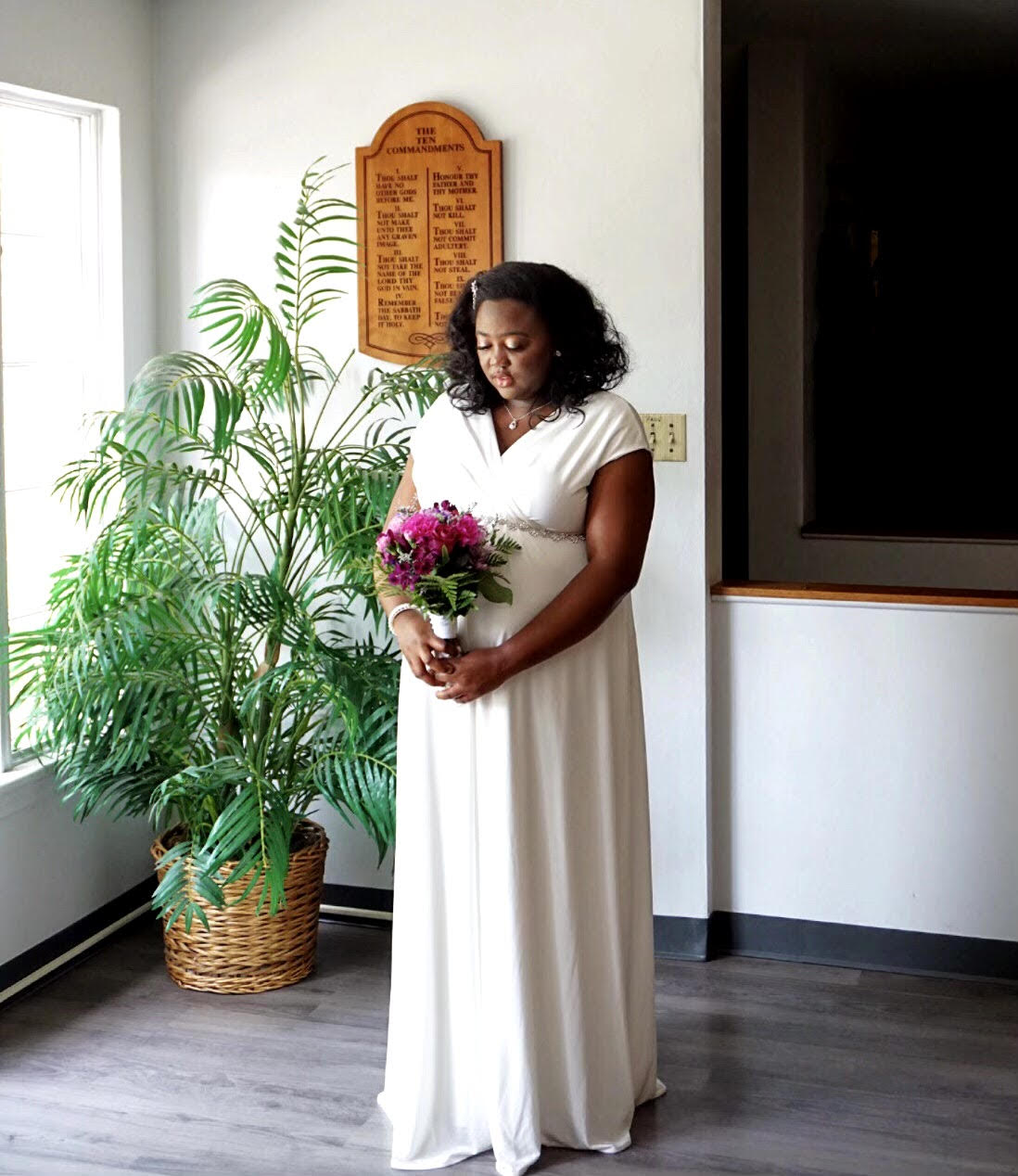 Tell us about your dress!
Our mini-mony was held on May 22nd, 2021. It was a hot and humid 90 degrees outside that day. Typically to buy a wedding dress, many wedding stores will ask for at least 6 months to order and receive your gown and that is without the alterations. I had begun dress shopping in March of 2021, which was only 3 months away. I was also 5-months pregnant on my Big Day, so I wanted a dress that would be considerate of my growing belly and pregnancy hot flashes. I had been going to local wedding stores in hopes of finding off-the rack wedding dresses and did not have any luck, so I began looking online. My older sister Chanel sent me a link to the Francesca Maxi Dress from Tiffany Rose and I thought it was too good to be true. When I ordered the dress I thought it may need to be hemmed but once I tried the dress on it fit perfectly with a small heel. The fabric was soft, flowy and breathable.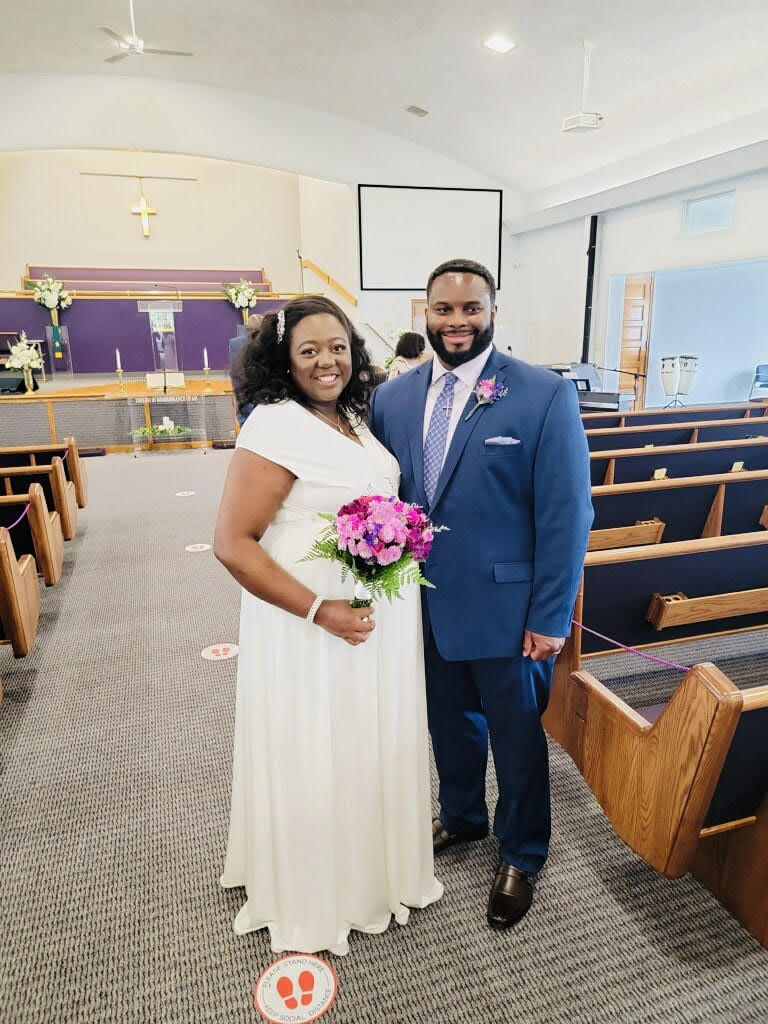 What made you choose your venue?
Dom and I got married at my hometown church Goodwin Memorial Baptist Church. I grew up there. When Dom moved from State College, PA to Harrisburg he joined my church. Goodwin is like a second home to us, we serve the community there and worship there. It was the perfect location for our traditional mini-mony.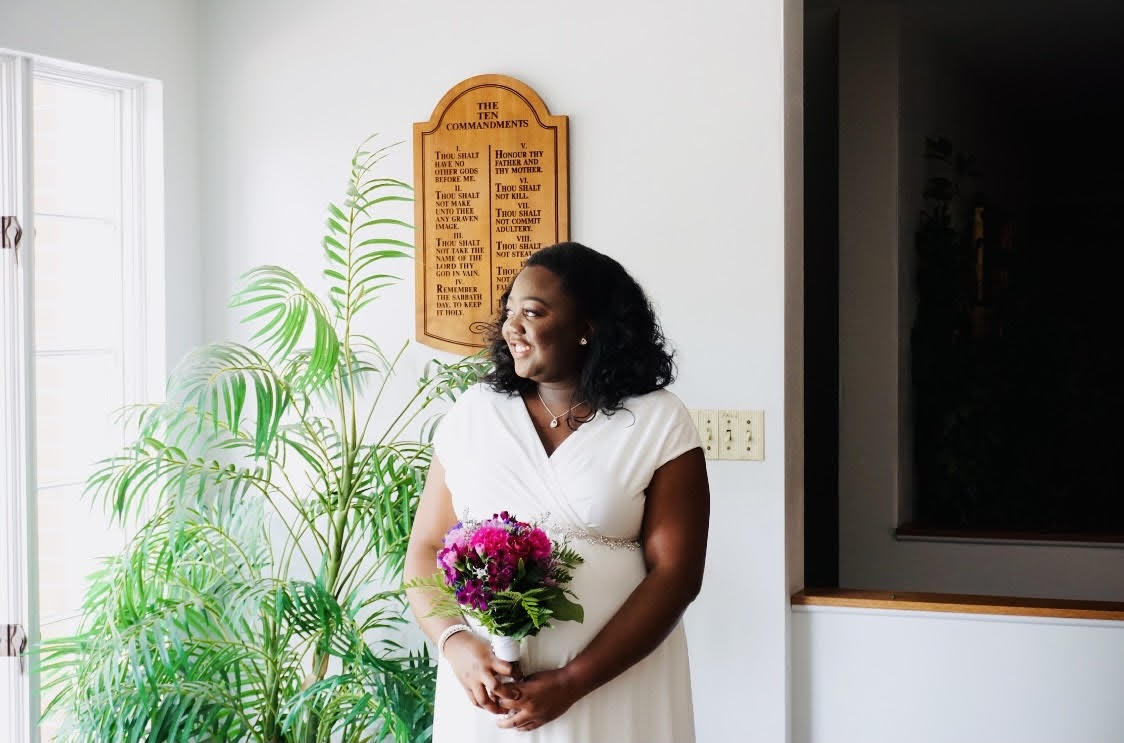 Do you have any advice for other brides planning their big day?
Do what is best for you and your partner. I had always dreamed of having a lavish wedding in a garden and then COVID-19 came. The pandemic made me realize what was truly important, which was putting our love first and setting the foundation for our growing family. Although I was not able to invite all my family and friends, I still had a meaningful and beautiful marriage ceremony. And my husband and l still have a lifetime to celebrate our love.


Sending our happiest wishes to Keyauna & Dom!


About the Francesca Maxi Dress in Ivory: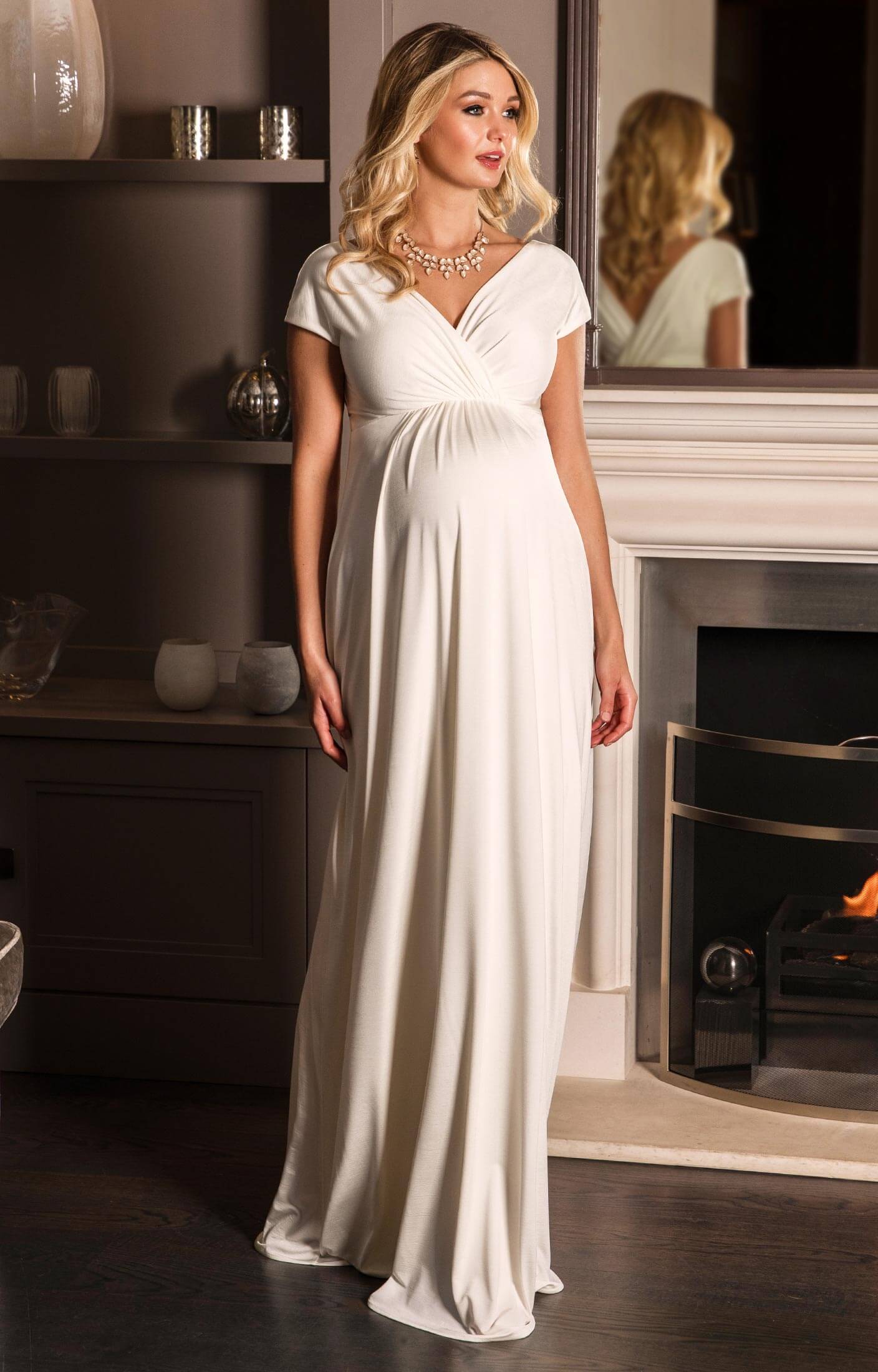 Sleek and elegant, our Francesca Wedding Gown in dreamy ivory white glides over your pregnancy curves in luxurious soft-sheen jersey. With a crossover neckline and grow-on sleeves that can be worn on or off-the-shoulder, this maternity dress fits and flatters in all the right places. Perhaps you love the style but don't need a wedding dress, we offer the Francesca Maxi in Blush, Champagne, Nightshadow Blue and Petal Pink Floral.



Would you like to be a real bride featured on our blog? Contact customer services and they'll tell you how!



Tag us in your special day on social media:


Facebook and Instagram or Twitter


Or use #TiffanyRoseMaternity.

Categories: #real-brides,
« Previous: A Scenic Scottish Ceremony (Oct, 13th 2021)
» Next: Our Black-Tie Maternity Edit (Oct 14th, 2021)
About Tiffany Rose
Tiffany Rose is dedicated to giving you the chance to wear exciting, elegant, beautiful and well-made clothes during your pregnancy.
» More...
Blog Archive
Made in Britain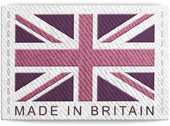 The Tiffany Rose Collection is Designed and Made in Britain
Read more...