Tuesday, December 09 2014
Choosing a Wedding Dress whilst Pregnant

If you are pregnant on your wedding day you have twice as many reasons to celebrate, and twice as many reasons to look and feel beautiful! You may have to think about comfort and practicality just a little bit more but that shouldn't detract from the magic of your big day. So we've compiled some top tips for taking the stress out of wedding dress shopping...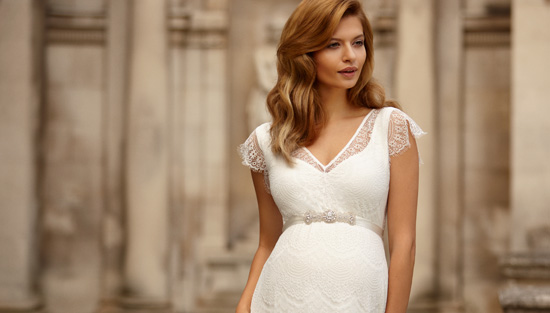 First and foremost, opt for a dress which is especially designed for pregnancy. By hoping you will fit into a larger standard dress you will significantly increase the chances of last-minute and expensive alterations, adding lots of unnecessary stress to your wedding preparations.

Choose your wedding gown no sooner than 8-12 weeks before the big day. This will really help you select the right size as everyone's curves grow at different rates – especially bust sizes! Even if you do have a last minute growth spurt, all of our maternity bridal gowns have hidden stretch and fastenings to adapt to your blossoming bump, so you will be in safe hands.

The empire line is one of our favourite and most flattering styles for a maternity wedding dress. This design accentuates the smallest part of your torso and skims over your bump for an elegant and figure-enhancing silhouette.
The addition of a silk or sparkling sash works beautifully to enhance your empire line.
Choose soft and fluid fabrics and avoid stiff or overly structured designs which can be uncomfortable and restricting. Materials such as the silky jersey Alessandra Gown or Anastasia Gown are supremely comfortable and also breathable.
If you're having a winter wedding choose the Vintage Cape or the Italia Bolero for a little extra coverage.
There's no better or more exciting time to marry than when you are carrying a child, and if you follow our advice your double-celebration should be a relaxing and magical day.
Categories: #your-style,
« Previous: Introducing Our New Naomi Nursing Dress (Nov, 19th 2014)
» Next: Introducing our New Bridal Collection (Feb 5th, 2015)
About Tiffany Rose
Tiffany Rose is dedicated to giving you the chance to wear exciting, elegant, beautiful and well-made clothes during your pregnancy.
» More...
Blog Archive
Made in Britain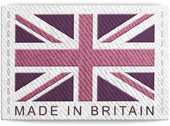 The Tiffany Rose Collection is Designed and Made in Britain
Read more...