Thursday, May 23 2013
Creating Lucy-Jo Hudson's Red Carpet Style...
Read about how Kelvin Barron created Lucy-Jo Hudson's gorgeous look for the British Soap Awards:
"I was honoured when actress Lucy-Jo Hudson asked me to style her for the British Soap Awards red carpet event. Not only because Lucy-Jo is an incredibly humble, kind and talented young lady - but the fact that she was pregnant with her first child made it extra special.
I first worked with Lucy-Jo on a photoshoot last year on the red carpet at the National TV Awards in January, when Lucy-Jo wasn't showing and her pregnancy was top secret. By the time her next major red carpet event had arrived she was in full bloom with a gorgeous bump which I wanted to take centre stage.
Lucy-Jo discussed with me feeling great in bodycon midi dresses which drew emphasis to her bump. I discussed with Lucy-Jo that I had an idea of a grecian style floaty look - which she warmed too. I was keen to work with white and pale tones which had connotations of being magical and fairytale - and this was Lucy-Jo's special moment.
I knew Tiffany Rose was the best option for the red carpet as they would give me a stunning dress but also ensure comfort for Lucy-Jo, as I want my clients to both look and feel good from within.
When we decided on the Anastasia Gown in ivory, we opted for statement Merle O'Grady jewellery to keep the look young and bold. Her hair was styled by Vincent Allenby, courtesy of the Styling Suite - styled beautifully off the face and with the cross over neckline of her Tiffany Rose dress, drawing attention to Lucy-Jo's beautiful bump. Her makeup by Shu Uemura was stunning - with a gorgeous red lip adding subtle sex appeal - too often I see ladies going a little frumpy and understated when pregnant, but we definately did not.
The final look was simply stunning. Lucy-Jo literally lit up the red carpet and the grecian goddess look we set out to achieve wowed the fashion press - with best dressed accolades from national press and celebrity weeklies. But the most important and satisfying thing for me is that Lucy-Jo felt amazing, which she certainly did.
Styling a pregnant woman is special and my own mum was so overwhelmed by it all, reminding her of when she was expecting me - she loved the look as much as I did. It was a truly special experience that I will never forget. I am secretly hoping that Lucy- Jo and Alan plan a big family - as I have enjoyed maternity styling so much. Until the next red carpet bump..."
Kelvin Barron - Fashion Stylist:
www.kelvinbarron.com @kelvinstylist
Categories: #celebrity-style,
« Previous: Lucy-Jo Hudson Stuns In Grecian Glamour! (May, 20th 2013)
» Next: Brand New Looks for Spring Summer 2013 (Jun 6th, 2013)
About Tiffany Rose
Tiffany Rose is dedicated to giving you the chance to wear exciting, elegant, beautiful and well-made clothes during your pregnancy.
» More...
Blog Archive
Made in Britain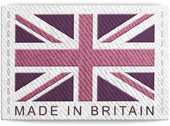 The Tiffany Rose Collection is Designed and Made in Britain
Read more...