Friday, August 19 2022
A Waterfall Wedding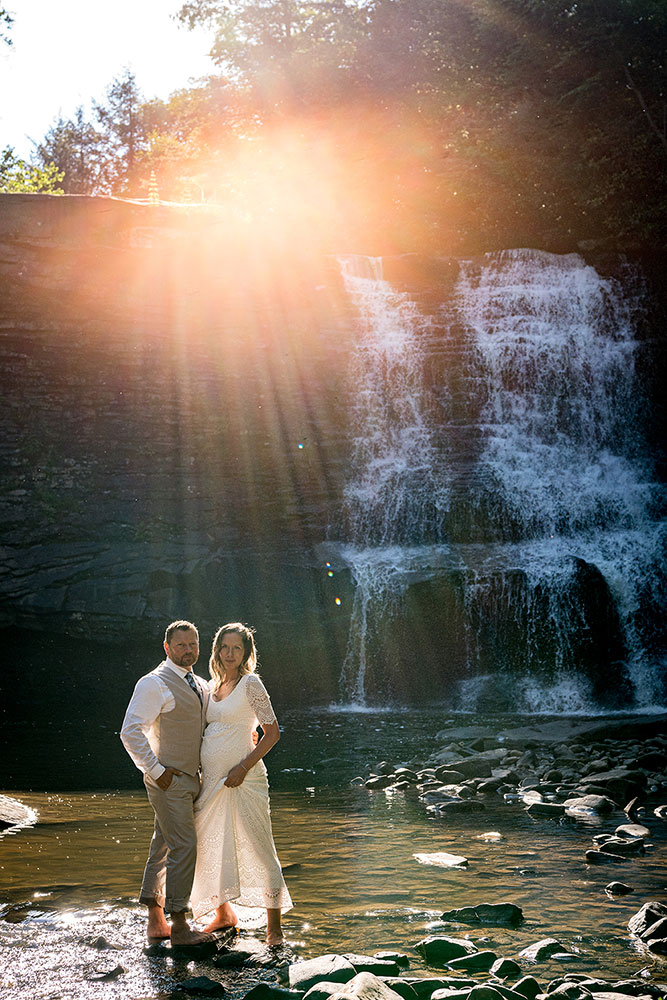 Take a moment to transport yourselves to this wonderful scenery - Swallow Falls State Park in Deep Creek Lake, MD in the USA. Colleen has been visiting with her family for the last 20 years, and Mark owns an Angus farm a short drive away. This perfect location of waterfalls and rock faces creates the most magical backdrop to their spiritual wedding.

Colleen wears our beautiful Verona maternity wedding gown.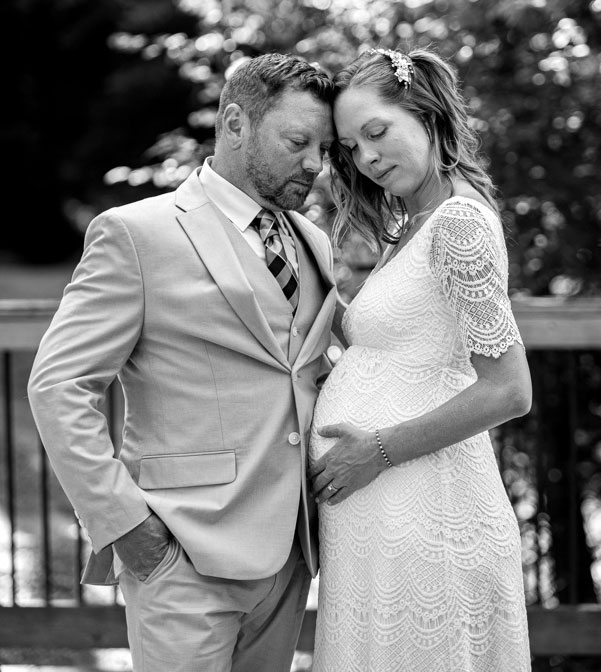 Where did you meet?

Mark and I met online. Being a single parent to a young daughter and working full time, it was hard to meet people. I had my reservations about online dating, but I felt it was my best chance to meet someone who had the same dreams of marriage and a family. Mark is a middle school physical education teacher and I am a nutritionist. We got so lucky to find such a connection right off the bat and the rest is history.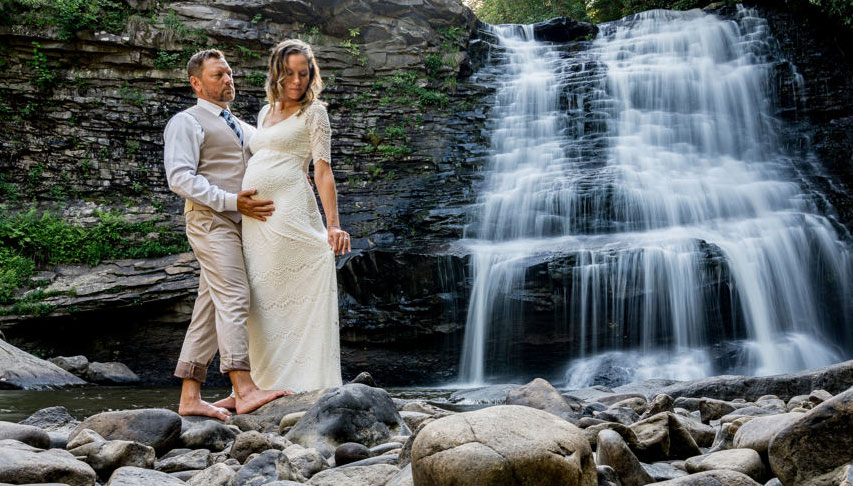 Where did you get married?

We got married in Deep Creek Lake, MD (United States). I have been vacationing with my family there every year for the past 20 years and it holds a special place in our hearts. Mark's family owns an Angus farm about an hour and a half away and we thought it would be the perfect place to have a beautiful, intimate ceremony as well as being a midpoint between both families. We had the ceremony at Swallow Falls State Park with waterfalls as the backdrop. It was perfect.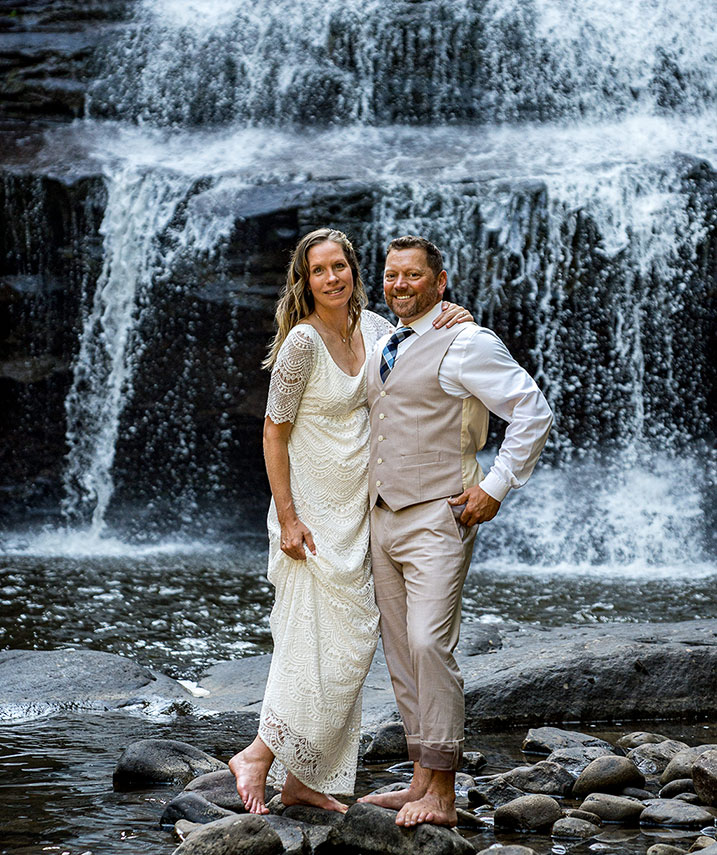 Tell us about the dress!

I chose the Verona Gown in ivory white. It was classic and flawless. I never had any preconceived notions of what type of bride I would be growing up, nor what kind of dress I would choose when the time came. I never expected to fall in love with a lace gown, but the minute I saw it, with the scoop neckline and delicate sleeves, I instantly said "this is it." My mom still wanted me to try on a few others, but nothing came close. Being 6 months pregnant, I wanted to have a simpleness to the look. I paired the dress with gladiator slides and swapped a veil for a handmade barrett. I didn't want anything to take away from the beautiful lace sleeves. The dress was also so comfortable! I couldn't have been happier with my choice.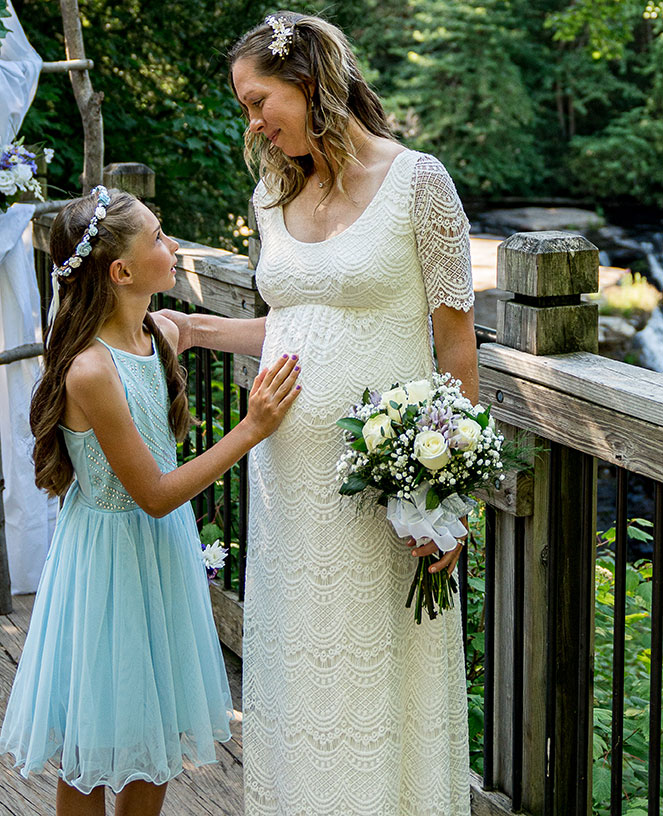 Any advice for other brides planning a wedding?

My advice for any pregnant bride planning a wedding is keep things simple and don't lose focus on what the day is about. I think with social media, people try to compete with needing the biggest and the best and they lose sight of the most important reason for the occasion - to celebrate this amazing love you found with someone you can move through life with. The stress of all the details start to take away from the entire process. We had 20 family members attend our ceremony and had my brother marry us. The breath-taking beauty of our location, reading our own vows, picking a gorgeous dress, and eating amazing food is what was remembered. We planned our wedding in 6 weeks and after it was all over, we were so thankful we chose not to spend the next year and half planning a huge wedding when really all we wanted to do was confess our love and devotion to one another. And now we are anxiously waiting for a beautiful baby to be born!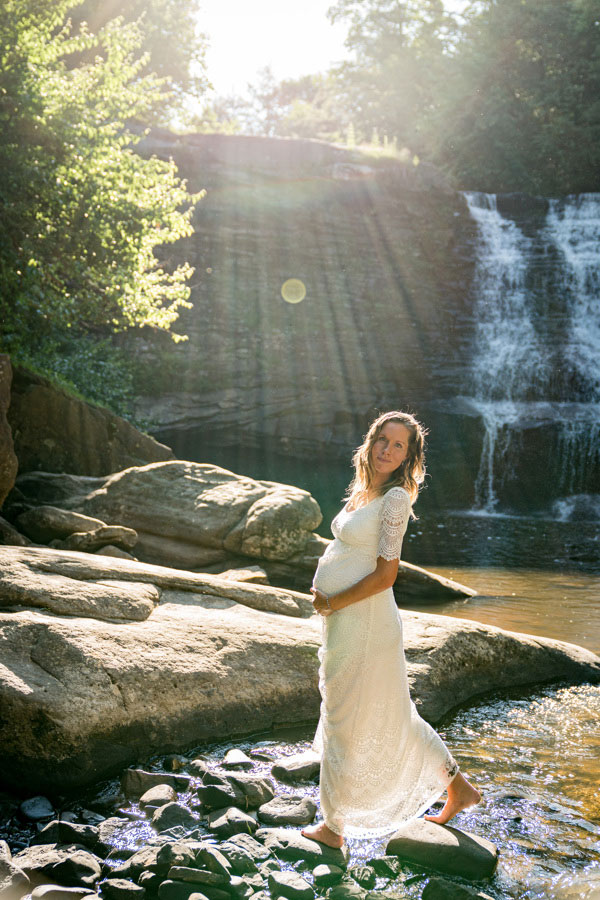 Any fun facts?

We got married on Monday, 7/11/22. I am fascinated with the topic of "Angel Numbers" and the meaning of 1122 is symbolic of the energy of a perfect union with your partner as well as spiritual growth. Planning a wedding is stressful on its own but doing it while pregnant adds another layer. I just hope anyone who is in the process of it they remember the big day will go by in a flash. Don't get so caught up on the silly details because once the day comes you won't care about the candles or the flowers. You will only care about your vows, followed by the great food and the time spent with your family.


Get The Look
Soft and sensuous, our Verona long ivory maternity bridal gown is romantic and graceful.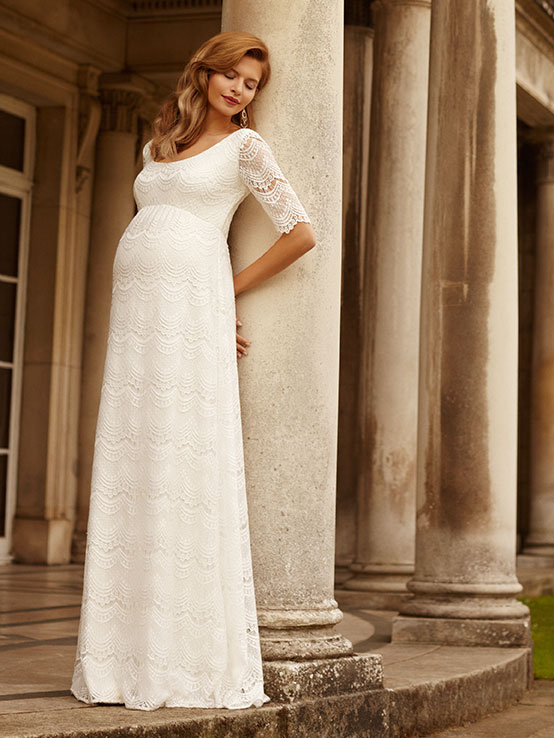 Also worn by Hollywood Actress, Julia Stiles on her Wedding Day, this enchanting maternity wedding dress features delicate eyelash lace and three quarter sleeves.


Verona Maternity Wedding Gown >>
Tiffany Rose Wedding Dresses >>

Credits

Photographer: Kirsten Getz Photography

Categories: #real-brides, #bridal, #wedding,
« Previous: A Wedding in York, England (Jul, 14th 2022)
» Next: An Intimate Day of Love (Sep 29th, 2022)
About Tiffany Rose
Tiffany Rose is dedicated to giving you the chance to wear exciting, elegant, beautiful and well-made clothes during your pregnancy.
» More...
Blog Archive
Made in Britain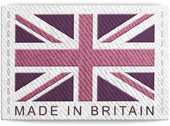 The Tiffany Rose Collection is Designed and Made in Britain
Read more...