Saturday, February 05 2022
A Chapel Wedding in Australia
An incredibly heart-warming Real Brides interview which has brought a tear to our eye. Learn how Jessie and Andrew met, their 'secret' plans to be together and how family matters more than anything. Jessie wears the Tiffany Rose Isabella Maternity Wedding Gown and sparkly Aurelia Bridal Sash.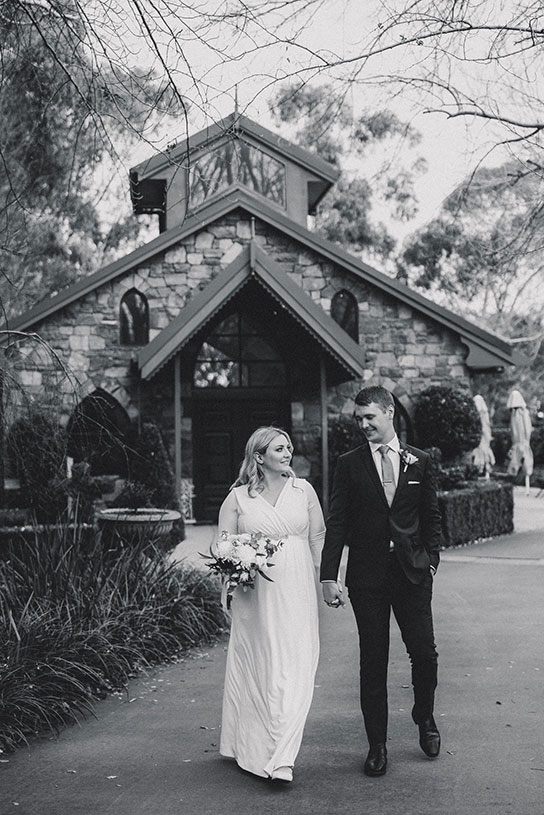 Where did you meet?
My husband Andrew and I met at work at Government House in Canberra in 2017. We sat back to back as strangers for months and both being quiet people, it took us a while to start talking. Once we did though, we realised we had a lot in common, particularly our shared love for the outdoors.

This soon turned into us eating lunch together every day and this meant that the staff at the places where we went to lunch knew we were dating before anyone from work did… or so we thought. When we moved in together, we didn't tell anyone at work, even travelling in different cars to and from work each day. When we eventually came clean to our colleagues, there wasn't a single person in the building that hadn't already figured it out. So much for our secret.

We always knew we were going to get married. In the end, there was no real 'moment' or 'proposal'. We had discussed it many times and had already decided to start trying for a family – thinking marriage would happen when it happened. In January 2021, my family received news that my Dad had stage 4 cancer which took us all by shock. Andrew and I knew that our wedding wouldn't be as special without him there so started planning in April 2021.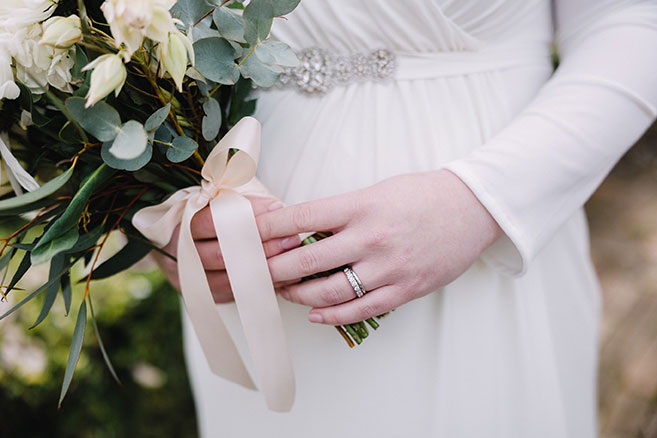 Where did you marry?
We really wanted a small wedding with just our immediate families there and because we were trying to get married quickly, that worked in our favour. We found a brilliant business called Canberra Small Weddings who organised almost everything. They were so fantastic and arranged the wedding and reception venue, food, live musician, cake, flowers, photographer and the business owner was the celebrant. It could not have been easier and we could not have been happier.

We got married at Gold Creek Chapel which is such a beautiful venue. We originally had thought an outdoor wedding suited us but a cool Canberra winter and the Chapel itself made us change our mind. It really is such a beautiful spot, we couldn't say no. So, on Sunday 20 June 2021, my darling Dad walked me down the aisle to marry my incredible husband Andrew. It was such a wonderful moment we weren't sure we would have so it meant the world to us.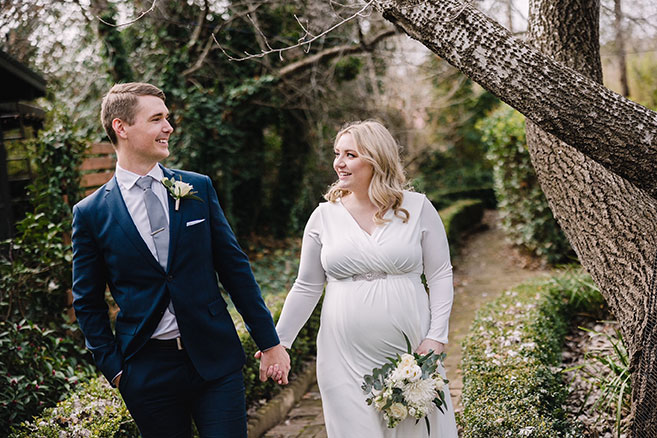 Tell us about the dress!
I chose the Tiffany Rose Isabella gown with the Aurelia vintage sash, both in ivory. I wanted something long sleeved, classic and elegant. Of course, there were some nerves about buying a wedding dress online, particularly being pregnant, but I could not have been more thrilled with it. The dress was so gorgeous, flowing and flattering. It was also SO comfortable with lots of stretch which at seven months pregnant, I was very grateful for. The sash was also the perfect touch to add a bit of sparkle. I'm so glad I had that bit of bling too because in my daze getting ready, I forgot to put my earrings in!


Do you have any advice for a pregnant bride planning a wedding?
My advice to any pregnant bride would be to make sure you feel comfortable and confident. The Isabella gown was stretchy and comfortable and wonderful. With my growing tummy and new mummy 'padding', it was important to choose something that would make me feel good and flatter my new and growing body, which I think my dress certainly did. I can look back now at photos and pick at parts of myself like my puffy arms or face but honestly, what a silly thing to do! We now have our beautiful daughter Charlotte Jean who joined us (late) in September 2021 and she is the greatest gift of them all. Our bodies will continue to change throughout our lives, and what greater reason for it to change than to welcome a perfect little person into our families.

My Dad is thankfully still with us and he adores being a Grandpa, almost as much as I enjoy seeing him be one.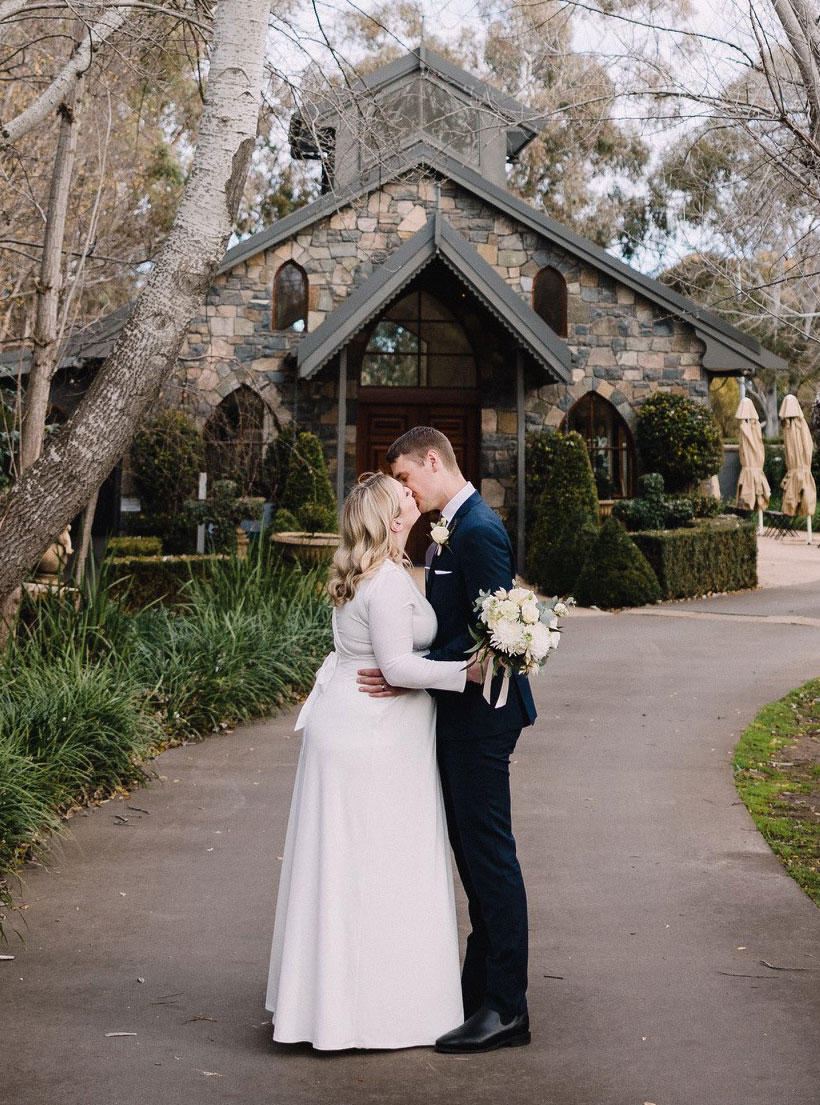 Get The Look
Feel confident and serene in Isabella. Designed with intricate ruching, a flattering silhouette and faux-wrap skirt, this style is the epitome of bridal elegance.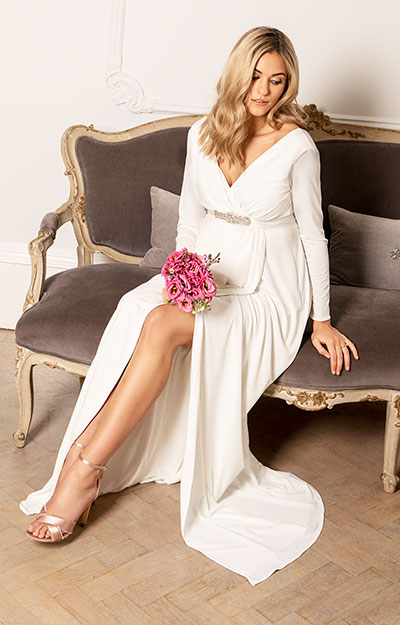 Categories: #real-brides, #wedding,
« Previous: A Sunny Welsh Wedding (Feb, 2nd 2022)
» Next: An English Country Wedding (Feb 6th, 2022)
About Tiffany Rose
Tiffany Rose is dedicated to giving you the chance to wear exciting, elegant, beautiful and well-made clothes during your pregnancy.
» More...
Blog Archive
Made in Britain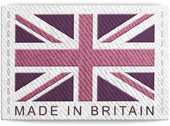 The Tiffany Rose Collection is Designed and Made in Britain
Read more...