Friday, July 09 2021
Simplicity is Key

Monday 12th July marks National Simplicity Day, which honours the birthday of Henry David Thoreau, born in 1817. Thoreau was an advocate of living simply and wrote a number of well-known books on the subject.


"Simplicity is the ultimate sophistication" – Leonardo Da Vinci.


With this quote from Da Vinci in mind, we've taken a look at some of our 'simplest' yet elegant styles to celebrate.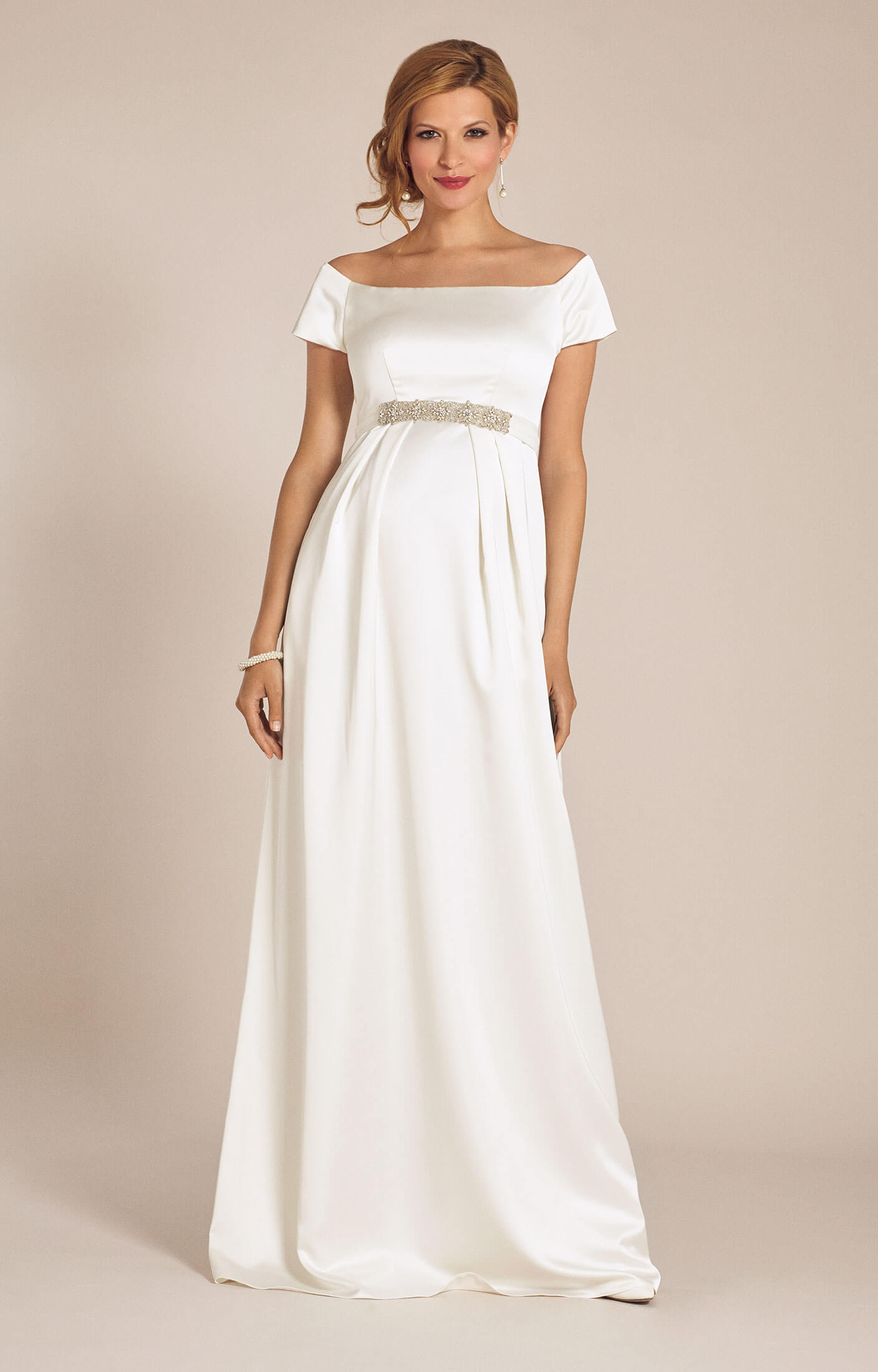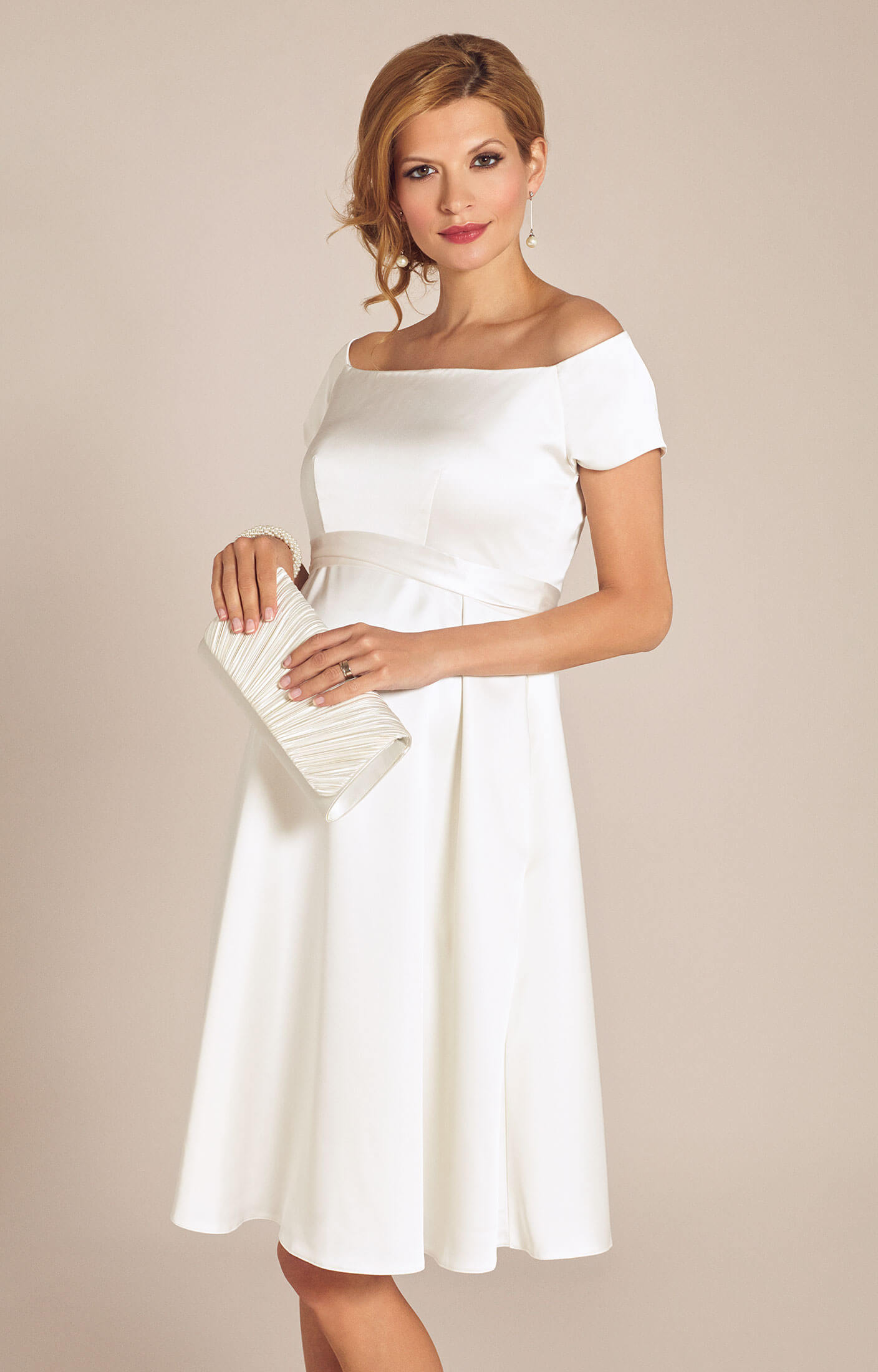 Amazing Aria

Our Aria style provides show-stopping glamour (think Screen Siren Chic) for you and bump on your big day. Aria does vintage chic with ease, featuring an empire waist to smooth over bump and hidden side pockets, created in a beautifully luxurious soft matt satin. Whether you're after a floor-sweeping gown or a knee-length finish, Aria can deliver both as it's available in both gown and dress in ivory. The off the shoulder neckline is so glamorous with cap sleeves for upper arm cover. We've added a silicone trim inside to ensure that our beautiful dress stays put, even when you're swept off your feet at the first dance.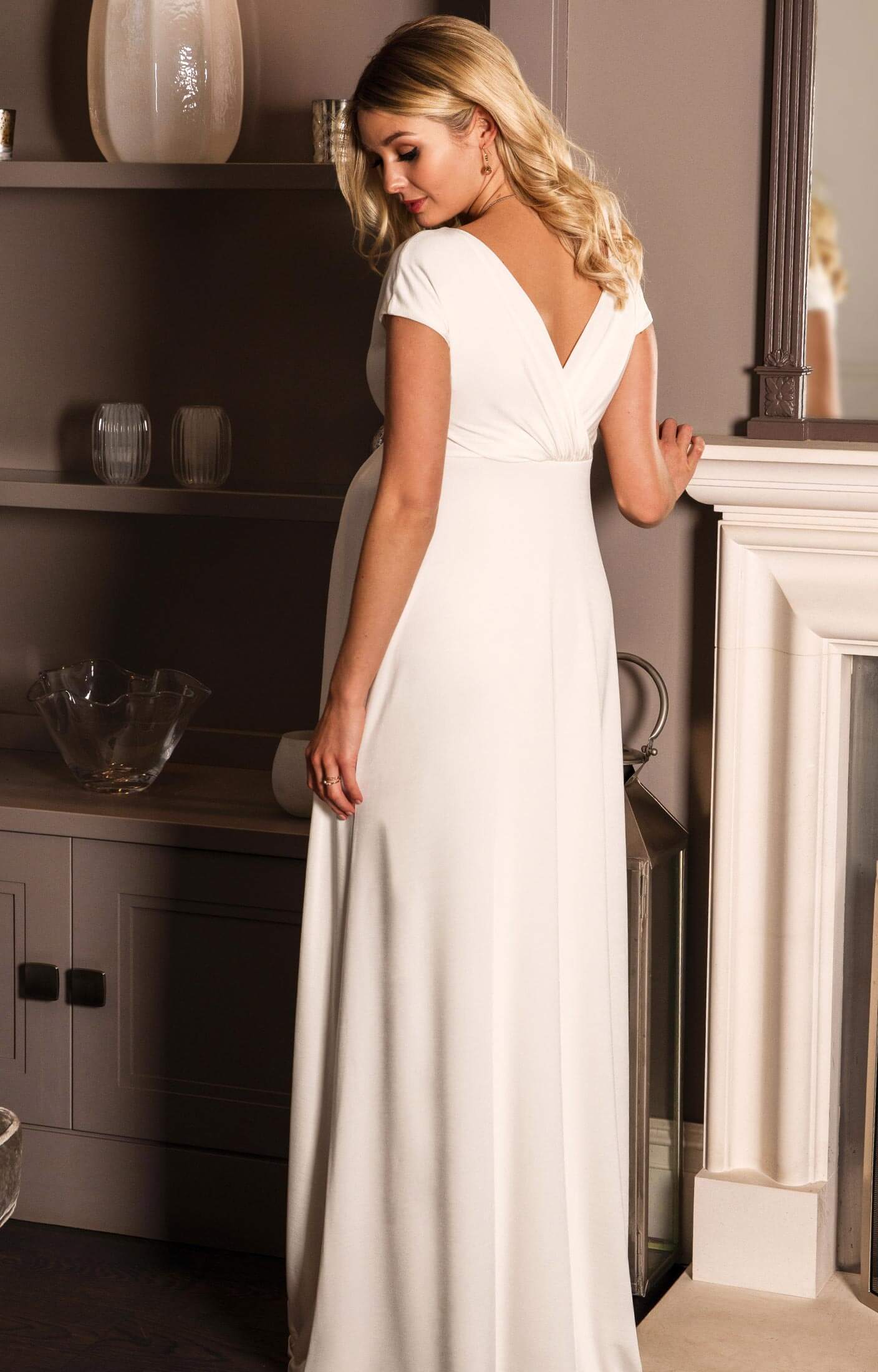 Fabulous Francesca

Sleek and elegant, our Francesca Wedding Gown in dreamy ivory white glides over your pregnancy curves in luxurious soft-sheen jersey. With a crossover neckline and grown-on sleeves that can be worn on or off-the-shoulder, this maternity dress fits and flatters in all the right places. No fuss yet fabulous!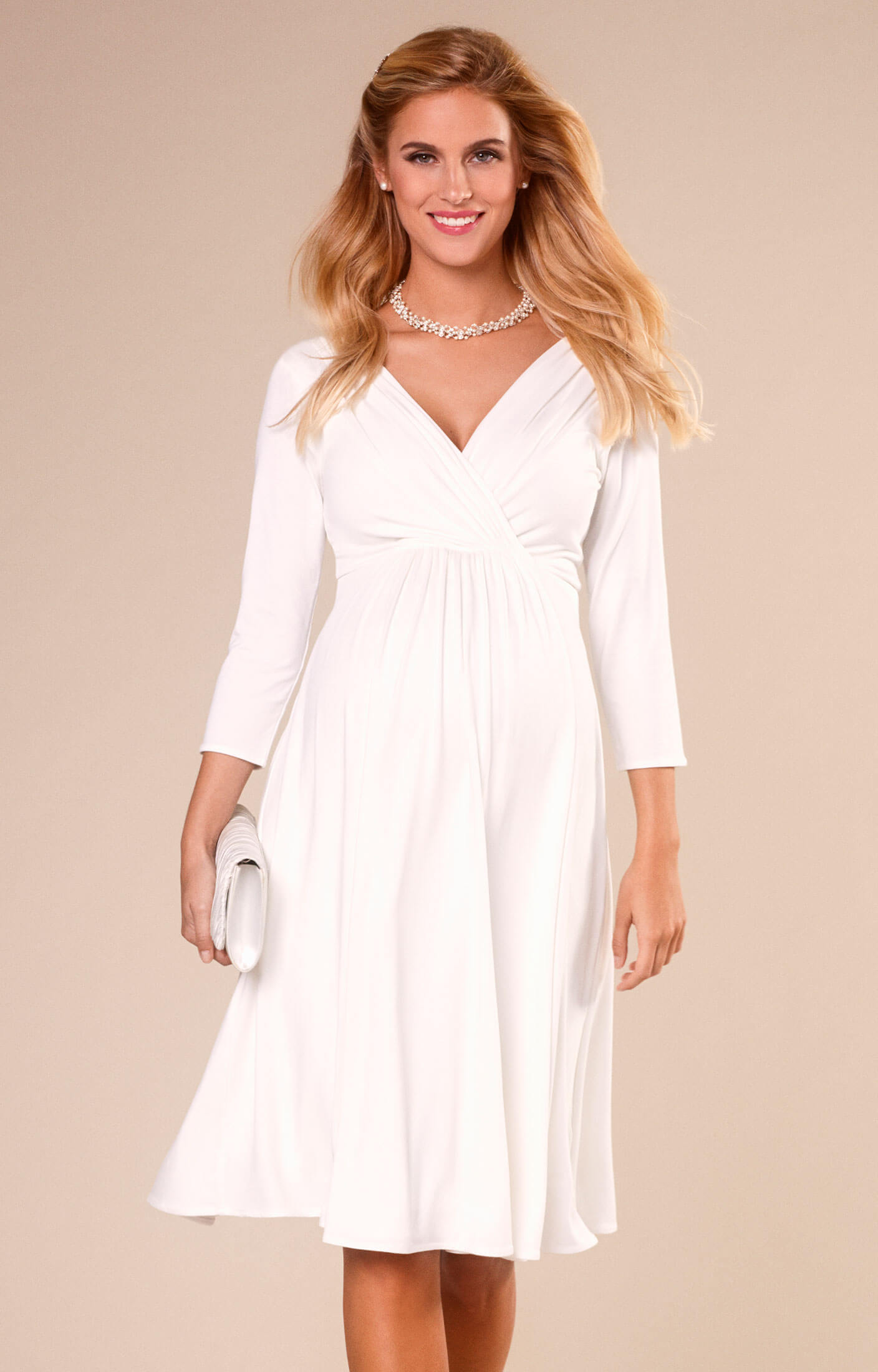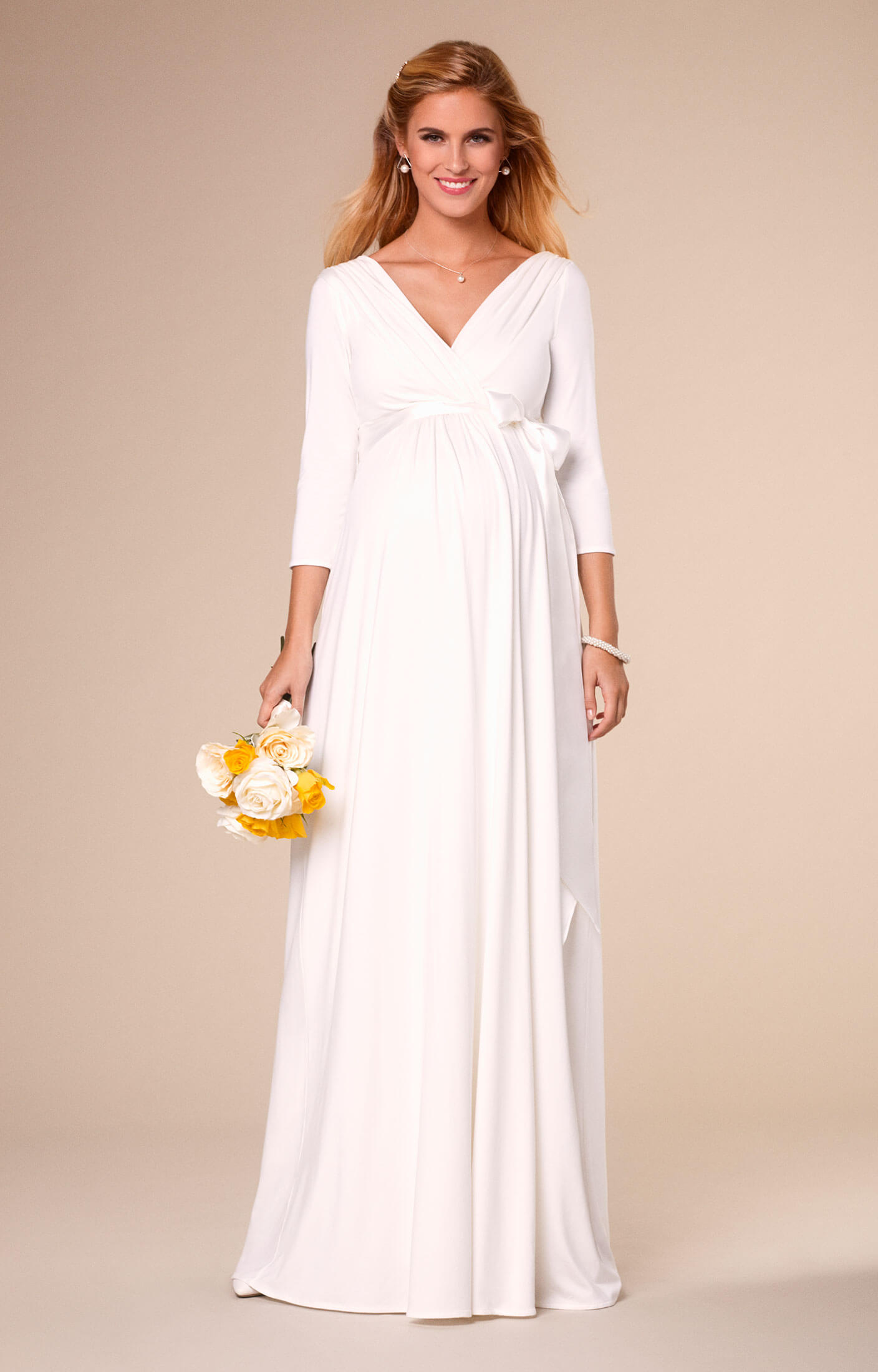 Wonderful Willow

Simple yet serene, our best-selling Willow maternity wedding gown has a heavy drape for maximum glamour. An easy to wear design cut from beautiful sheer jersey, Willow feels sumptuous and comfortable for your big day, whatever stage of pregnancy. The gently swathing jersey fabric cocoons newfound curves while the deep cross-over neckline at the front and back adds a sultry edge. The willow gown drapes away to the floor from the empire line waist to create a breath-taking silhouette to cherish in years to come whilst the willow dress will fall gracefully to your knee.

Plain & Simple

Whilst simplicity may suggest you don't accessorise, we have several understated accessories that will really help complete your simple and elegant outfit. Accentuate and highlight your bump with a luxurious ivory sash belt in either velvet, faux silk or satin. Or perhaps complete your look in one of our silk wedding veils which is perfect for the bride who just wants a hint of veil, our barely-there pure silk-chiffon design is luxuriously lightweight and will compliment any of our bridal dresses.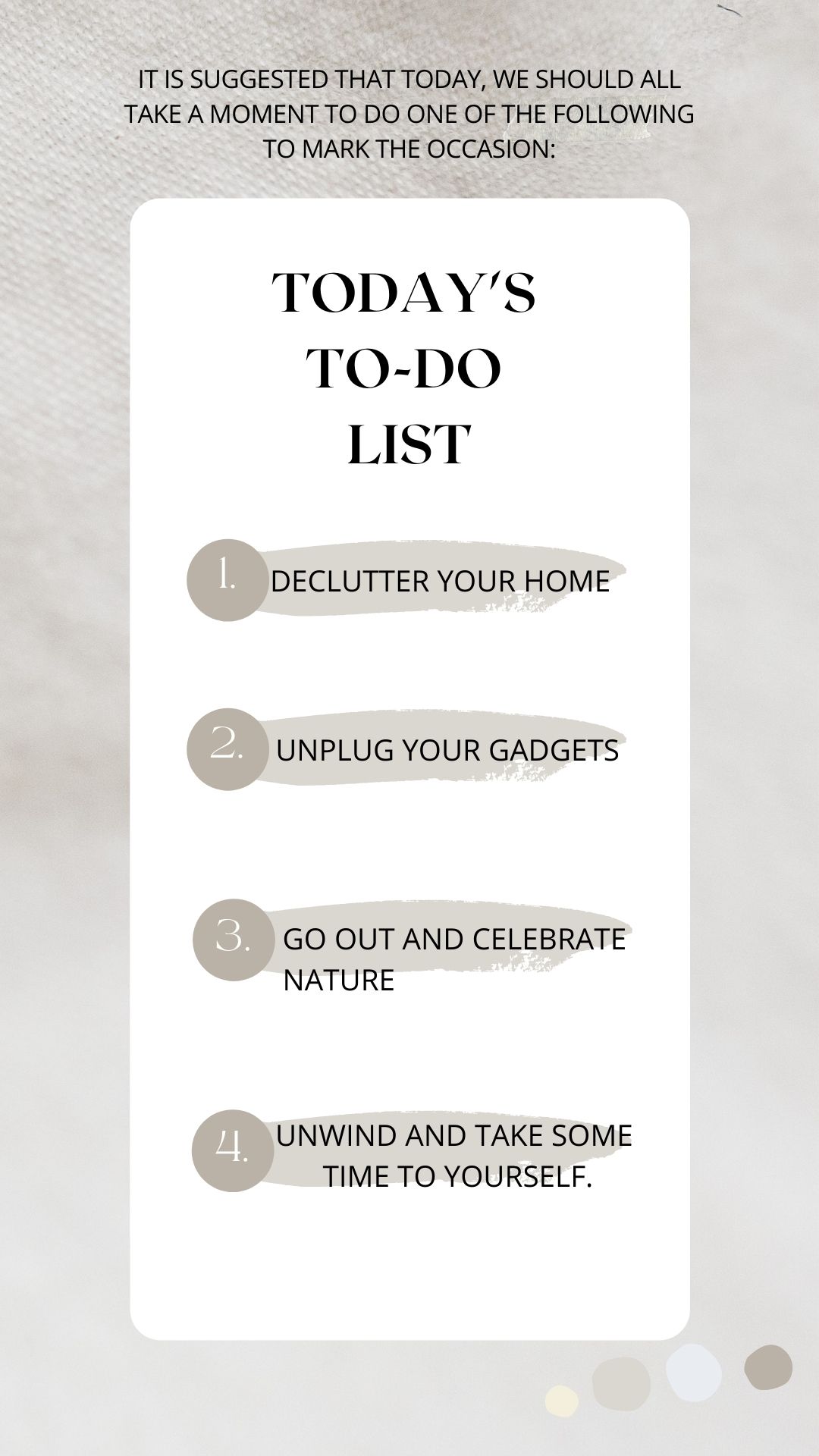 It is suggested that today, we should all take a moment to do one of the following to mark the occasion:

1. Declutter your home

2. Unplug your gadgets

3. Go out and celebrate nature

4.Unwind and take some time to yourself.


We hope you've found time to appreciate the simpler things today, because if the past 18 months have taught us anything, it's that the simplest things can often be the best.


Need help with sizing? Check out our size guide. Not sure which style is best for you? Our personal stylists in customer service are always on hand to help. Get in touch now.


Already own a Tiffany Rose dress? Be sure to share your lovely pictures with us on social:

Facebook and Instagram or Twitter


Or use #TiffanyRoseMaternity.

Categories: #bridal, #wedding,
« Previous: A Postcard from Idyllic Iceland (Jul, 6th 2021)
» Next: Going for Gold (Jul 21st, 2021)
About Tiffany Rose
Tiffany Rose is dedicated to giving you the chance to wear exciting, elegant, beautiful and well-made clothes during your pregnancy.
» More...
Blog Archive
Made in Britain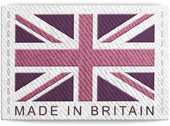 The Tiffany Rose Collection is Designed and Made in Britain
Read more...