Friday, May 28 2021
A fun filled elopement

This week's Real Bride feature is yet another one from across the pond! Amy & Shawn Gibbs married earlier on this year in the gorgeous and historic Kehoe House, Georgia. Amy, who tied the knot at 7.5 months pregnant, looked radiant in our Freya gown, complete with sash and veil. We honestly feel so lucky to be a part of one of the best days of your lives and hearing snippets and stories. You, the real brides, allow us to continue doing what we do! Here's a little more on Amy and Shawn;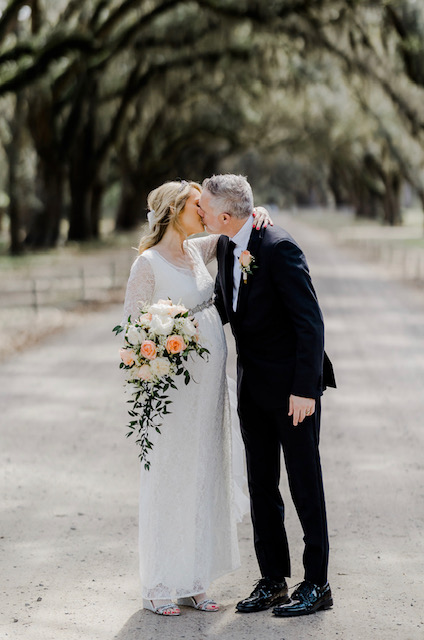 Where did you both meet?

We met on a dating app called "The League" and had our first date in the Lower East Side of Manhattan. It was a very cold and snowy NYC day in January. After the date, he kissed the top of my head before putting me in a taxi home.

This sweet, handsome boy from Iowa had me hooked!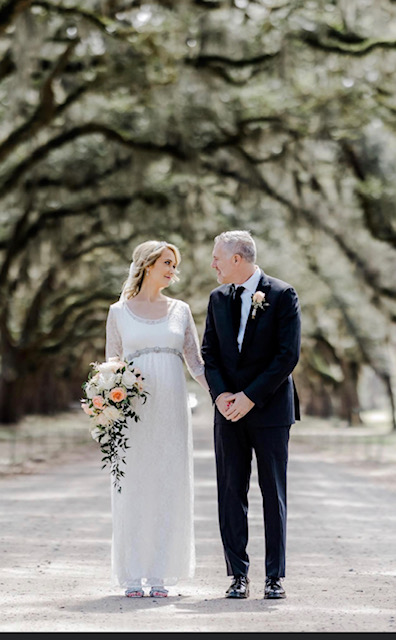 Tell us about your dress and accessories!

Our wedding had been delayed because of Covid but when we found out we were expecting, we decided to go ahead and elope. While happy to be expecting and marrying the man of my dreams, I was somewhat disappointed that I wouldn't have my family and friends present and wouldn't be able to wear the dress of my dreams because of my changing body. But my dress from Tiffany Rose was absolutely wonderful. At 7.5 months pregnant, I still felt beautiful and it was the best day of my life. The veil and dress were such high quality and they photographed beautifully. You'll always be a part of our most blessed day. My dress is the Freya Gown with vintage diamante sash and long silk wedding veil by Tiffany Rose. I complemented my Tiffany Rose dress with earrings and a tiara by Dareth Colburn Designs.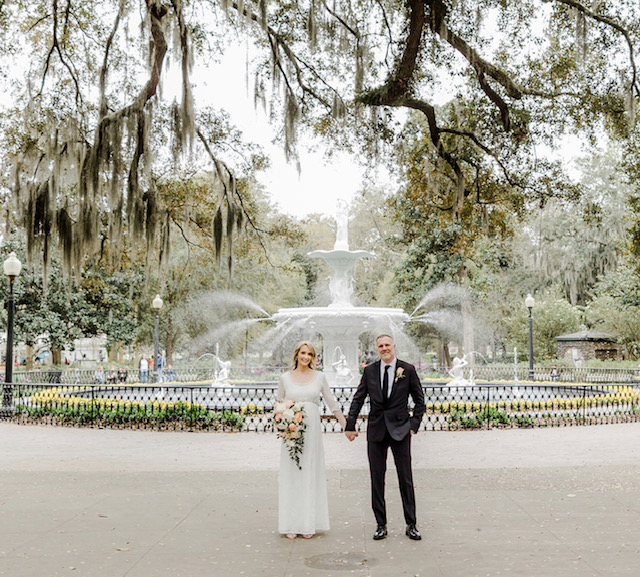 What made you choose your venue/location?

Although we missed our friends and family, one advantage of eloping is we got to choose a place and venue that was uniquely us. I fell in love with the beauty and charm of Savannah, GA many years ago. My husband and I share a love of history and historic homes, so Savannah was the perfect place for us to escape New York City and just enjoy our special day together. We chose a lovely historic home called the Kehoe House for the ceremony.


Do you have any advice for other brides planning their big day?

Just remember that all your guests are there to celebrate, not judge you. Although you've spent a lot of time preparing for the "perfect day", just enjoy the day you are given and cherish how wonderful it is to truly love someone and to be loved in return.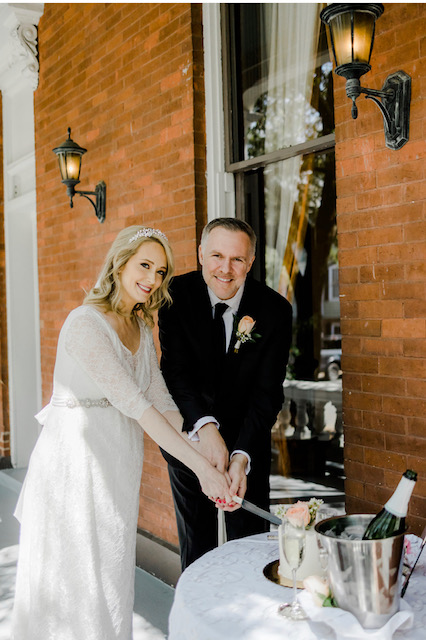 Any fun facts you would like to share?

The day before our wedding there was a tornado (which still didn't stop us from taking an open-air trolley tour of Savannah), the day after our wedding there were heavy thunderstorms all day but our actual day was somehow perfect! We also had a "Funfetti" wedding cake which was amazing (and probably another uniquely us element of the wedding that might not have gone over well with many guests!).



Photographer: Esther Griffin Photography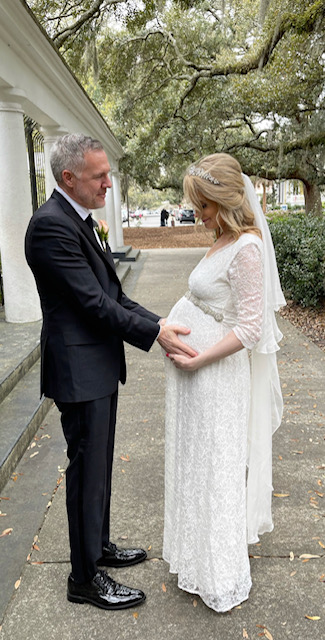 Get Amy's look;

Love Amy's look as much as she did? Our Freya gown is the perfect ivory maternity wedding gown. Be breath-taking in swathes of soft corded lace, feminine detailing and a streamlined silhouette. Subtle sheer edging surrounds the neckline whilst 3/4 sleeves add a touch of modesty for those that wish it. The fabric boasts a light stretch for comfort and is zipless. Complementing the Freya perfectly is the Vintage Diamante Sash in Ivory, adding a sense of by-gone glamour and enhancing her bump. Amy's veil is also from Tiffany Rose. Our Long Silk wedding veil is just perfect for the bride who just wants a hint of veil, our barely there pure silk chiffon design is luxuriously lightweight.



Would you like to be a real bride featured on our blog? Contact customer services and they'll tell you how!



Tag us in your special day on social media:


Facebook and Instagram or Twitter



Or use #TiffanyRoseMaternity.


Categories: #real-brides, #bridal, #wedding, #your-style, #accessories,
« Previous: Tickled Pink (May, 21st 2021)
» Next: Maternity dresses for Bridesmaids (Jun 5th, 2021)
About Tiffany Rose
Tiffany Rose is dedicated to giving you the chance to wear exciting, elegant, beautiful and well-made clothes during your pregnancy.
» More...
Blog Archive
Made in Britain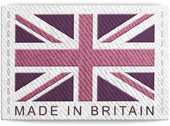 The Tiffany Rose Collection is Designed and Made in Britain
Read more...