Thursday, January 09 2020
Buying a Maternity Wedding Dress?
How To Shop For a Maternity Wedding Dress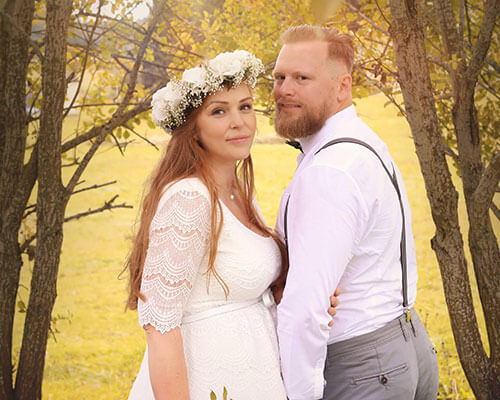 Our customer wearing the Verona Gown
The time has come to order your dream maternity wedding dress, but you're not quite sure where to start...
For many brides-to-be, buying your wedding dress is the highlight of wedding planning, so it's an understandable worry when you find out you're expecting! At Tiffany Rose we get lots of calls, emails and messages from mums-to-be in the same situation, so we're here to reassure you that wedding dress shopping can still be exciting when shopping with a bump!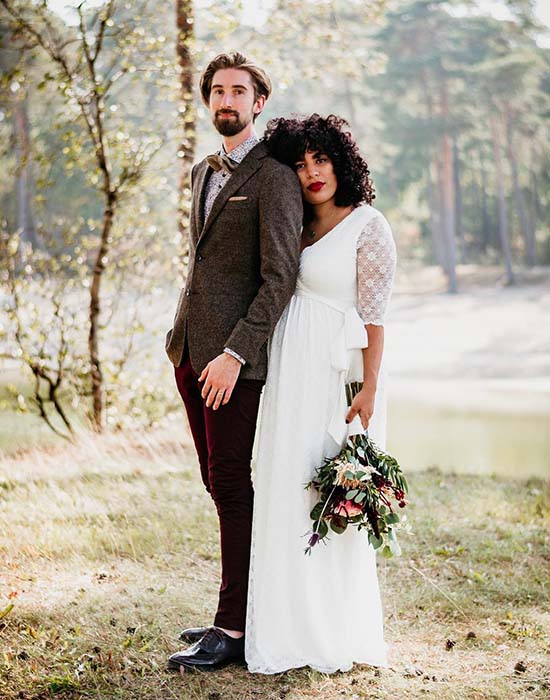 Our customer Alexis wearing the Enya Gown | Photo cherisejeane.com
How early should I order my dress?
It's not unusual for brides who aren't expecting to order their dresses 6-12 months in advance of their wedding day. For pregnant brides, we recommend ordering no sooner than 12 weeks before your big day - this gives you the chance to see how your body is changing during your pregnancy, as well as allowing you to get used to dressing your bump in a way that you feel comfortable and confident.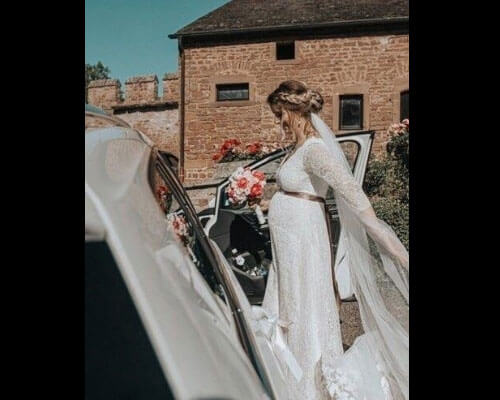 Our customer Jessica wearing the Chloe Gown
How do I know which size I should order?
All of our maternity dresses are designed to fit whatever stage of pregnancy you're at. Our stretch fabric designs (mainly jersey and lace) will grow with you and our non-stretch designs (mainly silk and chiffons), are expertly tailored for pregnancy to ensure they fit and flatter every curve.
When it comes to choosing your size, we usually recommend your pre-pregnancy size but we also take your current bust measurements into consideration. After all, every woman is different and we all grow in different ways! Many of our customers find that their pre-pregnancy size is perfect for them, but if you're unsure you can get in touch with our expert customer service team who will advise you based on your measurements (It's good to have a tape measure handy at this point!) and the styles you like.
We're also happy for your to order a few styles or sizes to try on at home where you feel comfortable and return the ones that are unsuitable.
Find out more about our returns policy >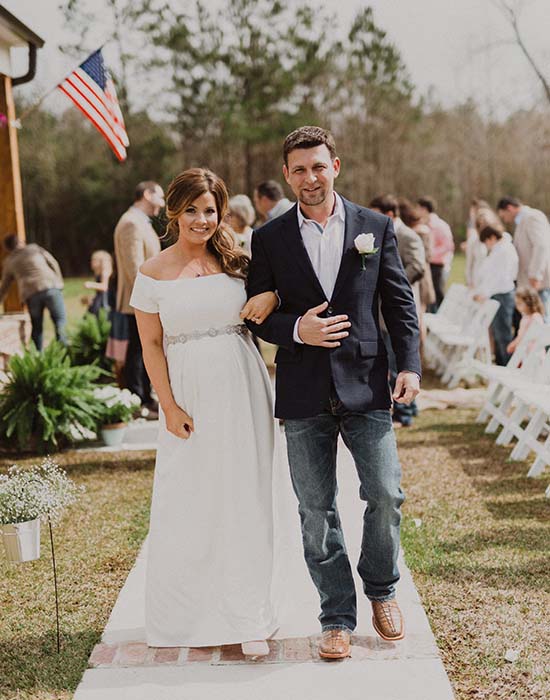 Our customer Candace wearing the Aria Gown
Help, I need my order urgently! How soon can you deliver?
Our entire maternity bridal collection is ready-to-wear and shipped from our headquarters in Surrey. We aim to hold stock of our entire collection meaning, in most cases, we're able to despatch your order the same, or next working day. We offer Next Working Day and Express Worldwide shipping allowing customers as far as Australia to receive their orders in as little as 2-4 working days.
If you do have specific date in mind, feel free to give us a call, we can double check delivery times for you.
Find out more about despatch and delivery >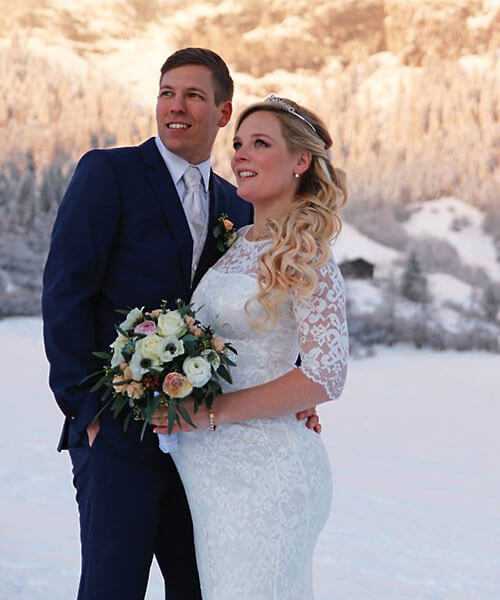 Our customer wearing the Amelia Gown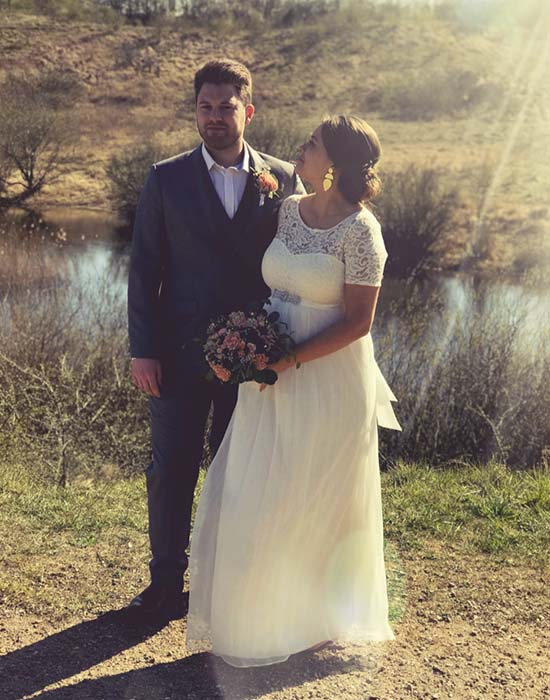 Our customer Annika wearing the Alaska Gown
Can I find Tiffany Rose Bridal in a store near me?
Yes! Although we don't have our own shops, if you'd prefer to try-and-buy in store, we currently have over 100 specialist maternity and bridal stockists in 24 countries worldwide.
Search for a Tiffany Rose stockist near you >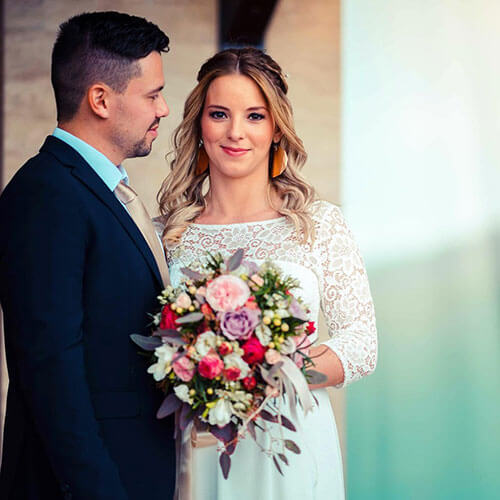 @poltzerzs wearing the Lucia Gown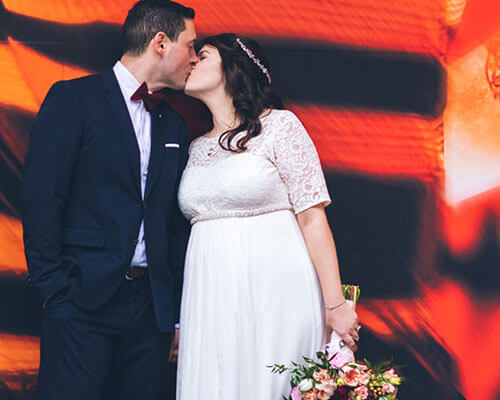 Our customer Jess wearing the Alaska Gown | Image by Sascha Reinking
Tiffany Rose is the perfect destination for maternity wedding dress shopping. With a complete range of maternity bridal gowns, including classic styles, modern twists or with a hint of vintage, you will discover beautifully made and breathtakingly elegant bridal designs for your special day.
Discover The Bridal Collection >
Still have questions? Our fabulous customer service team are on hand Mon-Fri to answer any queries you might have.
Tel: 02083970001 / +442083970001

Email: sales@tiffanyrose.com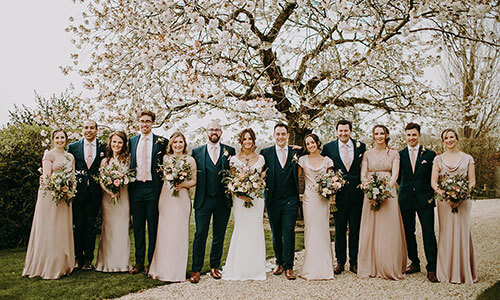 Sign up to our newsletter to receive updates like this direct to your inbox.

Subscribe >
Categories: #about-us, #bridal, #your-style, #real-brides, #wedding,
« Previous: The Golden Globes 2020 (Jan, 8th 2020)
» Next: It's All About Elizabeth (Jan 12th, 2020)
About Tiffany Rose
Tiffany Rose is dedicated to giving you the chance to wear exciting, elegant, beautiful and well-made clothes during your pregnancy.
» More...
Blog Archive
Made in Britain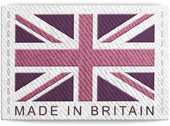 The Tiffany Rose Collection is Designed and Made in Britain
Read more...