Saturday, June 26 2021
Top Beauty Tips for Brides to Be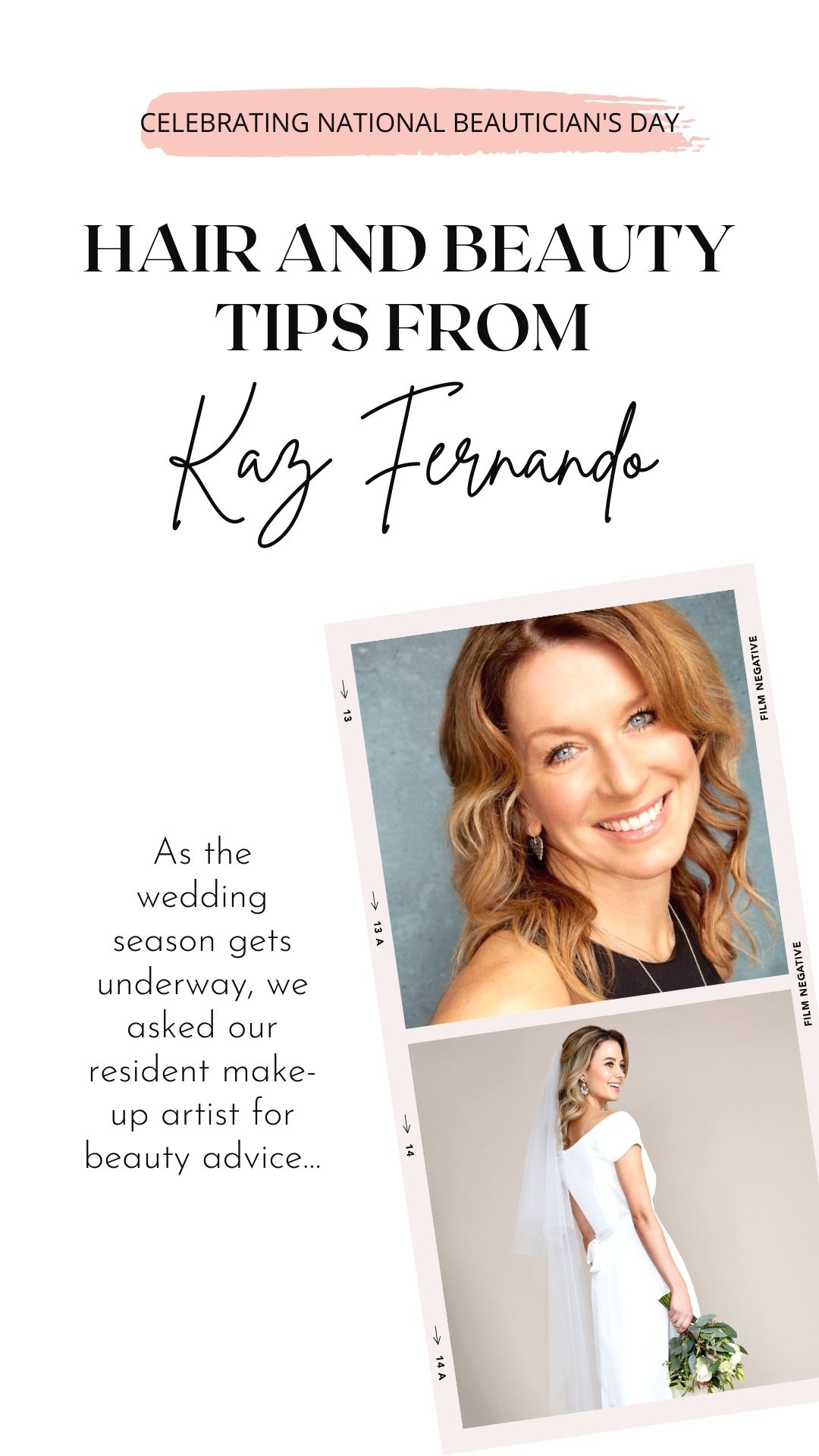 This Saturday, 26th June, we're celebrating National Beautician's Day. A day to celebrate our favourite beauty heroes. And what better way to mark the occasion than to put the spotlight on our go-to beautician! We've worked withKaz Fernando for many years, collaborating with her for shoots and other personal occasions. Kaz's passion is creating flawless skin; an elegant, red carpet, picture-perfect result so you still look like you, but a more beautiful version. As the wedding season gets underway, here's some of her tips for Brides to be:

SKIN CARE


Invest in a good skincare regime a few months before**, cleanse tone and moisturise twice a day.


Use an eye cream sparingly, gently dabbing it in, you only need a tiny amount, it will travel to where it is needed, overloading the delicate eye area will cause the eyes to look puffy.


** never try out new products too close to the big day in case you have a reaction.


EXFOLIATING/BRIGHTENING SERUM


Exfoliate your face at least twice a week to remove the dead skin cells that can make your complexion look dull and lifeless.


Removing the dead layer of skin makes it easier for your cream, serums and moisturisers to penetrate the fresh new layer of skin.


Apply a skin brightening serum to add a healthy glow to your skin.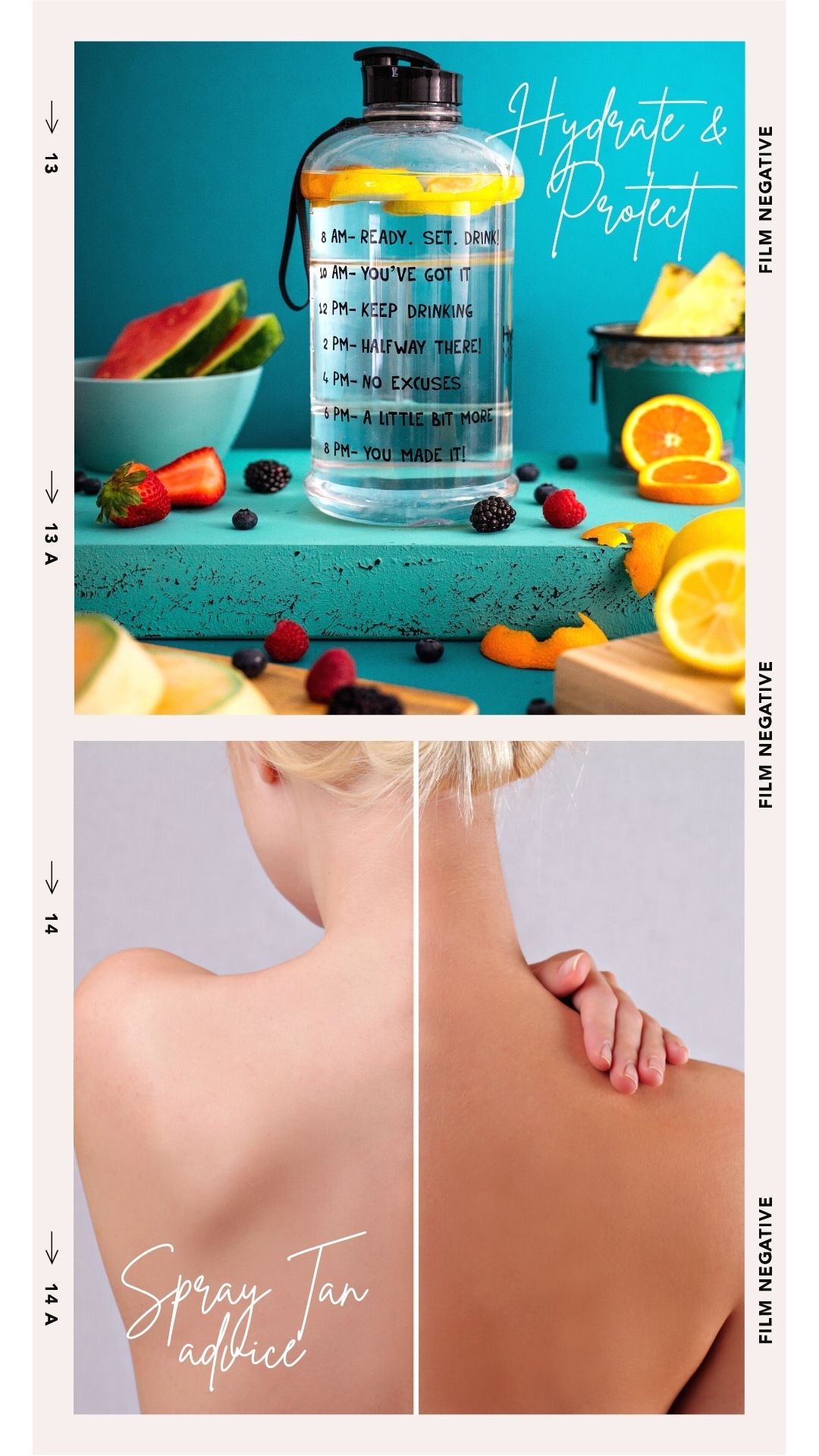 HYDRATION AND SUNSCREEN


Drink at least 8 glasses of water per day to stay hydrated, to flush out toxins and improve your overall complexion, try adding fresh lemon/lime slices/ice to your bottle to encourage you to keep drinking.


Always wear a sunscreen, even during the winter months.


SPRAY TAN


If you are thinking of getting a spray tan, always opt for a natural colour 1-2 shades darker, maximum.


Always have a test tan before the day to ensure the end result will be what you hoped, and always take a picture in the daylight. Remember you will be standing next to your bridal party and do not want to look out of place!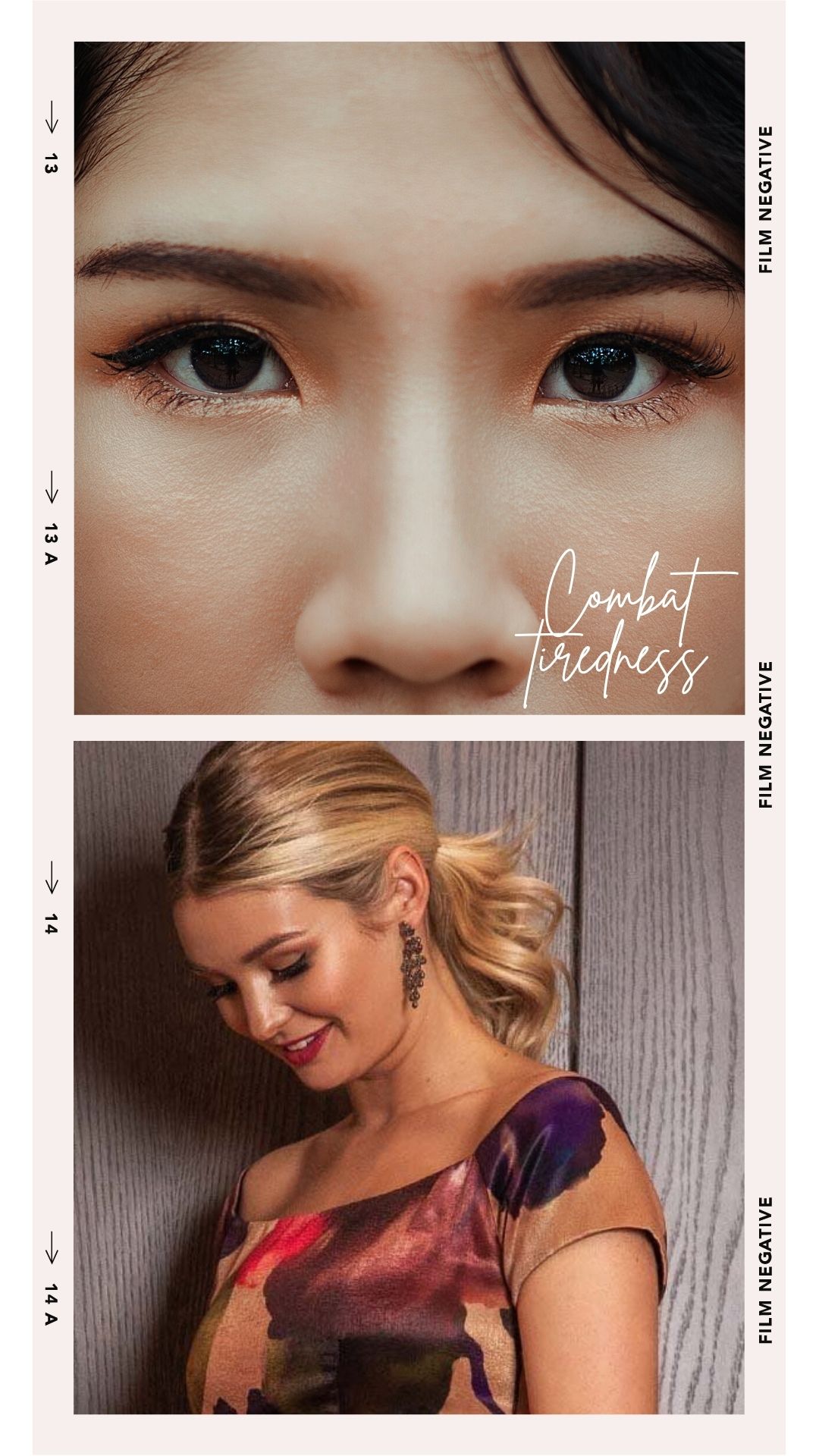 TIPS FOR MAKING YOUR EYES SEEM LESS TIRED AND WIDE AWAKE


Keep your brows groomed and tidy, never take too much away, full brows are much more flattering than thin ones, especially with bridal makeup.


Use a highlighter under your brows on the brow bone and in the corners of the eyes to give the illusion of opening the eyes up and add a little shimmer to the inner corners, by the eye ducts for that extra wide-awake look.


Always curl your lashes with an eye lash curler to open the eyes further. You can have the longest lashes, but if they stand out straight they will not be as noticeable as they could be if they are curled upwards.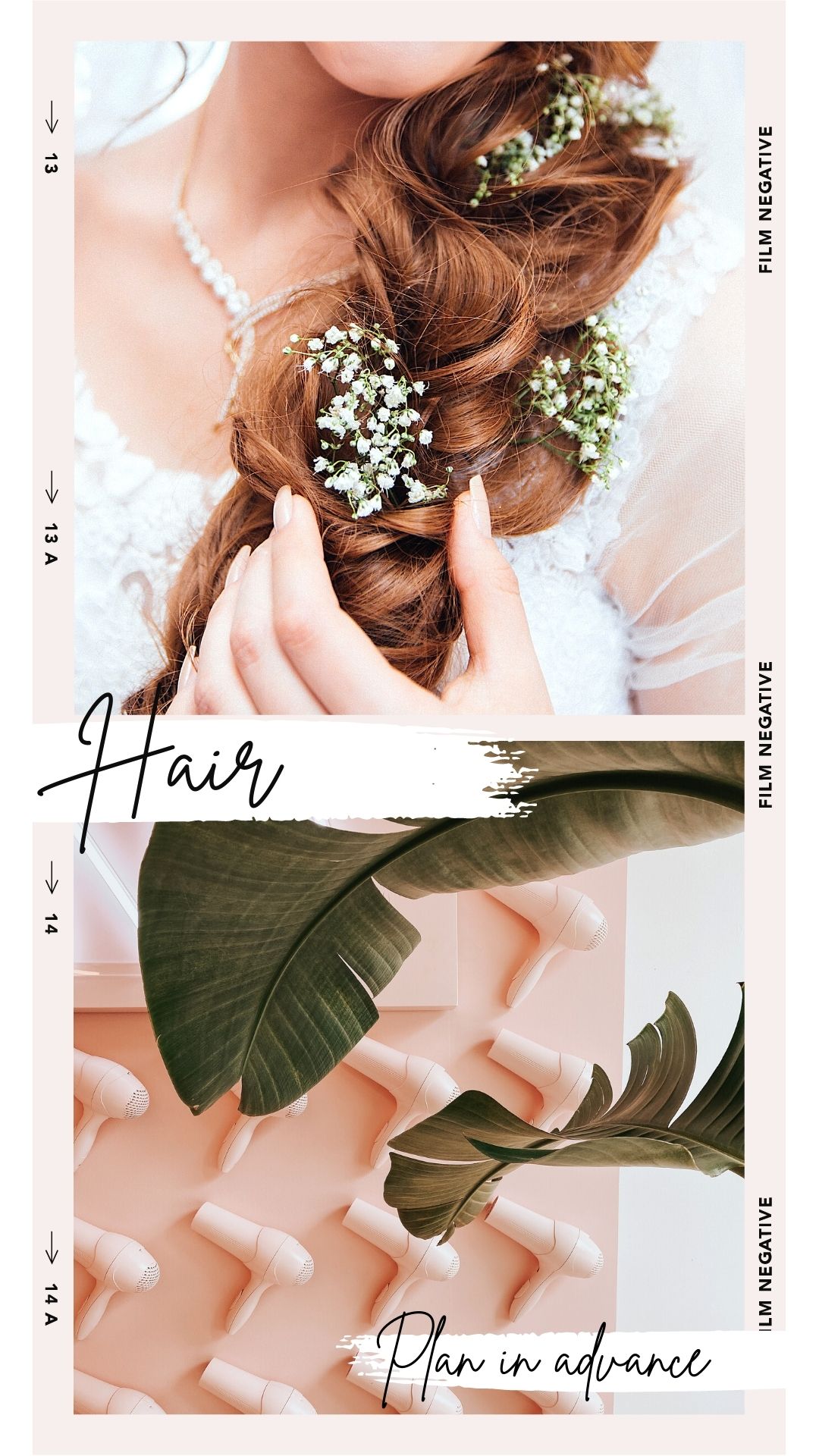 TIPS FOR PERFECT BRIDAL HAIR PREP


Book in a final trim 1-2 weeks before and ensure any highlights/balayage is fresh and without dark roots.


Have a deep treatment/glossing at this session too, or opt to buy a good quality mask and apply 1-2 a week leading up to your day.


When considering what style to opt for on the day, it is important to factor in the following: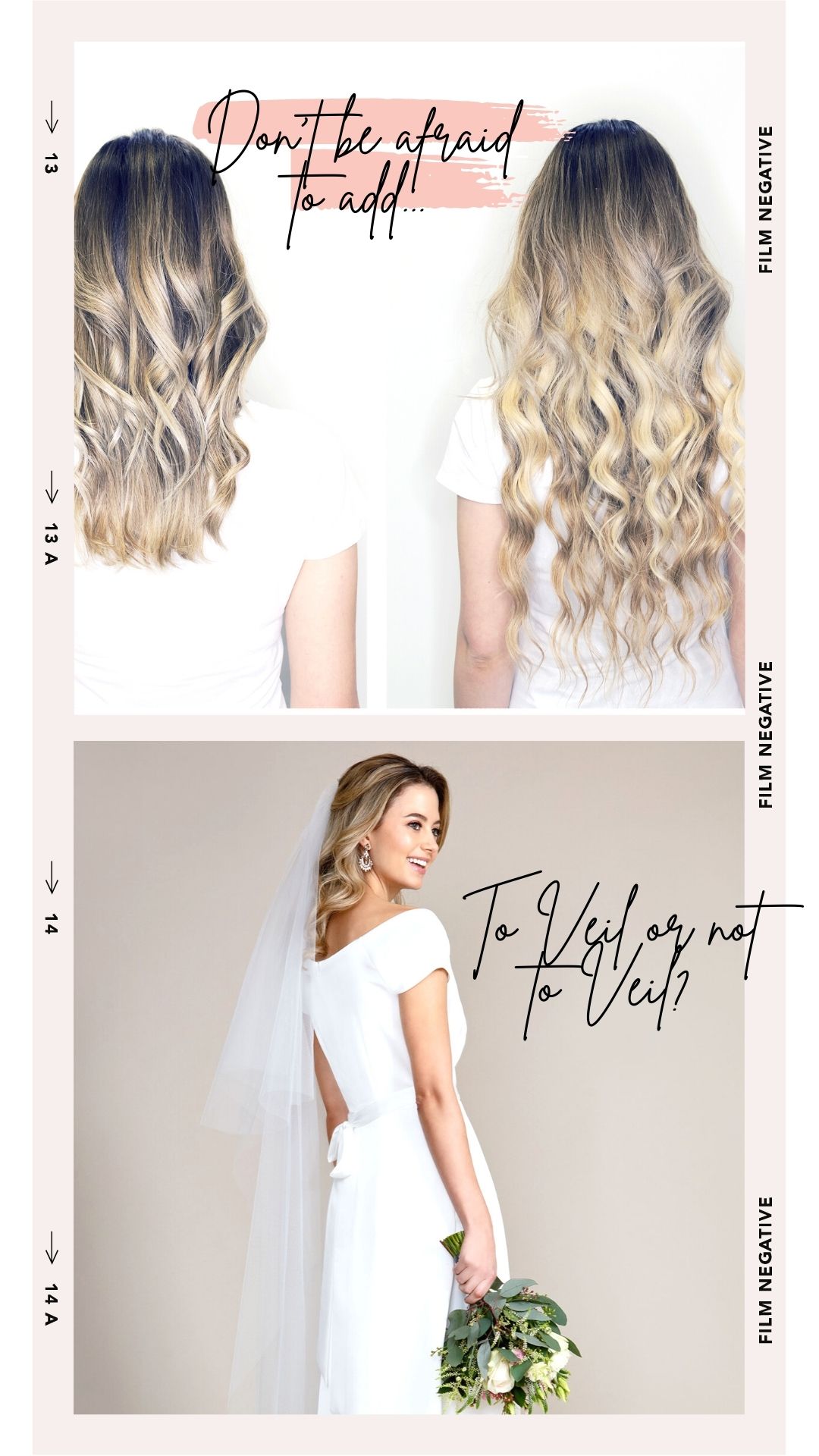 Your hair length, volume, colour and texture


What you see in a picture may not work for your hair type or colour, for example many plaited twisted updos look amazing on blond highlighted hair, but completely different on dark brown and black hair.


Clip in extensions are so easy to use and give a boost to length and fullness to an updo, always use real hair so it doesn't melt if heat appliances such as tongs are used in prep.


What is your dress like, does it have any detail that needs to be seen and not covered with hair?


Veil or no veil


You need to ensure the chosen style can hold a veil without it falling out or pulling the hairstyle out.


Choose a veil that works with your dress as well as the hairstyle, half ups are always a good compromise as its easier to attach a veil if there is something to attach the comb to.


Take your veil to your hair trial and your dress fitting if you have it in time, and maybe consider swapping the veil for a beautiful headpiece on the day after the pictures and for the reception.


ABOUT KAZ


Kaz is an award-winning makeup and hair artist with over 20 years' experience in the industry and currently specialises in Bridal hair and makeup, attending weddings all over the UK and abroad. If you'd like to book Kaz for your special day, get in contact with her via her website or send her a message on Instagram.


Website: www.kazfernandomakeup.co.uk


We hope you've found her tips and tricks useful and this will help to alleviate some stress in the run up to your big day!

Categories: #interviews, #bridal, #bridesmaids, #wellbeing,
« Previous: Celebrating Yoga Day (Jun, 21st 2021)
» Next: Japanese Garden (Jun 29th, 2021)
About Tiffany Rose
Tiffany Rose is dedicated to giving you the chance to wear exciting, elegant, beautiful and well-made clothes during your pregnancy.
» More...
Blog Archive
Made in Britain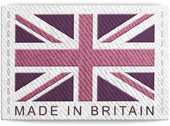 The Tiffany Rose Collection is Designed and Made in Britain
Read more...