Valentine's Day Maternity Style Edit 
Celebrating Valentine's Day when you're expecting is extra special, and it's important to do it in style.  At Tiffany Rose we have an array of beautiful maternity dresses to help you look and feel gorgeous when date night comes around on the 14th February. 
The small, dedicated Tiffany Rose team have become experts in dressing pregnant women in the most glamorous and flattering ways over the past 15 years, giving you the confidence that you'll find the perfect dress this Valentine's date night.
To celebrate this most romantic of dates, we've hand-picked our top four Tiffany Rose dresses guaranteed to ensure you and your bump wow.  Plus, to give you an extra excuse to treat yourself (and your bump) we're offering these dresses at a special discounted price until the 14th February – race you to the checkout!
Alessandra Rosey Red
On-trend in rich red and pink in the softest premium jersey – the Alessandra dress is a maternity wardrobe staple.  You'll adore the flattering cross over bodice to the front and the sexy deep V to the back of the dress. 

Was: £99 NOW: £79
Amelia Rouge
The deeply dramatic shade of scarlet gives the bestselling Amelia lace maternity dress head-turning glamour.  Ideal for a 'wow factor' entrance on your date night. 

Was: £169 NOW: £119
Chloe Coralista
Simple yet elegant, the Chloe in Coralista is a style that you'll fall in love with this Valentine's Day.  Achieve seamless glamour with a plunging V neck detailed with pretty scalloped lace and elbow length sleeves for added arm cover.

Was: £140 NOW: £99
Freya Orchid Blush
The ultimate romantic style, the feminine and floaty Freya dress in Orchid Blush features a gentle scoop neckline with sheer detail, for a dreamy outfit perfect with a vintage rose sash and a wildflower in your hair. 

Was £169 NOW: £119
What's New? 
Looking for the latest in Valentine's date night style?
Look no further than our latest maternity arrivals for SS18.
Amelia Pearl Blush
The Amelia Dress in fresh new Pearl Blush is enchanting in soft shimmering pearl pink, cut to a classic vintage style that is simply perfect in this gorgeous new blush colourway.
£169
Suzie Rose
The Suzie in Rose is THE dress to show off your amazing glow during these previous pregnancy months.  We've carefully designed the structured shape to fit and flatter your curves whilst tonal pinks and beige gives you many ways to wear our beautiful occasion dress again and again.
£149
« Previous: 4 Maternity Dress Essentials (Jan, 18th 2018)
» Next: Planning a Wedding and Pregnant (Feb 16th, 2018)
About Tiffany Rose
Tiffany Rose is dedicated to giving you the chance to wear exciting, elegant, beautiful and well-made clothes during your pregnancy.
» More...
Blog Archive
Categories
Made in Britain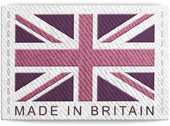 The Tiffany Rose Collection is Designed and Made in Britain
Read more...
Lovely dress but the belt doesn't stay where it needs to. Had to get a seamstress to sew it onto the dress.
Oh I am so glad I found this amazing online shop! I have 4 weddings in the space of 5 weeks In April / May going from 7 to 8 months pregnant in that time. I bought the first dress about 6 weeks ago and I was so impressed with the quality of the dress and entire experience with Tiffany Rose, that there was no doubt in my mind that I was going to buy the other dress too. I love that you get your dress beautifully packaged in a box wrapped in tissue paper. Such a thrill. I love both dresses so much and I just know I am going to feel amazing in them on the day. Would highly recommend to any one looking for stylish and excellence quality occasion maternity wear. xx Thank you Tiffany Rose
The dress was beautiful. The fit was true to size.
A beautiful dress, exactly how it appeared on the website. Prompt service and delivery. Lovely soft lace fabric with a gentle stretch, which is great seeing as I will be 8 months pregnant when wearing it.
Il vestito è bellissimo...colore molto bello!!!
I am extreamly happy with my recent purchase of a maternity wedding dress. It's extremely comfortable, well made and looks lovely on. I ordered two sizes to compare and the second dress was easy to return and was refunded quickly into my account. Thank you very much, Tiffany Rose
Great items. Excellent services.
Prompt delivery, beautifully packaged. Cannot wait to wear to my friends wedding, thank you for my gorgeous dress.
Beautiful maternity dress, lovely material, so soft.
My order arrived quickly and the dress was wrapped and boxed very nicely. Beautiful dress fitted perfectly and made me feel great. Thanks you. X
I had to contact Tiffany Rose as I had some concerns prior to purchase and they were very helpful and answered all questions and concerns. I purchase the dress and it is beautiful.
Very difficult to know sizing in maternity wear but I sent emails to Customer Service which were quickly responded to and I had no concerns in terms of not being able to return it if the sizing was incorrect. Product itself is lovely and comfortable and was happy with the sizing in the end.
I had some extra wishes and the client support was excellent. The delivery was very quick and the dress is lovely. I highly recommend Tiffany Rose
I love my wedding Dress. Despatch was very fast. I ordered two Dresses to choose. The return shipment was very easy to handle, flexible and cheap with the collect-service from tiffany rose. always again...
Good quality, very nice dress, quick shipment, good communication... I'm happy!
I had 15 days to prepare for a wedding as well as being 21 weeks pregnant. The dress arrived within 2 days of ordering. It fit perfectly and was very comfortable. I didn't grow much during that 15 days however I could tell the dress had enough stretch to accommodate a growing belly. I would highly recommend this company to anyone. Very happy customer/bride.
Wow!!! I have never been so happy with an online purchase! The quality of my dress in incredible. Stretchy but elegant material which has forever fit my growing bump from when I was 20 weeks pregnant to 35 week pregnant !!! I seriously recommend every pregnant women going to a special event to purchase thier dress from Tiffany Rose.
Absolutely love the dress! The sizing was super easy as was returning the extra dress I ordered.
all 3 dresses i ordered fitted perfectly! reasonable prices, beautiful dresses and very precise size descriptions - highly recommendable!
The dress is lovely and fits perfectly. I wore it in my wedding day, with 15 weeks of pregnancy and no disappointment. It was just compliments. I believe it fits well throughout the pregnancy.
follow us...
Sign up to our newsletter for our latest news