Sunday, April 21 2013
Tiffany Rose wins Queen's Award for Enterprise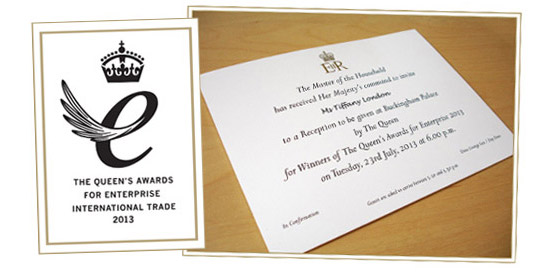 We are THRILLED to announce that Tiffany Rose has been named as the winner of a Queen's Award for Enterprise 2013, in recognition of outstanding international sales of our British designed and manufactured special occasion maternity wear brand.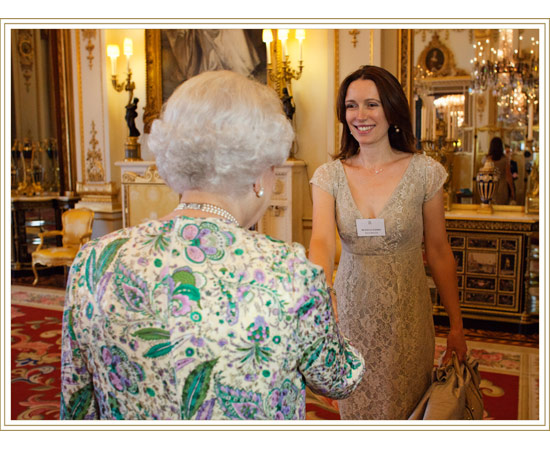 The Queen's Awards for Enterprise are the most prestigious accolades for businesses and individuals in the United Kingdom. The winners are selected on the recommendation of the British Prime Minister and announced each year on 21st April, Her Majesty The Queen's birthday.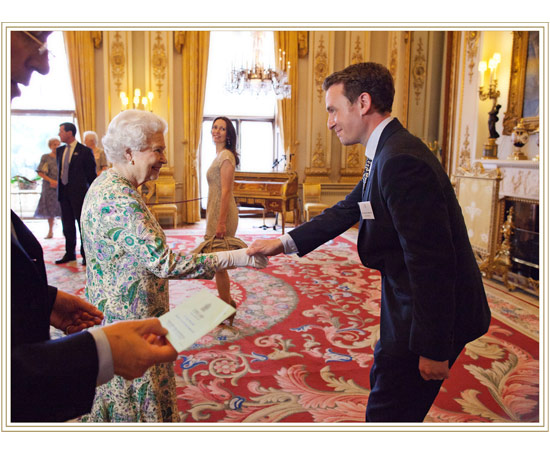 Maternity wear label Tiffany Rose was founded by Tiffany London in 2003 and in ten years has grown from an idea sketched out on a kitchen table to a multi-million pound business employing 15 staff with customers in over 80 countries worldwide.
With a range encompassing special occasion, evening wear and maternity bridal wear, every piece in the Tiffany Rose collection is designed and manufactured in Britain.
Tiffany London, Founder and Creative Director at Tiffany Rose said:
"Given our 100% commitment to quality manufacturing in Britain it's a huge honour for us to receive this award from Her Majesty the Queen.

There is no higher support we could wish for and we could not be more thrilled with what we have achieved to date, or more excited about the opportunities for future growth - both at home in the UK and in our thriving international markets."
« Previous: Royal maternity style on show (Mar, 11th 2013)
» Next: Sparkling in Twilight (Apr 26th, 2013)
About Tiffany Rose
Tiffany Rose is dedicated to giving you the chance to wear exciting, elegant, beautiful and well-made clothes during your pregnancy.
» More...
Blog Archive
Categories
Made in Britain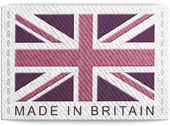 The Tiffany Rose Collection is Designed and Made in Britain
Read more...
Our Favourite Blogs
Really comfortable dress, wore it all day at the races and for dinner in the evening. Can be dressed up with nice bag or heels or more casual with some flat shoes.
Beatifull dress. Fast delivery with no incidence. I would repeat
Great selection of dresses, parcel received in plenty of time and dress looked great on.
I wrote with an enquiry about a dress I was thinking of buying, and I had an extended email conversation with someone from customer service, who was very helpful and answered all my questions. It was a totally pleasant experience.
The three dresses I bought were for gifts, one for my daughter in law and two for my niece. All dresses are beautiful, true to size and looked fabulous on,
Customer services provided help with how the dresses fitted, making choosing the right size really easy to establish. Then, the return process was great to get the perfect wedding dress third time lucky, which was quite an ask at 8 and a half months pregnant. Thank you.
Excellent service dress is beautiful my daughter was very happy with the style of dress as it was very discreet for feeding her baby . The team kept me informed when there was a slight delay in dispatch
I am extremely happy with my dress from Tiffany Rose. It fits perfectly, is beautiful quality and the delivery service was amazing! I ordered my dress on the Tuesday and it arrived in Adelaide on the Friday, which never happens! The customer service was spot on.
Dresses are just like the pictures!
fast shipping and return. was unhappy with the colour of the first one, but love the one I exchanged it for. Beautiful dress.
Das Kleid ist einfach wunderschön und hat wirklich gut gepasst. Ein schönes Gefühl beim tragen. Einfach ein tolles Kleid wo man sich mit Babybauch sehr wohl drin fühlt.
Great service! Very nice dress!
The customer service by Samantha was fantastic. She made the returns I had a very smooth process and was very helpful. I also love the dress I kept - thank you!
Thanks to Tiffany Rose for helping to make this day so special. My dress was wonderful !
I absolutely love Tiffany Rose! My order came in earlier then expected and the dress fit perfectly. This was the second time purchasing from Tiffany Rose. 3 years ago I purchased my wedding dresses from here and fell in love. This time I had a wedding to attend and again I wasn't disappointed. I feel beautiful every time!
I was first impressed with how quickly I received my order after purchase. This gave me quite a peace of mind in case something didn't work with the dress. Second, when I wore the dress this weekend, I was so comfortable and it fit perfectly. The only thing I would improve on would be the sash - I think it needs something to hold it in place other than a bow. I had to make my bow really tight in order for it to stay fitted.
Quick delivery, seize fit perfectly, high quality
Overall I was happy with the dress however, the silk belt that came with it did not stay in position and kept slipping so I had to have it sewn on. It wasn't ideal and perhaps the overall design needs to be looked as you wouldn't not wear the belt, it completes the dress and without it, the dress looks a bit casual.
It was a perfect "online shop" experience, the dress is amazing fit perfect into my new shape and has a outstanding quality
The dress is very comfortable and not too short. The fabric is nice and flattering.
follow us...
Sign up to our newsletter for our latest news