Special Occasion Maternity Wear
Shop Our Best Sellers
Arabian Nights

US $425.00

Windsor Blue

US $290.00

Mocha

US $290.00 now

US $105.00




Black and Silver

US $340.00 now

US $170.00



Customer

We appreciate your opinion
Tia Varner, USA - March 2014
I ordered the dress and it arrived in about 4 days! It fits beautifully and is even more stunning than the picture, I absolutely love it! I wouldn't hesitate to buy another dress from Tiffany Rose!...
read more customer reviews
Our Latest Stories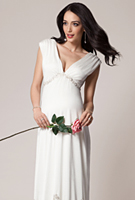 Choosing a Wedding Dress whilst Pregnant
If you are pregnant on your wedding day you have twice as many reasons to celebrate, and twice as many reasons to look and feel beautiful! We've c...
read our blog